Democratic presidential candidate Joe Biden saw a significant increase in his favorability among voters immediately following the Democratic National Convention (DNC) held last week, new polling has shown.
Biden and his running mate, Senator Kamala Harris of California, both saw an increase in their overall favorability, according to a poll conducted by ABC News and Ipsos on Friday and Saturday. In the wake of the DNC, held from August 17 to 20, about 45 percent of Americans now view Biden favorably compared to just 40 percent prior to the convention—an increase of 5 percentage points. Harris saw a 6-point jump, with 41 percent now viewing her favorably compared to 35 percent before the convention.
Among Democrats, 86 percent now view Biden favorably—an increase of 7 percent over the 79 percent prior to the DNC. Harris' favorability remains somewhat lower among Democrats, with 77 percent now viewing her favorably.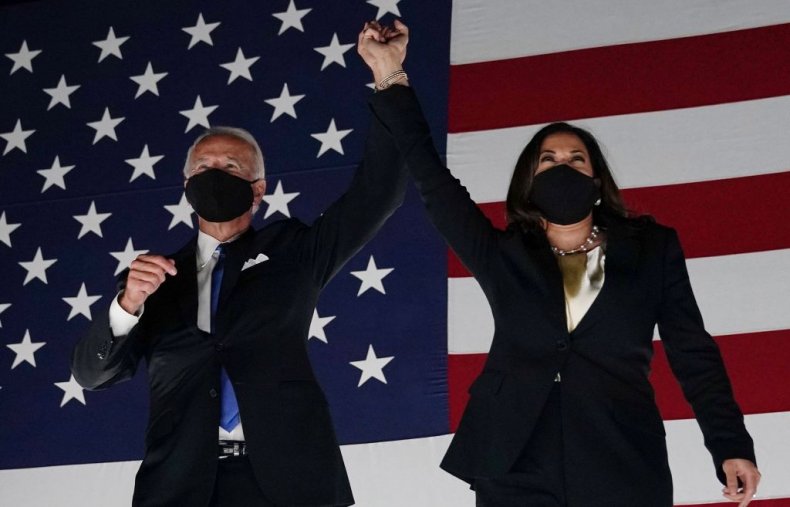 President Donald Trump's overall favorability remained more or less unchanged, but is double-digits below that of Biden. Just under one-third of voters (32 percent) view the incumbent Republican president favorably. Meanwhile, his unfavorability has reached 60 percent. When it comes to Vice President Mike Pence, only 30 percent view him favorably while 46 percent view him unfavorably.
The ABC News/Ipsos poll results aligned with another survey carried out by Axios and SurveyMonkey on Thursday and Friday when it came to the Democratic candidates. That survey showed that 44 percent of voters, overall, view Biden favorably. When it came to Harris, her net favorable rating was 39 percent.
But the Republican candidates were viewed favorably by a significantly greater number of those polled by Axios/Survey Monkey compared to the ABC News/Ipsos poll. Trump was nearly tied with Biden, with 42 percent of respondents viewing the president favorably—or 10 percentage points greater than the other survey. Pence was viewed favorably by 38 percent of respondents—nearly tied with Harris—and 8 percentage points higher than the poll carried out by ABC News/Ipsos.
Separate polling by Morning Consult showed just a slight uptick in the percentage of voters who say they will vote for Biden in November following the convention. While 51 percent said they'd cast their ballot for the Democratic candidate prior to the DNC, that number increased by 1 percentage point to 52 percent following the convention. The amount backing Trump remained unchanged, staying at 43 percent before and after the DNC.
Comparatively, Biden appears to be in a significantly better position than Democratic presidential candidate Hillary Clinton in 2016. Following the convention, Morning Consult's polling data showed that she was supported by just 43 percent of voters, compared to 40 percent prior to the DNC. That shows that Biden has a 9-point advantage over the previous Democratic presidential candidate. The former vice president is also currently 9 points ahead of the incumbent president, whereas Clinton was only 3 percent ahead at the same time in her campaign.