Biden Sees 81% Spike in Gun Background Checks, Compared With Trump's First Two Months
Firearm sales often coincide with political developments, and the United States saw a significant spike in background checks after President Joe Biden took office.
In January and February, the FBI processed more than 7,760,581 background checks through the National Instant Criminal Background Check System (NICS). It's not a direct one-to-one correlation to sales but indicates interest in purchasing a firearm. Roughly 81 percent more checks were done in Biden's first two months in office, compared with President Donald Trump's.
The FBI ran about 4,278,001 background checks in January and February of 2017, Trump's first two months in office. Compared with January and February of 2020, the beginning of Trump's final year in office, the checks show a 41 percent increase in 2021.
One known factor that affects firearm sales is presidential elections, and the trend tends to be that background checks drop when a Republican is elected and rise when a Democrat wins. The NICS was established after the passage of the Brady Handgun Violence Prevention Act of 1993, which required a national name-check system for federal firearm licensees.
Former President George W. Bush was the first Republican to take office after the NICS was created, and there was a 2 percent drop in background checks in his first two months in office, compared with the same period a year before. When President Barack Obama took office, there was a 26 percent increase from the January and February a year before.
Firearm background checks reached a record high in 2020, with 39.7 million checks run through the NICS. The increase was one that Amy Hunter, director of media relations for the National Rifle Association, attributed to restrictions implemented to curb the coronavirus pandemic, civil unrest and the upcoming presidential election.
"For years, many Americans have known their safety is ultimately in their own hands," Hunter told Newsweek last October. "Americans often buy more firearms before an election because they're worried an anti-gun politicians will soon take office."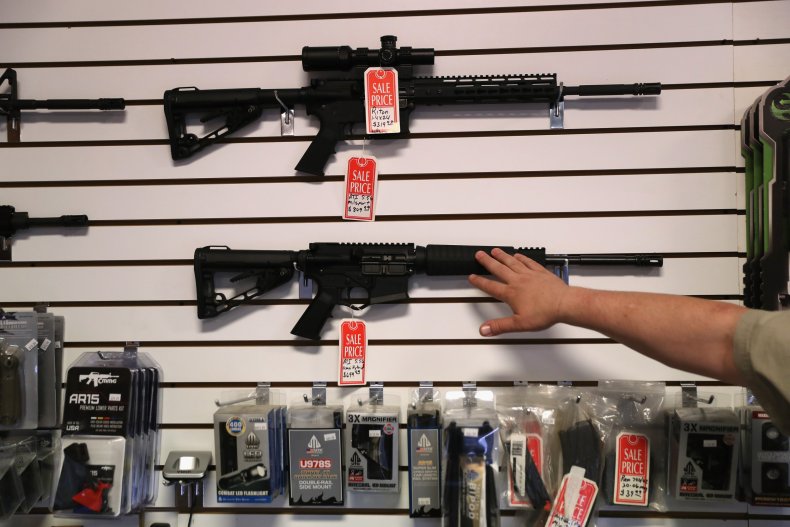 While demand is up, supply is down, and gun stores and shows have found they're unable to meet customer needs with regard to ammunition. Louis Southard, general manager at Bullet and Barrel, a Huntsville, Alabama, shooting range, attributed the shortage partly to more interest and partly to the pandemic's interruption of the supply chain.
"A lot of these factories that made ammo had to abide by all the coronavirus restrictions any factory would have to abide by, and whether that's social distancing or quarantining entire lines of people on the manufacturing line. Unfortunately, it was just kind of one of the reasons it was slowing down," Southard told WLTX.
Now that Congress has passed the American Rescue Plan, a $1.9 trillion relief package, Biden is being pushed to take action on gun control. That pressure has increased in the last week after the United States saw two mass shootings—one at spas in Atlanta and another at a grocery store in Boulder, Colorado.
Biden campaigned on a goal to "end gun violence," and on the third anniversary of the Parkland, Florida, high school shooting he called on Congress to enact "common sense gun law reforms." That includes background checks on all gun sales and a ban on assault weapons and high-capacity magazines.
Democrats could push through gun reform on their own in the House, but their majority in the Senate isn't big enough to overcome Republican opposition. A number of Democrats, though, are calling for the party to at least try to pass meaningful legislation.
"We don't know all the details yet, but we DO know our country has a horrific problem with gun violence. We need federal action. Now," Senator John Hickenlooper, a Democrat from Colorado, posted on Twitter.