Biden Should Call Out SCOTUS in State of the Union: Ex-Clinton Speechwriter
President Joe Biden has been urged by a former White House speechwriter to call out the Supreme Court during his upcoming State of the Union address.
The president is set to deliver his second State of the Union during a joint session of Congress on Tuesday night. In a series of tweets on Monday, Michael Waldman, ex-speechwriter to former President Bill Clinton, urged Biden to break with tradition and push back against the "radical" court's recent reversal of Roe v. Wade and other socially conservative rulings.
"Tomorrow, @POTUS will give the State of the Union—a speech traditionally silent on the subject of the Supreme Court," Waldman tweeted. "But Biden should break that habit this year. The Supreme Court has grown too radical and too dangerous to ignore."
"Last summer, the Supreme Court—dominated by a supermajority of six conservative justices—crammed decades of conservative social policy into the last three days of its term, with more likely this spring," he added. "Biden shouldn't stand idly by."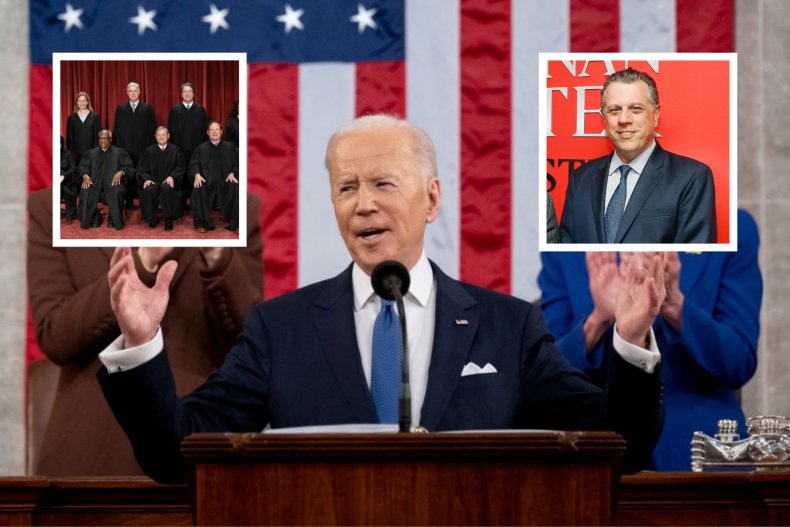 Waldman held a position on Biden's presidential commission on the Supreme Court in 2021. He currently serves as president of the Brennan Center for Justice at New York University School of Law, his alma mater.
While working to craft four different State of the Union speeches for Clinton, Waldman said that he could not "recall ever contemplating a mention of the Court."
However, he urged Biden to declare the Supreme Court "a threat to American democracy" during his speech because "this is a different moment," pointing out that "a half-century's worth of constitutional protections for reproductive rights" had been rolled back with the court's decision to overturn Roe.
He also blasted the high court over "radically loosened gun laws amid an epidemic of violence" and diminishing the power of the Environmental Protection Agency in "its determination to ignore the climate crisis."
"This all happened in the last year," tweeted Waldman. "And now the justices are deliberating over cases of similar significance. The next wave of rulings will likely undo affirmative action in college admissions, a social policy ruling with massive implications."
Waldman noted that Biden would not be "the first president to use the occasion to speak out against the Court" if he chooses to do so, pointing out that former Presidents Abraham Lincoln, Theodore Roosevelt and Barack Obama had all criticized the court.
"In this speech, Biden should take on the extreme 'originalism' used by the Court to justify its decisions," he tweeted. "He should call for term limits for justices, popular with conservatives as well as progressives, and a binding code of ethics ... As always, the justices will be in the front row at the speech."
Newsweek has reached out to the White House for comment.