Biden Should Learn from LBJ and Defuse the Iran Nuclear Crisis | Opinion
President Joe Biden is pursuing a bold and transformative presidency. Having succeeded in passing the most progressive economic package in recent history with the narrowest of majorities, he is now feeling bullish about abolishing the filibuster to protect voting rights for Americans and secure other long-awaited reforms. In doing so, he appears intent on thinking bigger than his peer Barack Obama, and is earning comparisons to Lyndon B. Johnson.
Biden should learn the right lessons from the Johnson presidency. A bold domestic agenda can easily be overshadowed by foreign policy disaster. To avoid such a fate, Biden will need to manage his foreign policy challenges with shrewd diplomacy, and take bold action to mitigate risks of war.
He will need to quickly rejoin the fraying nuclear deal with Iran. Failing to seize the narrow opportunity available right now to defuse the looming crisis with Iran will only heighten the risk that a spiraling conflict subsumes Biden's presidency.
LBJ is an informative comparison. Former President Johnson helped break the deadlock on the Civil Rights Act, pushing the landmark legislation through Congress in 1964 to outlaw discrimination and deal a decisive blow to Jim Crow segregation. His Great Society reforms cut poverty and established Medicare and Medicaid safety nets. But LBJ's transformational domestic progress was overcome by foreign policy disaster.
LBJ doubled down on the Vietnam War his predecessor soured on, needlessly sending hundreds of thousands of Americans to kill and die in a hopeless war of choice. The war poisoned the American public's opinion of Johnson and overshadowed his domestic achievements, leading LBJ to bow out of running for the Democratic nomination in 1968.
President Biden inherited a deteriorating situation with Iran from his predecessor Donald Trump. After Trump's withdrawal from the nuclear deal and a spate of sabotage and assassinations of Iranian leaders, Iran significantly accelerated its nuclear program and increased its confrontations in Iraq and the Persian Gulf.
Absent a diplomatic solution, Biden could easily find himself drawn into direct conflict. Rocket attacks from Iran-linked militias in Iraq already prompted Biden into ordering retaliatory strikes in Syria without congressional authorization. Another spark in Iraq or across the region could start an escalation that would be difficult to reverse. Iran's escalating nuclear program could also force Biden into a lose-lose choice: accept Iran on the threshold of a nuclear weapon, or launch a war that could not erase Iran's nuclear know-how but would be far more calamitous than the 2003 invasion of neighboring Iraq.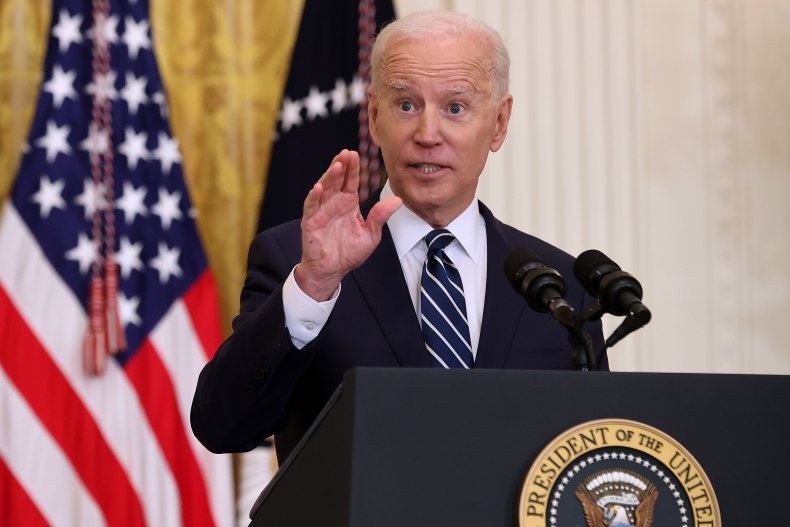 Biden's team is full of diplomats who negotiated the nuclear deal and know its value. The president has delayed returning to the agreement, and his team allowed itself to be fenced in by hawks in Congress who hope to impose political roadblocks to limit the paths for restoring the deal.
While 150 members of the House signed a letter expressing support for Biden's commitment to return to the Iran deal, some senior Democrats like Robert Menendez demanded that no sanctions relief can come up front or that all challenges with Iran must be addressed before any issues are addressed. Iran, while still open to restoring its own compliance, will not negotiate a new deal in the wake of Trump's sabotage of—and Biden's new apparent ambivalence to restore—the existing deal. Iran's divided factions are united against making the first move and appear to be turning their attention to the country's June 18 presidential elections.
Those elections are likely to bring a sea change to Iran's relationship with the United States. While lame duck Iranian President Hassan Rouhani's legacy is fully tied to the fate of the nuclear deal, his successor will likely have no such attachment and may even campaign against failed engagement with the U.S. In any case, they will likely want to avoid tying their fate to a restrictive nuclear agreement that never delivered on its promises of sanctions relief.
With its economy stabilizing and plenty of nuclear cards left for Iran to play, Biden could be left with no strong diplomatic options and a growing nuclear crisis he urgently needs to head off. A "longer and stronger" follow-on deal, which Biden said he wants, won't be in the cards. Biden may be left with the options of a "shorter and weaker" deal, Iran on the threshold of having a nuclear weapon, or a disastrous war that consumes Biden's presidency.
Johnson had numerous opportunities to de-escalate Vietnam, but failed to take them. Likewise, Biden has a clear option to defuse the nuclear crisis with Iran before it snowballs out of control. Doing so may cause strife with certain legislators. But Senator Menendez wasn't elected president, Biden was. Likewise, Congress won't have to deal with the fallout of the nuclear deal. Biden will.
A bold domestic agenda also requires a shrewd foreign policy and diplomatic strategy. Instead of following LBJ and allowing war to overshadow bold and historic reforms, Biden should direct his team to take whatever actions necessary to restore U.S. and Iranian compliance with the nuclear deal now before the problem escalates. Anything less will make the Iran challenge more difficult, not less, as politics in Iran become less and less conducive to any form of compromise with the United States.
Biden proved he is a shrewd operator on domestic affairs. Now it is time to match that boldness with strong international action, beginning with Iran.
Ryan Costello is policy director with the National Iranian American Council. Follow him on Twitter @RyeCostello.
The views expressed in this article are the writer's own.