Jeh Johnson, a former secretary of the Department of Homeland Security, said Sunday on NBC's Meet the Press that he's not sure President Joe Biden should have "walked back" his remark that Vladimir Putin "cannot remain in power"
Referring to Putin during his speech in Warsaw, Poland, on Saturday, Biden said: "For God's sake, this man cannot remain in power." After the address, the White House quickly moved to walk back the speech to clarify that the president was not calling for a regime change in Russia. The president's comment has come under fire, largely from Republicans.
"I'm not sure I would have walked it back. He's a war criminal. He's slaughtering innocent men, women and children. He illegally invaded Ukraine and he has got command and control of nuclear weapons. Such a person should not remain in power," Johnson said during his interview.
He added that "at most" he would have "modified the statement by saying it's not a statement of our policy, it's just simply a statement of fact."
"I'd like to see us at some point get to place where we're not constantly disclaiming the line over which we will not cross. And he said it, presidents do every once in a while do say things that ad lib," Johnson continued. "It was a statement of fact, virtually everyone agrees, everyone in the Western world agrees."
In its statement following Biden's speech Saturday, the White House said: "The President's point was that Putin cannot be allowed to exercise power over his neighbors or the region. He was not discussing Putin's power in Russia, or regime change."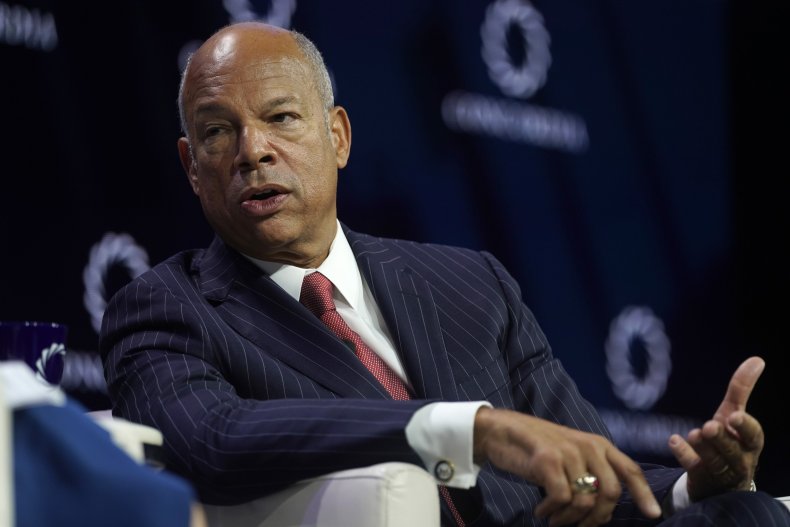 Garry Kasparov, a Russian chess grandmaster and the chair of the Human Rights Foundation, also argued Sunday that Biden shouldn't have walked back his comment.
"No free world leader should hesitate to state plainly that the world would be a far better place if Putin were no longer in power in Russia," he wrote on Twitter Sunday. "A good way to make that come about is to say exactly that. Russia will be pariah until Putin is gone."
Others blasted Biden over the remark.
"I think you could say here's a president potentially having more war-triggering type language than probably any president in American history," Representative Jim Jordan, an Ohio Republican, said on Fox News reacting to Biden's speech. "So we need to be careful, we need to be precise in things we say, particularly the commander-in-chief of our country."
Newsweek reached out to the White House for comment, but did not receive a response before publication on Sunday afternoon.