Biden Shouldn't Rush to Work With Rouhani on Reviving the Nuclear Deal | Opinion
President-elect Biden's choices for senior foreign policy and national security staff appointments and cabinet-level positions uniformly served in the Obama administration, and their experience negotiating the Iran nuclear deal will naturally inform their counsel. However, president-elect Biden's interest in reengaging with Tehran is unlikely to be quickly reciprocated by Iranian regime forces that have gripped control of power in recent years.
Since incoming national security adviser Jake Sullivan flew to Oman to engage in secret negotiations that eventually led to the Joint Comprehensive Plan of Action (JCPOA), President Hassan Rouhani's and Foreign Minister Javad Zarif's influence has declined. These "acceptable" representatives of the Iranian regime have been handicapped by incompetence, corruption, economic failures and internal power struggles.
This is a major roadblock for Sullivan, Antony Blinken and the rest of the national security team. Instead of engaging with an Iranian president and foreign minister at the height of their power, they will instead have to work with forces far more brazen about their aims and empowered in their positions.
The composition of Iran's Supreme National Security Council (SNSC), which drives national security decision-making in the Islamic Republic, has changed since the nuclear deal was inked in 2015. Rouhani is more isolated on the SNSC than ever before as a result of new members who have joined its ranks since that time.
One of the post-2015 additions, Chief of Staff of the Armed Forces Mohammad Hossein Bagheri, has been critical of the JCPOA and hasn't been a vocal defender of the Rouhani presidency. Indeed, the two have clashed over Tehran's coronavirus response. That stands in contrast to his predecessor, Hassan Firouzabadi, who was a defender of Rouhani's nuclear negotiations and provided crucial military backing for his efforts.
The SNSC membership also includes the new head of the Islamic Revolutionary Guard Corps (IRGC) Hossein Salami, who, as a former commander of its Aerospace Force, is a staunch supporter of its missile program. He has taken a more provocative stance on missile technologies than his predecessor Mohammad Ali Jafari, who argued that Iran's self-imposed 2,000 km missile range was sufficient to advance its interests. Salami, in contrast, appears more willing to support an increased range, once warning "if Europe wants to turn into a threat, we will increase the range of our missiles." Under Salami, some IRGC affiliates are already pushing to transfer the nuclear dossier from the Foreign Ministry back to the SNSC, which had traditionally run point on negotiations with the West before Rouhani's election. The current secretary of the SNSC, Ali Shamkhani, is himself a longtime guardsman.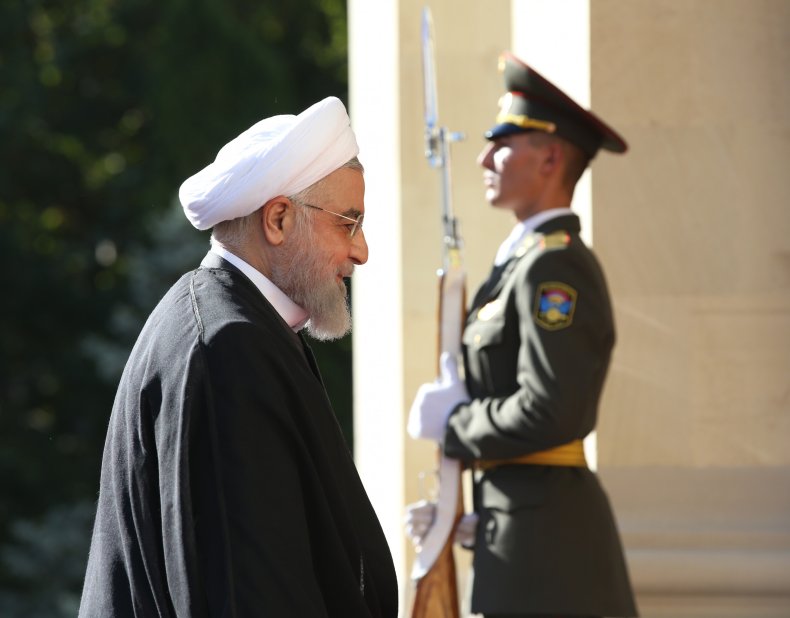 If these headwinds weren't enough, Rouhani is now facing two of his leading political rivals on the SNSC as well: Speaker of the Parliament Mohammad Bagher Ghalibaf and Chief Justice Ebrahim Raisi, both of whom remain ambitious operators and were his opponents in previous Iranian elections. Ghalibaf's predecessor, Ali Larijani, ran legislative interference for Rouhani on the JCPOA, which he dubbed a "good deal." Conservatives at the time even accused Larijani of forcing through the bill approving the deal in a parliamentary session lasting a mere 20 minutes.
The new speaker and chief justice have already collaborated in recent months to stymie Rouhani-led initiatives, like a proposal to sell oil bonds, and Ghalibaf has blamed the country's economic problems on "Pasteur and Baharestan"—a reference to locations of government offices in Iran—rather than on U.S. politics or policy.
Their combativeness towards Rouhani could extend to the nuclear file as well. The assassination of Iran's top nuclear scientist Mohsen Fakhrizadeh may fuel arguments by hardline elements of the regime, especially in the IRGC, for a more uncompromising position. Ahead of the U.S. presidential election, Iran's supreme leader reportedly shut down a Quds Force request for revenge after repeated regime setbacks this year, including the explosion at the Natanz nuclear facility over the summer. Fakhrizadeh's death could thus help tip the scale in Khamenei's balancing among factions in the near term.
If it does, it will present a problem for a Biden administration looking for immediate engagement. Ghalibaf has stated that the new parliament regards "negotiations and compromise with the U.S....as futile and harmful." To make matters more complicated, one of the supreme leader's representatives on the SNSC, Saeed Jalili, still harbors presidential ambitions and may run for the office in 2021. He too is unlikely to want to help Rouhani rehabilitate his image with the risk of boosting pragmatists, and may be an influential voice behind the closed doors of the SNSC.
It is tempting to think a quick fix exists and that the Biden administration has a limited window to reenter the JCPOA, as if Rouhani has full agency. He does not, and the U.S. should not fall into the trap of believing American policies can empower so-called moderates and suppress the influence of the hardliners at this juncture in the Rouhani administration. Iran's new conservative power dynamic is also more about the octogenarian supreme leader's own succession than it is a reaction to U.S. policies.
The Biden administration should be skeptical of arguments that there is a narrow window of opportunity to engage with the regime before Rouhani leaves office. He is a lame duck president, facing tremendous headwinds. But that doesn't mean talks are entirely off the table. Tehran plays a long game, and the supreme leader will make the final decision regardless of who is president. He has authorized dialogue with the West under hardline and pragmatic administrations alike, and even after previous assassinations of nuclear scientists a decade ago. A new Iranian president may also be better positioned in the system to negotiate more expansively than Rouhani. In the end, Washington shouldn't be rushing to recreate a reality from 2015 that doesn't exist anymore.
Jason M. Brodsky is the policy director of United Against Nuclear Iran (UANI). He is on Twitter @JasonMBrodsky.
The views expressed in this article are the writer's own.