Biden Shouldn't Stop at Afghanistan Troop Withdrawals | Opinion
On Wednesday, President Joe Biden laid out a plan that, if realized, will go down in history as one of his administration's greatest legacies. As the War in Afghanistan nears its 20th year, Biden announced that all U.S. troops––numbering approximately 2,500––would leave the country by September 11. His reasoning: "We cannot continue the cycle of extending or expanding our military presence in Afghanistan, hoping to create ideal conditions for the withdrawal, and expecting a different result."
Biden's plan would bring an end to America's longest war. The U.S. has spent $2.26 trillion on the conflict since 2001, more than 2,000 U.S. servicemembers have lost their lives in Afghanistan and as of October 2019, the war has killed an estimated 43,000 civilians.
This withdrawal is long overdue.
That the futile cycle of conflict and suffering in Afghanistan could finally end is wonderful news. But Biden's move is by no means the only necessary scale-down of U.S. foreign involvement. Our military footprint abroad remains excessive––and harmful. Afghanistan should be Biden's first withdrawal of many.
Though deployments differ in the COVID-19 era, there are currently around 220,000 U.S. military and civilian personnel serving in more than 150 countries. That includes 2,500 U.S. troops in Iraq, despite both the War in Iraq and the Islamic State being put to rest. Around 900 U.S. troops are still in Syria. Yet Biden has made no announcements about scaling back the American military footprint in either country. (Predictably, U.S. military experts warn of a security vacuum in both nations, as they long have with regard to Afghanistan.)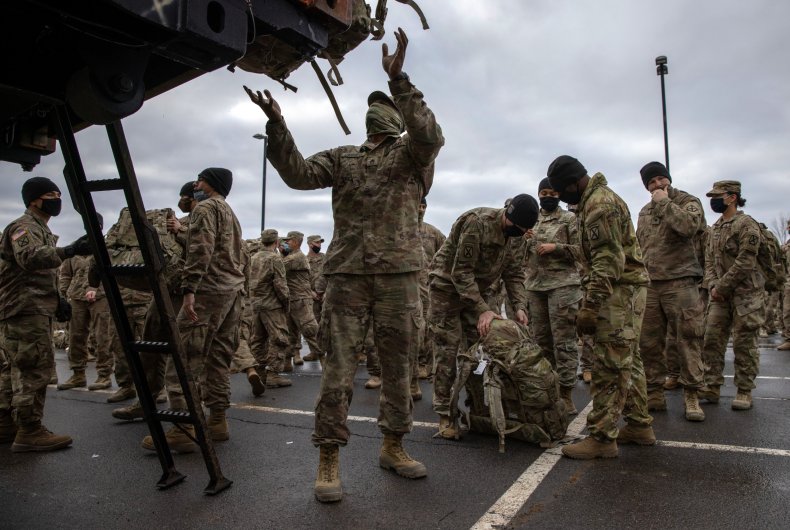 To be sure, not all U.S. soldiers are stationed in areas as treacherous as Afghanistan. But between 2018 and 2020, U.S. servicemembers engaged in combat in eight countries. We're used to hearing about conflicts in Syria, Iraq and Afghanistan, but what strategic interest does the U.S. have in Mali, Nigeria and Kenya? Then there are the 79 countries, ranging from Bulgaria to Cameroon to Uzbekistan, where the U.S. has conducted counterterrorism operations. Very few Americans could point these countries out on a map, let alone justify maintaining a military presence there.
Much of the U.S. troop presence abroad stems from archaic defense pacts and security agreements forged during more dangerous times than the present. And it's very likely that we simply don't know the true extent of our presence abroad, either. Last year, The Washington Post sued the Pentagon to find out where U.S. troops were deployed after the Trump administration stopped releasing data; and last month, The New York Times revealed that the "U.S. has 1,000 more troops in Afghanistan than it disclosed."
Our troop footprint doesn't just endanger American lives—the U.S. military's track record suggests that locals face grave risks as well. Proponents of deployments claim that the U.S. "forward presence" abroad is an unabated good, preventing corrupt powers from rising to fill power vacuums. This narrative neglects the traumas that U.S. troops have introduced to already vulnerable populations. From the My Lai massacre of more than 300 Vietnamese civilians to rampant torture at the Abu Ghraib prison in Iraq, U.S. troops have raped and murdered innocent foreigners in who knows how many countries—and American troops abroad, through poor conduct and even their mere presence, have radicalized locals.
By arguing that U.S. troops must police and protect the nations of the world, we dismiss the autonomy of foreign civilians and fail to view them as capable of determining their own political affairs. Biden alluded to this point on Wednesday. He said that after traveling to Afghanistan in 2008 as vice president, he came to the realization that "only the Afghans have the right and responsibility to lead their country, and that more and endless American military force could not create or sustain a durable Afghan government."
Biden's right—and now that he's recognized the need for Afghans to govern their country without American involvement, he should put the same trust in the other nations of the world. Biden knows that U.S. troops must exit Afghanistan. It's high time he cast a similarly critical eye on the rest of our global military footprint.
Fiona Harrigan is an editor at Reason and an associate contributor at Young Voices. Find her on Twitter: @Fiona_Harrigan.
The views expressed in this article are the writer's own.