Biden Shows List of Republicans Touting COVID Relief After Voting Against It: 'Some People Have No Shame'
President Joe Biden took a dig at Republicans who are touting the impact of COVID-19 relief despite voting against the legislation.
While delivering remarks on the economy from Cuyahoga Community College in Cleveland on Thursday, Biden pulled out what he said was a list of the GOP lawmakers guilty of the behavior.
"Even my Republican friends in Congress, not a single one of them voted for the rescue plan," the president said, referring to the $1.9 trillion coronavirus package passed in mid-March. "I'm not going to embarrass any one of them but I have here a list of how back in their districts they're bragging about the rescue plan."
Biden claimed the lawmakers were promoting the legislation's Restaurant Revitalization Fund and grants for community health care centers.
The president added, "I mean, some people have no shame. But I'm happy. I'm happy they know that it benefited their constituents. That's okay with me. But if you're going to try to take credit for what you've done, don't get in the way of what we still need to do."
Biden didn't name the lawmakers, but photographs showed the list included Minority Leader Kevin McCarthy and Rep. Elise Stefanik, the No. 1 and No. 3 House Republicans.
The Washington Post previously reported on the GOP lawmakers who were promoting the bill. The Democratic Congressional Campaign Committee (DCCC) also said earlier this month it would be releasing ads against several House Republicans, including McCarthy, for touting parts of the relief bill that they opposed.
Biden's American Rescue Plan provided $1,400 direct payments to individuals making less than $75,000 annually, $350 billion in state and local aid, $14 billion for vaccine distribution and $170 billion for school reopenings. It will also provide an additional $300 in weekly unemployment benefits through September and a child tax credit of up to $3,600.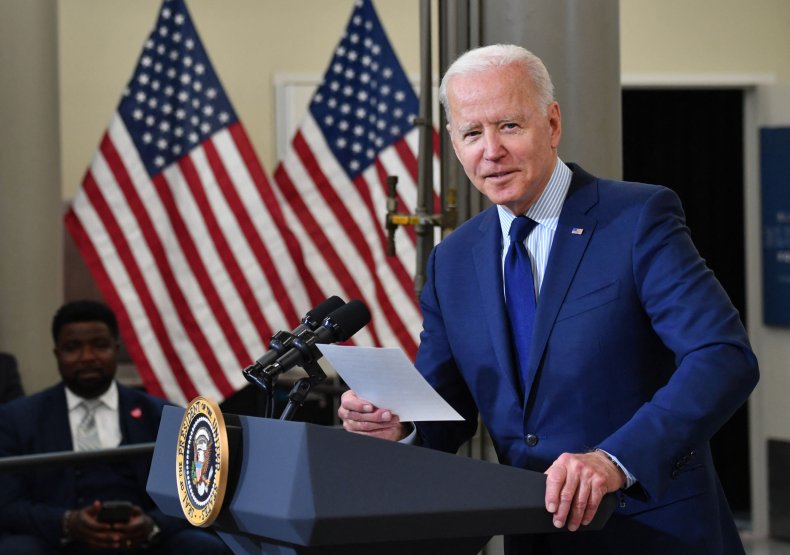 Biden said Thursday that his economic agenda is "working," but urged the need for other big spending packages—like his American Jobs Plan and American Families Plan, measures that would invest trillions of dollars in infrastructure, child care and paid leave.
Biden criticized Republicans over the 2017 tax bill that disproportionately benefited the wealthiest Americans. The president has proposed rolling back the bill to pay for the $2 trillion infrastructure plan, but the GOP has voiced opposition to changing the 2017 legislation.
"We had no problem passing a $2 trillion tax plan that went to the top 1 percent that wasn't paid for at all. It just increased the debt $2 trillion," Biden said. "Every time I talk about tax cuts for working-class people, it's, 'Oh my God, what are we going to do?' Well, we're going to take back some of that 1 percent money and make them pay for it."
The president also made the case for Congress to raise the federal minimum wage to $15 per hour and creating more protection for union workers to organize.
"Now's the time to build on the foundation that we've laid, to make bold investments in our families and our communities and our nation," Biden said. "We know from history that these kinds of investments raise both the floor and the ceiling of the economy for everybody."
Newsweek reached out to the offices of McCarthy and Stefanik for comment, but didn't receive a response before publication.