Biden Slams 'Butcher' Putin After Meeting 'Amazing' Ukrainian Refugees
President Joe Biden issued a sharp rebuke of Russian President Vladimir Putin on Saturday after a visit with Ukrainian refugees during his trip to Poland.
"You're dealing every day with Vladimir Putin, and look at what he's done to these people. What does it make you think?" a reporter asked Biden in Warsaw in an exchange recorded by Agence France-Presse.
"He's a butcher," Biden responded.
Biden's remarks come days after the U.S. formally accused Russia of committing war crimes during its invasion of Ukraine. The president has previously condemned Putin over the war and has labeled him a war criminal.
During his visit to Poland, Biden visited with Ukrainian refugees before he is scheduled to deliver what the White House described as a "major" speech in Warsaw.
"A major address tomorrow that will speak to the stakes of this moment, the urgency of the challenge that lies ahead, what the conflict in Ukraine means for the world, and why it is so important that the free world sustain unity and resolve in the face of Russian aggression," national security advisor Jake Sullivan said Friday. "He'll also talk about the context and history of this conflict and where he sees it going from here."
Before the scheduled speech, the president spoke with Ukrainian refugees and aid workers.
"I'm always surprised by the depth and strength of the human [spirit], I mean it sincerely," Biden said after speaking with refugees at a stadium in Warsaw, according to NBC News. "They are an amazing group of people."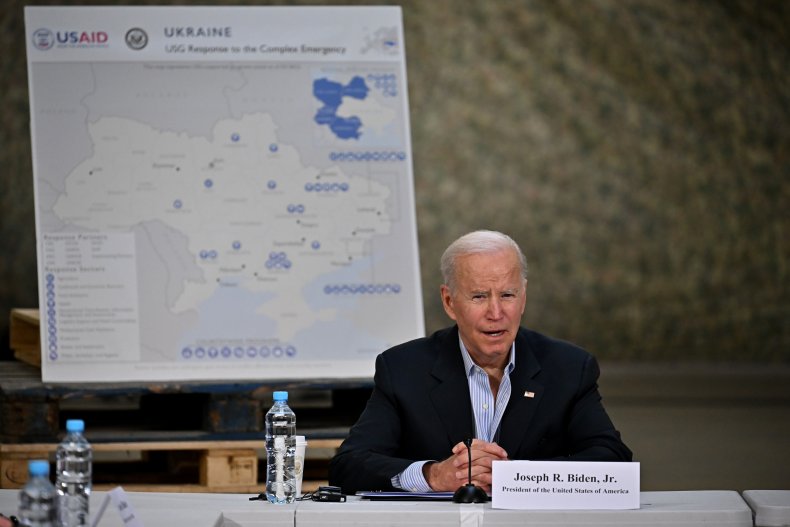 The president later noted his visit with refugees on Twitter Saturday morning.
"I visited Ukrainian refugees who have fled to Poland this afternoon. You don't need to speak the same language to feel the roller-coaster of emotions in their eyes," he tweeted.
According to the United Nations, since Russia's invasion of Ukraine in late February, Poland has welcomed more than 2 million fleeing Ukrainian refugees.
"Among the two million people who have entered Poland from Ukraine, some have moved on to other countries in the EU, although the majority are believed to be still in Poland," the U.N. Refugee Agency wrote on March 18.
The U.N. agency estimates that overall, 3.2 million refugees have left Ukraine for neighboring countries since the Russian invasion began.
Newsweek reached out to Putin's press office office for comment, but did not receive a response before publication on Saturday afternoon.