Biden Slams Trump for Calling Capitol Rioters 'Wonderful,' Makes Forceful Return to Campaign Trail
President Joe Biden criticized former President Donald Trump for calling Capitol rioters "wonderful peaceful people" and touted his 2020 election win as he promoted Virginia gubernatorial candidate Terry McAuliffe in an assertive return to the campaign trail on Friday.
"We just have to keep making the case just as the Republican Party today offers nothing but fear, lies and broken promises," Biden said during a campaign rally for McAuliffe in Virginia.
"When you think about turning on the television every day and seeing the replay of what happened on January 6 and saying it was a lot of 'wonderful peaceful people'—it is bizarre."
Biden linked himself to McAuliffe and the moderate Democrat's GOP opponent, Glenn Youngkin, to Trump, as he contrasted the two politicians in the state that Republicans lost in 2016 and 2020.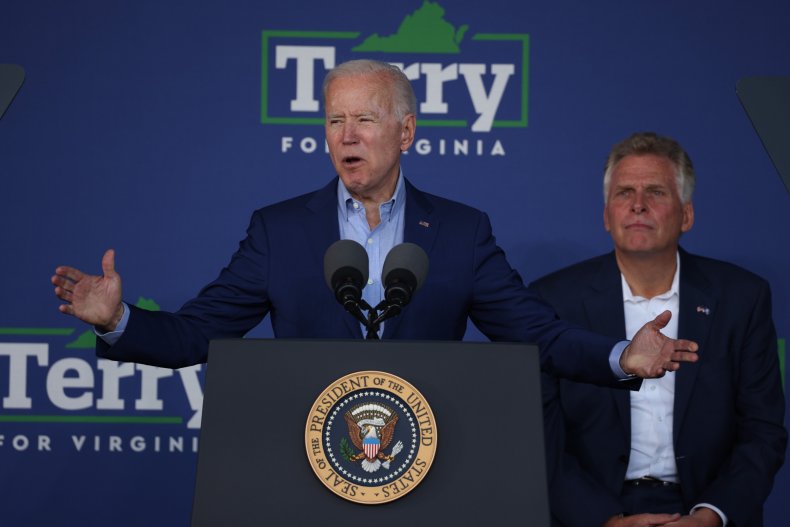 "Terry and I share a lot in common. I ran against Donald Trump and so is Terry. And I whipped Donald Trump in Virginia and so will Terry," the president said. "I tell you what, the guy Terry is running against is an acolyte of Donald Trump."
Biden highlighted his pandemic response, the economic recovery under his administration and the $1.9 trillion coronavirus relief bill to the nearly 3,000 people gathered in a park across the Potomac River, as he emphasized the vision for America that he shared with McAuliffe.
As he stumped for McAuliffe, a former governor seeking a second term, Biden brushed off hecklers protesting an oil pipeline. "This is not a Trump rally. Let 'em holler. No one's paying attention," he said.
It was Biden's first in-person candidate rally since he took office in January, and marked a return to politics as normal after a 2020 presidential campaign that saw him appealing to supporters virtually and in front of sparse crowds.
The White House press secretary told those concerned about the highly-virulent Delta variant that Biden would adhere to CDC guidelines, which does not require masks or other restrictions for fully-vaccinated individuals.
McAuliffe followed Biden's lead, focusing on his promise of electability and a departure from the political chaos of the past four years. "Why is it that Glenn Youngkin and Donald Trump are so close?" McAuliffe asked. "Because they share the same agenda."
McAuliffe won the Democratic gubernatorial nomination in June, and will face off against Trump-endorsed Youngkin, a former private equity executive, in the November general election.
Virginia, the only state with an open race for governor this year, is expected to be widely watched as an early test of voter sentiment in each party ahead of the midterm elections.
Newsweek reached out to Trump representatives for comment.