Biden 'Strong' Start at SOTU Gave Way to Missed Opportunities: Experts
President Joe Biden had a powerful start to his State of the Union address, but his unifying comments about Ukraine fighting back against Russia's aggression gave way to missed opportunities, according to experts.
"The opening was strong, but most of the speech was a typical, boring SOTU laundry list," Jean Card, a GOP consultant and speechwriter in former President George W. Bush's administration, told Newsweek. "Imagine how powerful this speech would have been if it had only been 15 minutes long—ten on Ukraine, five on the need for us to unite as a country."
Biden spent a good portion of his speech sending a message to the world about America's commitment to Ukraine. He vowed to hold Russian President Vladimir Putin accountable, was firm in his resolve to unleash the "full force" of NATO if Putin expands his ambitions and praised the Ukrainian people for mounting a strong resistance to Russian aggression.
His remarks on the Ukraine-Russia conflict earned a standing ovation from both Republicans and Democrats, a show of unity that's rarely seen in the Capitol. By all accounts, Biden successfully addressed Russia's continued attacks on Ukraine, but the rest of his speech was met with mixed reviews.
A major pitfall of Biden's speech was his falling prey to rattling off a "laundry list" of domestic goals that often plague traditional SOTU addresses. Carly Cooperman, a Democratic strategist, told Newsweek the speech "felt scattered" at times and the president rushed through items without "clear follow-ups or explanations," in part because he had to devote time to Russia's invasion of Ukraine.
During the hour-long oration, Biden addressed America's economic woes, the COVID-19 pandemic, voting rights, increasing the minimum wage, job creation and health care, leaving very few prevalent topics completely out of the speech.
John White, a politics professor at the Catholic University of America, described Biden's SOTU address as "two speeches grafted into one." The first being the "powerful and on point" address about Ukraine and the second being a domestic one that had a "general lack of a unifying theme."
Biden's topic choice was generally in line with what experts foresaw him focusing on, but White said one potential surprise was the president's decision to highlight the impact of burn pits on veterans. The president raised concerns about the long-term harm veterans experienced after being exposed to burn pit smoke while deployed and called for America to take better care of its veterans and their families.
"Veterans are the backbone and the spine of this country. They're the best of us," the president said. "And they come home, many of the world's fittest and best-trained warriors in the world, never the same. Headaches. Numbness. Dizziness. A cancer that would put them in a flag-draped coffin."
Biden attempted to strike a personal tone by speaking of his late son Beau Biden, a veteran who died of brain cancer in 2015. However, Democratic strategist Michael Starr Hopkins was "disappointed" that Biden didn't make a more significant emotional connection at this point in the speech. The president's ability to show emotion is one of his strengths and Hopkins called it a "missed opportunity" that he shied away from emotion when talking about his son and the topic of mental health.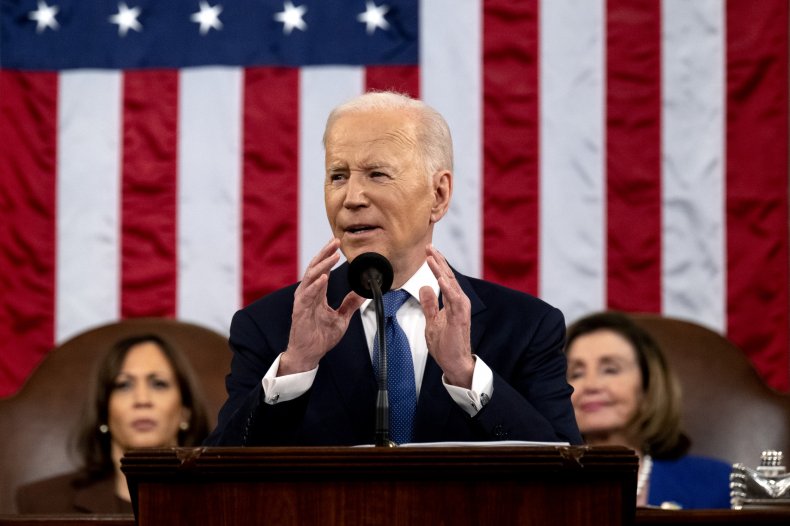 Much of Biden's speech focused on the economy, a key issue for voters. Inflation is at the highest level it's been in decades, with gas prices and used cars up 40 percent and meat, fish and eggs up 12.2 percent, according to the Bureau of Labor Statistics. It's made Biden a target for Republican criticism and is likely to follow Democrats to the polling booths come November.
During his SOTU address, Biden pushed for more goods to be made in America to strengthen the country's supply chains, increase jobs and lower prices. The "Made in America" plan is one that former President Donald Trump pushed as president and one that some of his allies have accused Biden of copying.
Card was "somewhat surprised" by the emphasis on "make it in America" but called it "rhetorically powerful." While much of the speech sent mixed messages as Biden simultaneously called for a unified country and criticized Republican policies, Card said the push for restoring manufacturing in America "achieved a fleeting sense of unity." However, she saw it as a misstep that Biden didn't "tie it into other parts of the speech."
Biden championed the passage of the infrastructure package and outlined a four-point plan to save the economy, shifting away from his Build Back Better spending plan. Without some of the social spending aspects of the plan, it's possible Biden could get Republican support for the policies. But, Michael Gordon, a Democratic strategist, criticized the speech for having a "little too much jargon" in it and focusing on programs that the average American isn't tuned into.
"The speech will not be enough to put Americans at ease, even with all of the good economic news he mentioned. They need to see the results with inflation easing and at the gas pumps. How the economy affects their daily lives is much more important than any single speech—particularly in our era of multiple distractions and polarized media," Gordon said.
Biden's strong start with Ukraine gave him the opportunity to demonstrate leadership, conviction and strength, according to Cooperman. However, she said he failed to make the case for why the conflict in Ukraine is "so important to Americans." If the sanctions against Russia impact Americans at the gas pump, as Biden predicted they will, she said the president will have to work hard to convince Americans that opposing Russia is worth it.