Biden, Speaking With Mask, Tells Supporters 'This Cannot Be a Partisan Moment' As Trump Hospitalized
Democratic presidential nominee Joe Biden urged the nation to "come together" while speaking outdoors in a face mask at his first campaign event since learning that President Donald Trump was diagnosed with COVID-19.
Biden spoke for about 20 minutes in Grand Rapids, Michigan on Friday evening. Speaking before the president was admitted to Walter Reed Medical Center, Biden stressed that pandemic should not be used as "a partisan moment."
"We can get this pandemic under control, so we can get our economy working again for everyone," Biden said. "But this cannot be a partisan moment. It must be an American moment. We have to come together as a nation. I'm running as a Democrat, but I will govern as an American president. Whether you voted for me or against me, I will represent you."
"This is the United States of America, there's nothing beyond our capacity," he continued while ending the speech. "I want to say God bless you. May God protect the first family, and every family that is dealing with this virus. And may God protect our troops."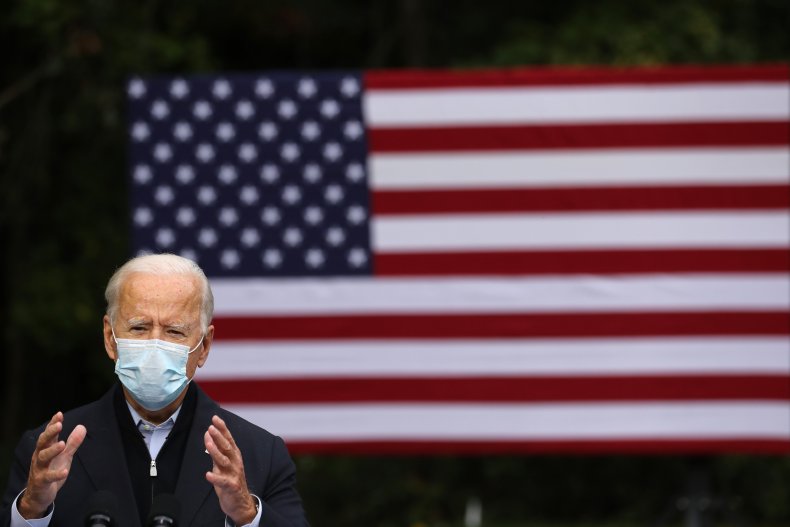 As Trump was boarding Marine One on his way to being hospitalized less than 24 hours after testing positive for the virus, he tweeted a pre-recorded video thanking his well-wishers for their "tremendous support."
"I want to thank everybody for the tremendous support," Trump said. "I'm going to Walter Reed hospital. I think I'm doing very well, but we're going to make sure things work out. The first lady is doing very well. So, thank you very much, I appreciate it, I will never forget. Thank you."
Biden has tested negative for the virus. He began his speech by noting that he had taken multiple coronavirus tests after learning that Trump and First Lady Melania Trump tested positive, having been in close proximity to the president while sharing the stage with him in their debate on Tuesday.
"We wanted to make sure that we're doing everything by the numbers, so I got two COVID tests this morning," said Biden. "One in Delaware and one by the former White House doc who came up, and everything's clear. We wanted to make sure everything was clear before I came."
The bulk of Biden's speech focused on talking points from his "build back better" plan for post-pandemic recovery. The former vice president said that a longer indoor event that had been planned for that night was canceled over safety concerns.
Biden's campaign announced that they would be pulling negative ads aimed at the president as he made his way to the hospital. Trump's campaign did not follow suit, instead attacking Biden for his speech and decision to stop the negative ads.
"Joe Biden used his speech in Michigan today to attack the President repeatedly on Social Security, the economy, and job creation. Now Biden wants credit for being magnanimous?" Tim Murtaugh, communications director for the Trump campaign, wrote on Twitter.
Newsweek reached out to the Biden campaign for comment.