A new report released Friday looks at the disparity between the amount of money the 2020 Democratic candidates have spent in the runup to the elections on March 3.
Former Vice President Joe Biden's campaign has only spent $4,000 in digital advertising in the state of California, just days before the state holds its Democratic primary, according to data provided to NPR by tracking firm Advertising Analytics. In total, Biden's campaign has put $625,000 towards advertising in the 14 states, including California, that will cast their votes on what is known as Super Tuesday.
In comparison, former New York City Mayor Michael Bloomberg has spent a total of $78 million in California ads alone, with a total purchase of $218 million for all Super Tuesday states.
Newsweek reached out to Biden's campaign for comment but did not receive a response in time for publication.
Biden's Super Tuesday buys are the second smallest in the Democratic race. Hawaii Senator Tulsi Gabbard's campaign has only spent $383,000 on advertising for the primaries. Andrew Yang reportedly spent $412,000 on advertising but suspended his campaign before the results for the New Hampshire primaries were announced in February.
All other Democratic candidates have spent over a million dollars in advertising, including national front runner Vermont Senator Bernie Sanders who has spent $7 million in California and a total of $15.5 million across all Super Tuesday states.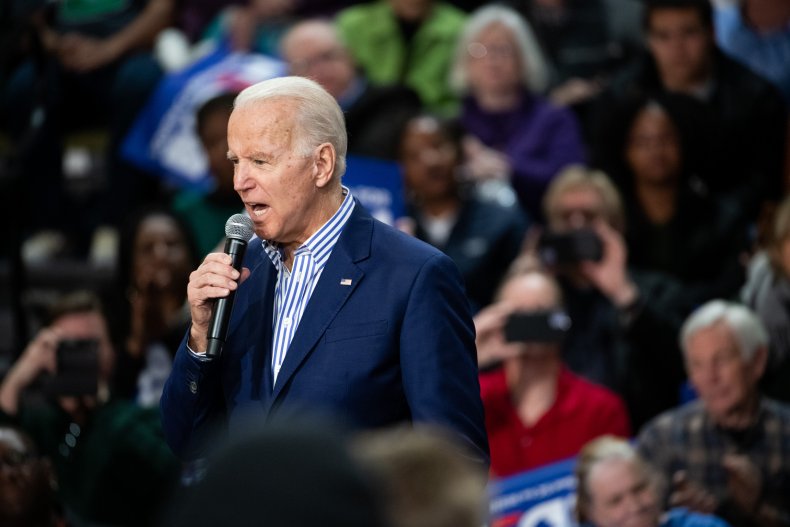 Before Super Tuesday, the candidates must go through the primary in South Carolina, a state Biden is hoping to win mainly with the support of African-American voters. If Biden gains a victory in South Carolina, then he is expected to regain his political momentum and gain some victories in the upcoming primaries.
"South Carolina is the trajectory to winning the Democratic nomination," Biden told supporters in Charleston on Thursday.
However, CNN political analyst Van Jones said Friday that Biden's campaign is suffering from a "weakness."
"[Biden] doesn't have the grassroots enthusiasm," Jones said. "He's not filling stadiums like Bernie Sanders. He's not vacuuming in money from the top. He doesn't have a grassroots operation. It's felt like a dead man walking campaign for a long time."
Biden also has to contend with the popularity of Sanders, who holds an average 11.1 percent lead over the rest of the field of Democratic candidates, according to Real Clear Politics. Biden comes in second in that poll with 18.4 percent.
Bloomberg entered the race too late to be on the ballot for the South Carolina primary, but his campaign manager Kevin Sheekey told MSNBC on Thursday that Bloomberg's absence wouldn't matter in the long run.
"He was winning by 35 points a month ago and quite frankly now the question is whether he will win at all," Sheekey said.
"Obviously, it'd be an enormous blow to the vice president if he lost or just won by a little," Sheekey added. "But either way, South Carolina is not going to matter. It doesn't appear to me that anyone is going to get out of this race before that."