Biden Stakes His Presidency on Voting Rights, But Voters Don't Care
President Joe Biden is going all-in on voting rights reform, parting with his decades-long view on the Senate filibuster to ensure that Democrats can pass the legislation.
In a fiery speech Tuesday, Biden said there was "no option" but to scrap the filibuster so the John Lewis Voting Rights Act and the Freedom to Vote Act can get through Congress.
"It gives me no satisfaction in saying that, as an institutionalist, as a man who was honored to serve in the Senate," Biden said as he delivered remarks in Atlanta. "But as an institutionalist, I believe the threat to democracy is so grave that we must find a way to pass these voting rights bills, debate them, vote, let the majority prevail."
But the issue isn't weighing as heavily on voters' minds, polling has shown.
A new Morning Consult/Politico poll asked respondents which voting reform idea should be "top priority" for lawmakers: reforming Congress' role in counting Electoral College votes, expanding voting access in federal elections or expanding oversight of states' changes to voting practices.
Most voters, 32 percent, said none should be a top priority for Congress.
While a majority of voters support some of the provisions included in the John Lewis Voting Rights Act—including expanding access to early voting and making Election Day a federal holiday—respondents were split on whether the Senate should change the filibuster rules to pass the bill.
Thirty-seven percent of voters said that they support the filibuster being changed, while 36 percent said they oppose altering the rule. More than a quarter of voters said they didn't know or had no opinion on the matter.
Senate Majority Leader Chuck Schumer said he intends to bring the voting rights legislation to the floor this week "to fight back against the threats to democracy and protect people's access to the ballot."
If Republicans block that effort, as they're expected to, Democrats will have to consider taking steps so the chamber can "adapt and act," Schumer said.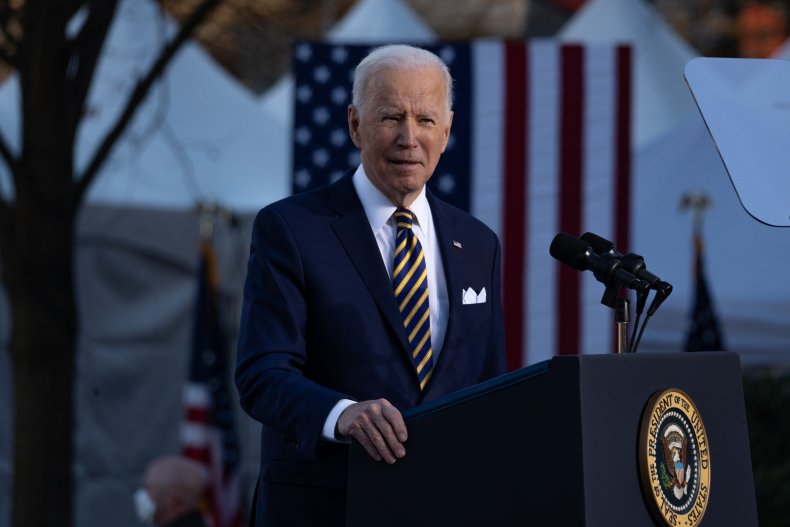 Biden's speech at Georgia's Morehouse College and Clark Atlanta University came amid criticism from some voting rights advocates that he hasn't applied enough pressure to getting the legislation passed.
"I've been having these quiet conversations with members of Congress for the last two months," Biden said. "I'm tired of being quiet!"
The latest annual Associated Press/NORC poll, conducted last month, found that voting laws didn't rank as a top issue for Americans heading into 2022. Just 6 percent of respondents listed it as a major concern.
Newsweek reached out to the White House for comment but didn't receive a response before publication.
Former President Barack Obama implored lawmakers in 2015 to restore the 1965 Voting Rights Act and pass new, broader legislation to address efforts to impede voting rights. But the issue wasn't taken up during his presidency or during Donald Trump's tenure in office.
Morning Consult/Politico surveyed 2,000 registered between January 8 and 9. The poll's margin of error was plus or minus 2 percentage points.
The Associated Press/NORC poll surveyed 1,089 adults between December 2 and 7, 2021. The margin of sampling error was plus or minus 4.1 percentage points.