Biden Strategy Says 'America, Not China' Will Set World Order
President Joe Biden's administration has released a new strategy document vowing to ensure the United States of America remains atop the world order, and not its closest competitor, the People's Republic of China.
The White House published the 23-page report, entitled the "Interim National Security Strategic Guidance," on Wednesday, outlining the new administration's priorities at home and abroad.
While a broad range of topics and potential threats were covered, a special emphasis was placed on China, which was referred to as "the only competitor potentially capable of combining its economic, diplomatic, military, and technological power to mount a sustained challenge to a stable and open international system."
The document vowed to surmount this perceived challenge and to present an agenda that "will strengthen our enduring advantages, and allow us to prevail in strategic competition with China or any other nation."
"The most effective way for America to out-compete a more assertive and authoritarian China over the long-term is to invest in our people, our economy, and our democracy," the document said. "By restoring U.S. credibility and reasserting forward-looking global leadership, we will ensure that America, not China, sets the international agenda, working alongside others to shape new global norms and agreements that advance our interests and reflect our values."
The guide vowed to rally friendly nations to repel what was portrayed as a threat to a U.S.-led order.
"By bolstering and defending our unparalleled network of allies and partners, and making smart defense investments," the paper said, "we will also deter Chinese aggression and counter threats to our collective security, prosperity, and democratic way of life."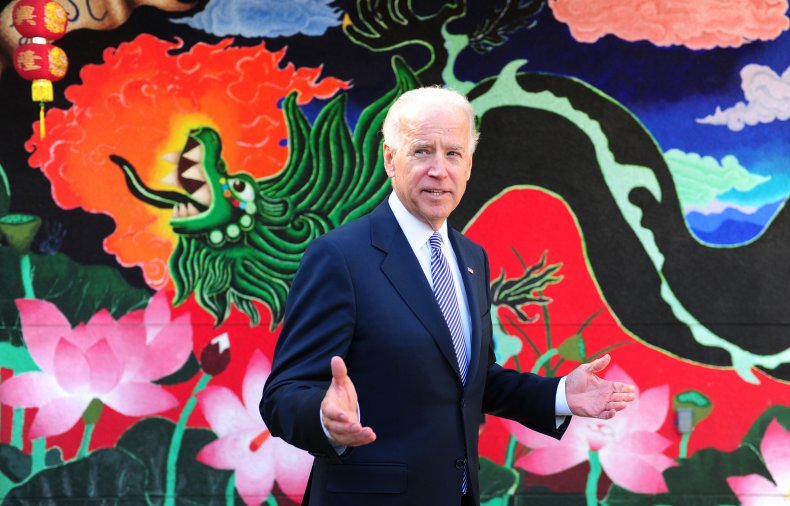 The report vowed to confront alleged Chinese abuses such as "unfair and illegal trade practices, cyber theft, and coercive economic practices that hurt American workers, undercut our advanced and emerging technologies, and seek to erode our strategic advantage and national competitiveness."
It also asserted Washington would take on issues considered by Beijing to be domestic affairs such as support for Taiwan, and accusations of humans rights violations in Hong Kong, Xinjiang and Tibet.
And at the same time, the strategy appeared to allow for certain areas of cooperation such as climate change, global health security arms control and nonproliferation issues, but only when it suited Washington.
"We also recognize that strategic competition does not, and should not, preclude working with China when it is in our national interest to do so. Indeed, renewing America's advantages ensures that we will engage China from a position of confidence and strength," the paper said. "We will conduct practical, results-oriented diplomacy with Beijing and work to reduce the risk of misperception and miscalculation."
The U.S. approach to China has taken a decisively harsher tone since former President Donald Trump's tenure, a shift that has largely continued under Biden.
In Beijing, Chinese Foreign Ministry spokesperson Wang Wenbin appealed for a positive turn in the troubled ties between the world's two largest economies.
"We hope the United States will view China and China-U.S. relations in an objective and rational light, adopt practical and rational China policies, work with China in the same direction, and do more to promote mutual trust and cooperation," Wang told a press conference earlier Wednesday, "so as to help bring bilateral relations back onto the track of sound and steady development."