Biden Strongly Favored Over Trump in Temperament, Caring: National Poll
Democratic presidential nominee Joe Biden is strongly favored over President Donald Trump by voters nationwide when it comes to his temperament and his ability to care about people, new polling data has shown.
The latest CBS News/YouGov national poll shows that by a double-digit margin, a majority of voters say Biden cares about people and has the right temperament compared to a minority that say the same of the incumbent Republican president.
When it comes to caring about people, Biden is favored by 63 percent of voters compared to just 44 percent who say the same of Trump. On temperament, Biden is backed by 49 percent as opposed to just 37 percent who favor Trump.
But Trump is seen by more voters as having the energy for the job, with 61 percent viewing the incumbent president as energized compared to just 46 percent who say the same of Biden. The polling also shows that slightly more voters—although the amount was statistically insignificant—believe Trump would do better when it comes to the economy, with 45 percent favoring the president's economic policies to 44 percent who preferred Biden's.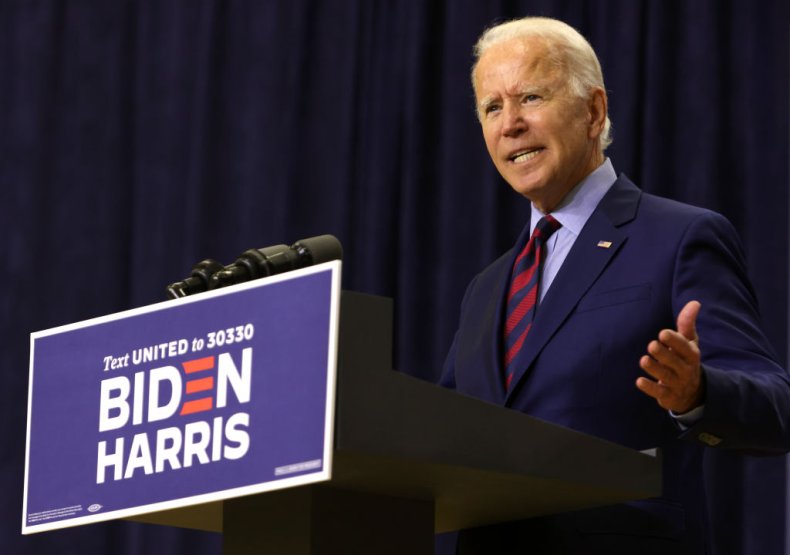 When it comes to the novel coronavirus pandemic and nationwide protests, more voters think Biden would handle them better than Trump. While 51 percent of voters say they approve of how Biden has responded to protests, only 44 percent say the same of Trump. Half of voters believe Biden would do a better job responding to the pandemic, as only 38 percent of voters believe the incumbent president would do better.
The survey found that 52 percent of voters nationwide plan to cast ballots for Biden in the November 3 election while just 42 percent will vote for Trump—giving the Democratic nominee a 10 point advantage. That is greater than the current RealClearPolitics and FiveThirtyEight averages of national polls, which give Biden a lead of about 6.9 percentage points and 7.5 percentage points respectively.
The CBSNews/YouGov poll was conducted from September 2 to 4 and has a margin of error of 2.4 percentage points.
Trump and campaign officials have consistently dismissed negative polling data, arguing that most pollsters are biased against the president and Republicans. They have also pointed to the results of the 2016 election, when former Democratic presidential candidate Hillary Clinton lost in a series of key battleground states propelling Trump to a big win in the Electoral College. Most pollsters and analysts had projected that Clinton would win the election, and the Democratic nominee did win nearly 3 million more individual votes than Trump.
But analysts have pointed out that Biden's lead in national polls and polling averages has been more consistent than Clinton's was in 2016. The 2020 Democratic nominee also appears to be ahead in multiple key battleground states—including Florida, Michigan, Pennsylvania and Wisconsin—which went blue for former President Barack Obama in 2008 and 2012 before flipping red for Trump in 2016. As of Sunday, RealClearPolitics' averages show Biden ahead by a range of 1.8 and 4.4 percentage points in all four swing states.