Americans continue to lose faith in President Joe Biden's ability to lead the country through the coronavirus pandemic, and he's finishing his first year in office with almost half the country disapproving of his handling of the crisis.
Biden is facing more COVID-19 deaths under his tenure than former President Donald Trump had, with coronavirus cases breaking records across the country. While Biden has defended his approach for being vastly different from Trump's, he's struggling to convince voters that he has a good grip on the situation, and losing with independents could hurt Democrats in this year's midterm elections.
As Biden marks one year in office, 48 percent of Americans disapprove of his handling of the pandemic, according to FiveThirtyEight. His disapproval rating surpassed his approval rating on January 12, when it hit 47.5 percent, and has been marginally increasing since.
The White House has argued that Biden has made significant progress fighting COVID-19, but his support among all voting demographics is at its lowest point since he took office. He still has majority support from Democrats, at 79 percent, but only 38 percent of independents and 15 percent of Republicans approve of his pandemic strategy. The decline is about a 20-point drop from the spring, when Biden's support peaked.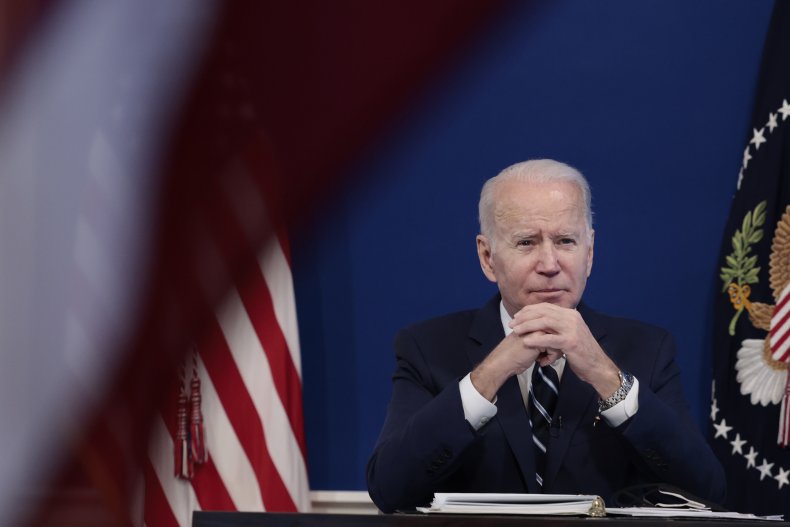 Shortly after taking office, Biden had more than 50 percent approval among independents and Democrats for his handling of the pandemic, according to FiveThirtyEight. His appeal to voters across the political spectrum increased in the spring as vaccinations rose and coronavirus cases seemed to be petering out.
However, the hope that the pandemic could be waning was short-lived, and virus cases started to surge again over the summer as Delta spread, quickly becoming the nation's dominant variant. An infectious and dangerous strain, Delta pushed hospitals to their breaking points, and some states started to implement, or at least consider implementing, crisis standards of care.
As Delta took over, Biden's approval rating for his handling of the pandemic started to drop across voting demographics, and the Omicron variant's arrival did little to help.
This winter prompted renewed criticism of the president and his administration. While the winter surge in virus cases was expected, America's testing system was unprepared for an influx in demand for diagnostics. Americans found themselves waiting in long lines to get a test, struggled to find appointments and faced long turnaround times for PCR results.
Problems with in-person testing created a run on at-home tests, which flew off the shelves, leaving some Americans struggling to get tested during the holiday season.
Testing remains a significant problem in many parts of the country. In Utah, officials told residents who aren't at high risk to not bother getting tested—they had to assume they had the virus and follow quarantine procedures.
Biden campaigned heavily on being the presidential candidate who could turn the situation around and rein in the raging pandemic. While he's committed to making at-home tests free to Americans, the delivery of those tests is likely to come after the Omicron surge is over.
The ongoing pandemic could hurt Democrats in the upcoming midterm races because responsibility will be put squarely on Biden's shoulders. Republicans have already started to capitalize on the rising virus case counts, and Democrats can afford to lose any seats if they want to maintain control of both houses of Congress.
While Republicans are unlikely to come out and vote for Democratic candidates in the midterms, Biden's low approval rating among the GOP could help mobilize its base. Voter turnout has been shown to sway close elections, and if Republicans turn out in large numbers and independents or Democrats aren't motivated to cast ballots, the GOP could gain victories in key races.
However, there's still time before the midterms to change the situation. If the pandemic starts to subside and Americans see mask mandates being lifted and life returning to some normalcy, Biden could use that as a powerful testament to his administration's success.