Biden Takes Aim at Cuba During Worst U.S.-Russia Crisis Since Cold War
As the war in Ukraine sparks a crisis that leaves relations between the United States and Russia even worse than during their Cold War rivalry, President Joe Biden is putting pressure on Moscow's old ally in the Western Hemisphere, Cuba.
Communism has long left the Kremlin, but the ideology remains vibrant in the Latin American island just 90 miles off the coast of Florida. Washington and Havana managed to overcome their differences to pursue a rapprochement under former President Barack Obama, but Donald Trump, his successor, decided to double down on the 60-year embargo against Cuba.
Since coming to office early last year, Biden, who once backed the U.S.-Cuba thaw years ago as Obama's vice president, has not only in effect maintained the "maximum pressure" approach pursued by his rival, but expanded upon it with new sanctions targeting Cuban officials and institutions accused of human rights abuses.
Most recently, the U.S. has opened a new political front against Cuba, accusing it of tacitly supporting Russia's attack on Ukraine by abstaining from United Nations motions condemning Moscow and amplifying arguments that the U.S. and its NATO allies helped set the stage for the conflict.
"The Russian government reached out to its autocratic counterparts in other corners of the globe, including some of the most repressive, undemocratic actors in this Hemisphere," a State Department spokesperson told Newsweek. "That includes Cuba."
"We denounce Cuba's recycling and repetition of Russia's false narrative about its war against Ukraine to the Cuban people in state-run media outlets," the spokesperson added. "This includes publishing recent stories that assert that the atrocities in Bucha were manufactured and the Cuban Government's statements blaming the United States and NATO for the conflict."
But a senior Cuban official countered this characterization of Havana's position, arguing that "there are not many countries that help Ukraine more than Cuba."
"In Latin America," the official told Newsweek, "I think we've been one of their best friends."
As an example, the senior Cuban official discussed a three-decade-old program of taking in children and mothers affected by the 1986 Chernobyl nuclear disaster for oncological hematologist pathology treatment at the Tarará beachside resort near Havana "with very good results." Even after the collapse of the Soviet Union brought major hardships to Cuba, the country continued for years to foot the cost of advanced treatment of cancer and other ailments.
"So there's no one that could say that we are happy with what's going on there," the senior Cuban official said. "At the same time, we realize that we cannot approve a resolution in the United Nations that does not reflect the complexity and the role of U.S. and NATO irresponsible behavior ignoring legitimate claims from Russia that drove the situation to get to this point."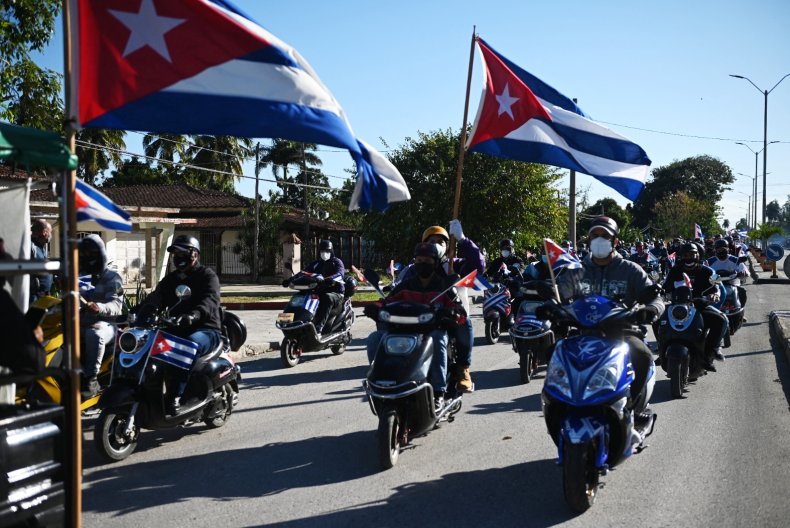 And after Cuba opted to join 33 other nations, including China and India, to abstain from a U.N. General Assembly measure early last month supported by 141 member states to condemn Russia, the senior Cuban official argued that the country "adamantly said in our official position and the explanation of our abstention vote that we were and we are against the use of force, that we're against a violation of international norms and international law."
"But Cuba is also against the manipulation that the U.S. is using in order to send more weapons to Ukraine," the senior Cuban official added. "Cuba favors dialogue and peace talks, a real durable solution, not more measures to instigate war."
Cuba notably did not join Belarus, Eritrea, North Korea, Russia and Syria in opposing the U.N. vote.
Part of the "manipulation" claimed by the senior Cuban official refers to a series of tweets published by the official Twitter account of the U.S. embassy in Havana, which has regularly been used to broadcast messages in support of Ukraine and critical of Russia. Some tweets accused the Cuban government of expressing "support" for Moscow in the conflict.
"The U.S. is trying to misinform the U.S. people and to confuse our population as well in order to find new pretexts and lies to justify the unjustified inhuman policy of financial and economic siege vs. Cuba and its population," the senior Cuban official said.
Moscow has also channeled its narrative of the war in Ukraine through its embassy in Havana, sharing tweets of an opposing viewpoint in which Russian forces were valiantly carrying out what President Vladimir Putin has called a "special military operation" to neutralize Ukraine militarily and politically while striving to eliminate far-right forces he claims have hijacked the country's leadership.
The manner in which Cuba could factor into this dispute emerged more than a month before the February 24 invasion was launched, when Russian Deputy Foreign Minister Sergei Ryabkov would not rule out the potential for Moscow to answer new deployments in Europe by Washington and its allies by increasing its military presence among partnered countries in the Western Hemisphere.
In December, he warned that failing security talks between NATO and Russia could lead to a situation worse than the Cuban Missile Crisis that brought the world to the brink of nuclear war 60 years ago. The dispute ended with the withdrawal of Soviet and U.S. nuclear-capable missiles from Cuba and Turkey, respectively, and helped begin a decades-long project of arms control measures that have since eroded substantially as relations between the world's top two nuclear powers continue to plummet to all-time lows.
Today, nuclear threats have again been exchanged by Washington and Moscow, this time over the war in Ukraine, and Biden has gone so far as to call for Putin to leave power and stand trial for alleged war crimes.
And less than a week before the conflict in Ukraine erupted, Russian Deputy Prime Minister Yuri Borisov visited Cuba, along with fellow leftist-led Venezuela and Nicaragua, in a bid to bolster cooperation. As the hostilities in Eastern Europe commenced, Russian lower house of parliament speaker Vyacheslav Volodin was in Cuba as part of a two-pronged trip also including Nicaragua.
All of these developments in Latin America, along with earlier visits to Russia by the leaders of Argentina and Brazil to meet with Putin, were said by U.S. Southern Command chief Army General Laura Richardson to have "demonstrated concerning, potentially broadening Russian ties to the region" during her testimony to the Senate Armed Services Committee late last month.
Asked by Newsweek whether Moscow was considering Western Hemisphere military movements in response to the U.S. and NATO bolstering their bloc's eastern flank in Europe and providing direct military assistance to Ukraine, Russian Foreign Ministry spokesperson Maria Zakharova said that Russia has "always been open to constructive and meaningful cooperation and remain open to cooperation with Latin America in all areas, from politics to military and technical cooperation and humanitarian and trade ties."
"We have always underlined that our cooperation in the military area is carried out in accordance with bilateral agreements based on national legislation and international law," she added, "and is not aimed to change the military and political balance in the region and is not aimed against other countries."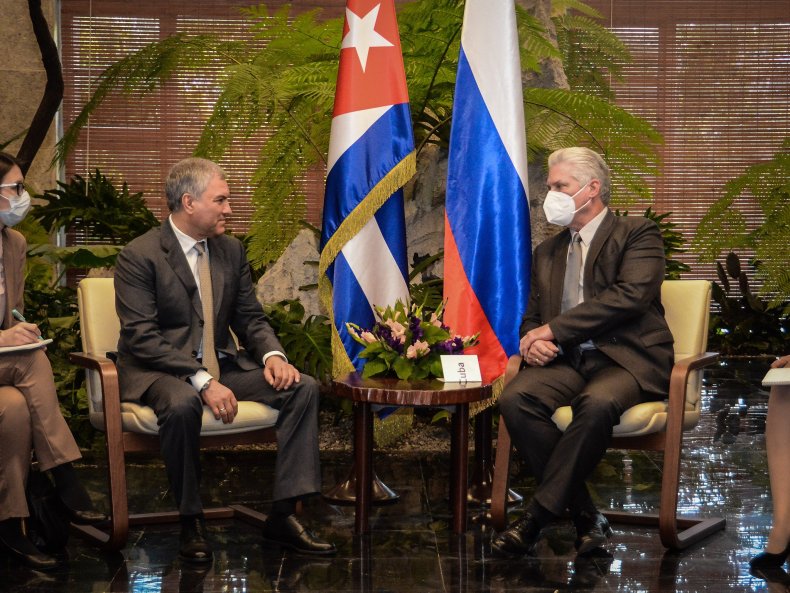 But Zakharova also warned that the U.S. and NATO have "crossed all red lines" in their policy toward Ukraine, and criticized the approach adopted by Washington and its allies in the Western Hemisphere as well.
"We understand quite clearly that in this region of Latin America, politicians and countries are under the strong pressure of the U.S. and the collective West, using the whole toolkit that has nothing to do with diplomacy," Zakharova said. "I'm talking about political influence and economic leverages and direct blackmail, including against individuals."
And, at a time when Russia too faces broad U.S.-led sanctions as a result of its actions in Ukraine, Zakharova claimed that "the U.S. and the collective West don't think about the global, social and economic consequences of international sanctions, including for their own region."
Russia has been vocal in protesting U.S. policies toward Cuba, but Moscow was far from alone in this endeavor.
The ongoing U.S. embargo against Cuba has been regularly condemned by the U.N. General Assembly in an even more unanimous fashion than Russia's war on Ukraine. The most recent round on June 24 of last year received some 184 votes for condemnation out of 193 member states, with only the U.S. and Israel opposing, while Brazil, Colombia and Ukraine abstained, and the Central African Republic, Moldova, Myanmar and Somalia did not vote.
The Biden administration has defended its approach.
"Our policy toward Cuba is to first and foremost support the Cuban people, their political and economic well-being, and their human rights," the State Department spokesperson said. "This means we are committed to accountability for Cuban government officials involved in human rights abuses."
Just after the U.N. vote took place, a rare wave of demonstrations swept Cuba on July 11, as protesters lashed out over a lack of goods and medicine amid growing discontent with the government's handling of the COVID-19 pandemic. Some went as far as to attack security personnel, and hundreds were arrested, some receiving lengthy sentences that have become yet another target of Washington's rhetorical attacks on Havana.
Cuban officials have argued that the brief uprising was amplified by a social media campaign waged by a militant anti-communist faction of Cuban diaspora living in the U.S. and further elevated with Washington's support, a narrative denied by the Biden administration.
"The Administration works closely with the private sector and other stakeholders to make the Internet more accessible to the Cuban people," the State Department spokesperson said. "The Administration supports global efforts to counter Internet censorship, restrictions on content access, and shutdowns, including in Cuba. We have bolstered that support since nationwide protests on July 11 and will continue to do so."
Rather than negotiating directly with representatives of Havana, Washington has primarily formulated its Cuba policy through engagement with what the spokesperson said were "Cuban American leaders and stakeholders representing diverse opinions as they work to help elevate the voices of demonstrators in Cuba."
"The U.S. government works with non-governmental organizations and faith-based groups to facilitate private donations and other exports of medical and health-related equipment, staple food items, and basic toiletries and hygiene products directly to the Cuban people," the spokesperson said. "We remain committed to policies that will advance the democratic aspirations of the Cuban people."
The State Department spokesperson said that the U.S. "will continue to stand with the people of Cuba even as the Russia-allied regime stifles democratic aspirations, deploys disinformation, and abuses human rights."
Among the groups calling on the White House to take even tougher measures is the Center for a Free Cuba, based in Washington D.C. The activist organization, emboldened by the recent unprecedented vote to remove Russia from the U.N. Human Rights Council, is currently petitioning Biden to do the same to Cuba, even as other organizations call for normalization of political and economic relations.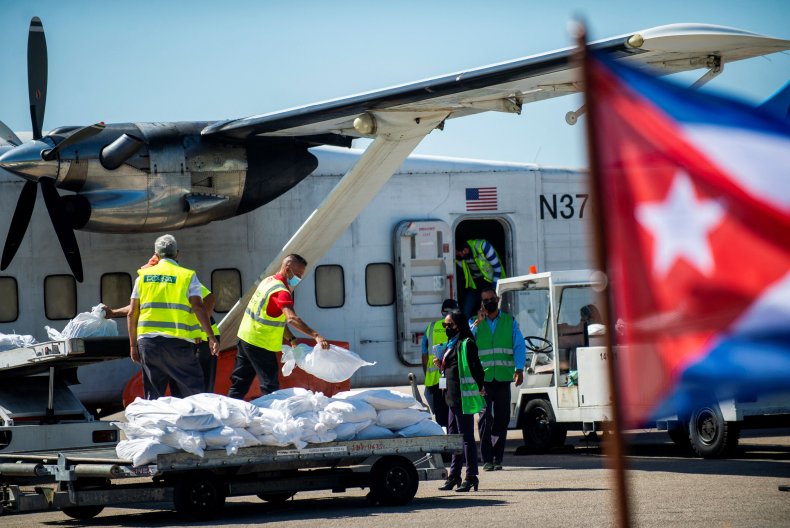 The senior Cuban official also lamented the lack of direct diplomacy between Washington and Havana, noting that "Biden has been more than a year in office and we haven't had one official formal serious discussion on any issue."
Even under Trump, some initial meetings took place, even if the Republican leader would go on to appeal strongly to the anti-communist Cuban American community based largely in Florida, which Trump ultimately won in his unsuccessful 2020 reelection bid against Biden.
"They keep enforcing the maximum pressure policy that, by design, the Trump government put in place to make the Cuban economy collapse," the senior Cuban official said, "to asphyxiate the Cuban population in order to see if tragic conditions could evolve into riots and desperation and a regime change actions promoted by U.S. meddling and interference (something the U.S. would never allow other to do to the U.S.), so this is something that has to be addressed objectively."
"They enforce these measures during the pandemic regardless of the impact of U.S. coercive measures on Cuban families," the official added, "and the economic shortages Cuba revenues suffered by the dramatic drop in tourism."
So, while the White House touts a human rights-oriented strategy, the senior Cuban official argued that "there's a huge lack of coherence between the speech of President Biden and his political team in government and their actions," as "they are strengthening maximum pressure measures that are making the life of Cuban women and men and children every day more difficult with additions that have their own brand."
"Let Cuba live. If socialism is a failure, so be it, remove the artificial help," the senior Cuban official added. "We don't need the U.S. to withdraw $5 billion every year from the Cuban economy to prove us wrong. Let us die with our own medicine."
"Remove the obstacle," the senior Cuban official added. "If the embargo is the excuse for the Cuban people and the Cuban government to blame the U.S. for our insufficiency, remove the excuse. Let Cuba develop at its real capacity."