Biden Takes Double-Digit Lead Over Trump in New National Poll as George Floyd Protests Spread Across the Country
Presumptive Democratic nominee Joe Biden took a double-digit lead over President Donald Trump in the upcoming election, according to a new poll.
The poll, which was conducted by Monmouth University, surveyed 807 U.S. adults from May 28 to June 1.
According to the poll, 52 percent said they lean toward Biden if the election was held today, while 41 percent sided with Trump, giving the former vice president an 11-point lead. This is the largest lead Biden has had over Trump in a number of different polls conducted by Monmouth University.
In the first poll, conducted in March, Biden had a 3-point lead over Trump, 48–45, but the gap between the two has continued to increase over the past few months, as Biden led Trump by 4 points in an April poll, 48–44 and a 9-point lead in May, 50–41.
In response to the poll's findings, deputy press secretary for Trump's campaign Ken Farnaso, told Newsweek that "2016 proved that polling is notoriously wrong and has always underestimated the President and his ability to connect with the American people."
"President Trump's America First agenda ushered in an economic renaissance, a renewed national security, strengthened our relationships with our allies, and kept our foes at bay," Farnaso added in his email sent to Newsweek.
The poll's findings come as protesters have taken to the streets in several different states following the death of George Floyd, a 46-year-old black man. Floyd was arrested on May 25, after Minneapolis police officers responded to a call of someone using forged documents at a local Cup Foods supermarket.
During the arrest, Floyd was held down by three officers while the fourth, Derek Chauvin, knelt on his neck. Floyd died in police custody shortly after.
In response to the protests, Trump has suggested that he could invoke the Insurrection Act, which would deploy military presence to states that can't contain the protesters, which has sparked backlash from many.
This poll also found the level of confidence Americans have in Trump and Biden in regard to handling racial relations. According to the poll, 17 percent of Americans said they have a great deal of confidence in Biden's ability, 35 percent said they have some confidence, 17 percent said not much, and 29 percent said none at all.
In comparison, 50 percent of respondents said they have no confidence at all in Trump's ability to handle race relations, 10 percent said not much, 18 percent said they had "some" level of confidence and 22 percent said they had a great deal.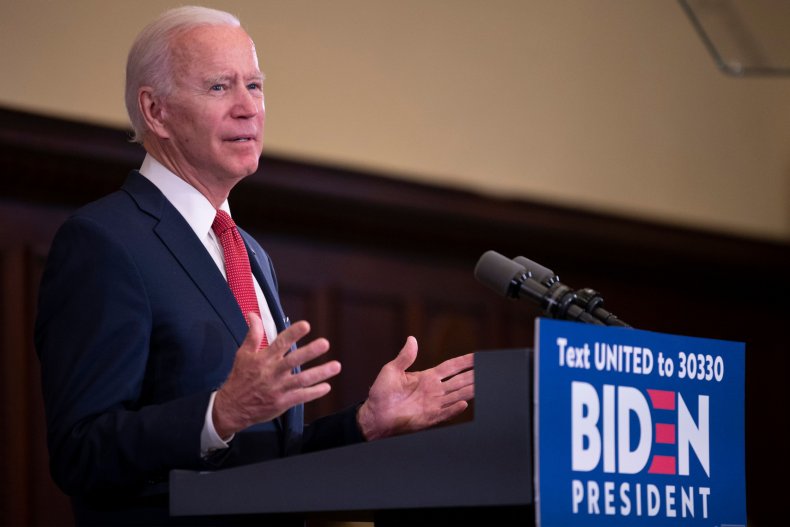 A separate poll, conducted by CNBC/Change Research, found similar results with Biden leading Trump in the general election. This poll surveyed 1,457 likely voters from May 29 to May 31 and found 48 percent of respondents choosing Biden as their preferred candidate while 41 percent sided with Trump. This poll has a margin of error of 2.5 percentage points.
Newsweek reached out to Biden's office for comment on the poll's findings but did not receive a response from either in time for publication.