President Joe Biden has set up a plan to tackle the threat of drones, with a top official warning that high-profile attacks conducted through the use of unmanned aerial systems (UAS) overseas could happen in the United States as well.
Speaking during a press call Monday, a senior administration official unveiled details of the "Domestic Counter-Unmanned Aircraft Systems National Action Plan," billed in an accompanying fact sheet as "the first whole-of-government plan to address UAS threats in the Homeland."
In discussing the nature of these threats and the actors associated with them, the official warned that "the threat to the homeland posed by nefarious, careless or uninformed operators of commercial recreational drones is growing as UAS technology becomes increasingly available and the barriers to weaponization remains quite low."
The official referenced "quite troubling" examples of drones being used abroad to target both civilian and government targets, and how they have been "the weapon of choice in attacks against heads of state and government officials," noting bomb-laden UAS attacks against Iraqi Prime Minister Mustafa al-Kadhimi last November and Venezuelan President Nicolás Maduro in August 2018.
Asked by Newsweek if there was any specific indications of individuals or groups looking to conduct such operations in the U.S., the official was "not aware of any specific threats by any specific state or nonstate actors," but noted that "we are seeing what's happening overseas," as well as "what's happening in Mexico," where the official said drug cartels have used drones to deliver explosive attacks against rivals.
"All of this is concerning and we know that the same capabilities exist here," the official said. "So that's why the whole point of this national action plan and legislative proposal is for us to be proactive and ahead of the threat."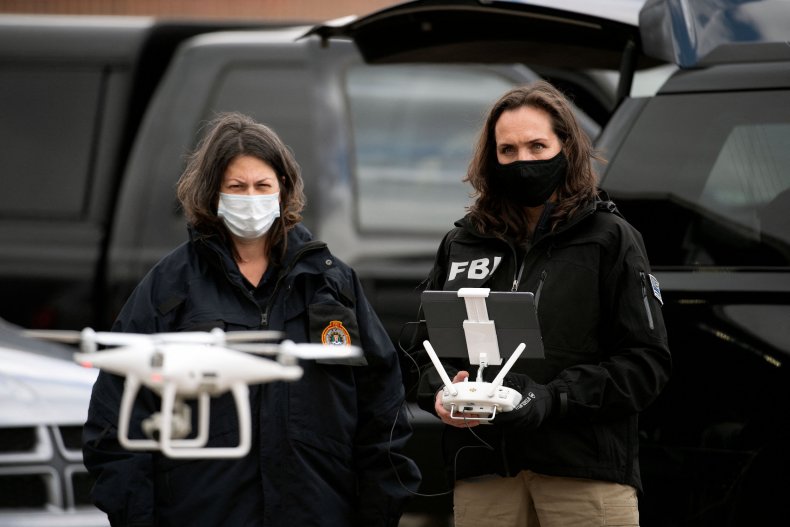 The official acknowledged that the administration would need the support of Congress "to expand a set of tools and actors who can protect against UAS by reauthorizing expanding and creating counter UAS authorities for the Departments of Homeland Security, Justice, Defense, State as well as the CIA and NASA in limited situations."
In a follow-up message shared with Newsweek, the White House explained the current constraints on federal counter-UAS powers.
"Currently, only the Departments of Energy, Defense, Homeland Security, and Justice have the authority under existing federal laws to conduct UAS detection and Counter-UAS mitigation activities," the statement said. "For DOJ and DHS, those authorities only apply to select agencies within the Department."
"For example, in DHS Customs and Border Protection are authorized to conduct UAS detection and Counter-UAS mitigation activities, but the Transportation Security Administration (TSA) is not," the statement continued. "DOJ faces similar constraints where the Federal Bureau of Investigation is permitted to conduct UAS detection and C-UAS mitigation activities but the U.S. Marshals Service is not."
"For other departments, they may have the authority to conduct the activities, but not for all locations that are deemed high-risk," the statement added. "For example, DOD can conduct UAS detection and Counter-UAS mitigation activities domestically at designated high-risk facilities, but military airports are not included in the types of facilities authorized for UAS protection."
The plan also would require lawmakers' support to expand drone-detection capabilities to state, local and tribal authorities.
"We view this as a really important step, but we want to do it in a thoughtful way," the senior administration official said in response to Newsweek's question. "We're proposing a six-year pilot, only a limited number of state and local authorities will be authorized at one time."
The official said that the FAA was set to "play a critical role in terms of approving who can participate in the pilot and monitoring to make sure that it's successful," and administration officials "want to start small, get proof of concept so that we can hopefully over time expand we know there's significant gaps."
"The federal government is just not able to be everywhere that they need to be in order to protect the American people," the official said. "So we want to bring in state and local but we are doing it in a very cautious, conservative way."