Biden Team Opposes COVID Adviser's 'Four-to-Six' Week Lockdown Proposal
A newly named member of Joe Biden's coronavirus advisory board recently said that a "lock down for four to six weeks," would help mitigate the spread of the virus, but his comments have been met with opposition from many.
During an interview with Yahoo Finance on Wednesday, Dr. Michael Osterholm, who was named to Biden's COVID-19 advisory board following his projected presidential victory, said, "We could pay for a package right now to cover all of the wages, lost wages for individual workers, for losses to small companies, to medium-sized companies or city, state, county governments. We could do all of that."
"If we did that, then we could lock down for four to six weeks," Osterholm, who also serves as director of the Center of Infectious Disease Research and Policy at the University of Minnesota, added during the interview.
While speaking to NBC News on Thursday, he clarified his comments saying "it was not a recommendation. I have never made this recommendation to Biden's group. We've never talked about it."
Despite Osterholm's clarification, his remarks on Wednesday have been met with opposition from Republicans, as well as fellow members of Biden's COVID-19 advisory board.
Two fellow members of Biden's COVID-19 advisory board, Dr. Celine Gounder and Dr. Vivek Murthy expressed opposing views to Osterholm's comments on Friday.
While speaking with CNBC's Squawk Box, Gounder said, "As a group, really the consensus is that we need a more nuanced approach," while noting that a nationwide lockdown is "not the opinion" of the advisory board.
"We can be much more targeted geographically. We can also be more targeted in terms of what we close," Gounder, who is a specialist at the NYU Grossman School of Medicine, said.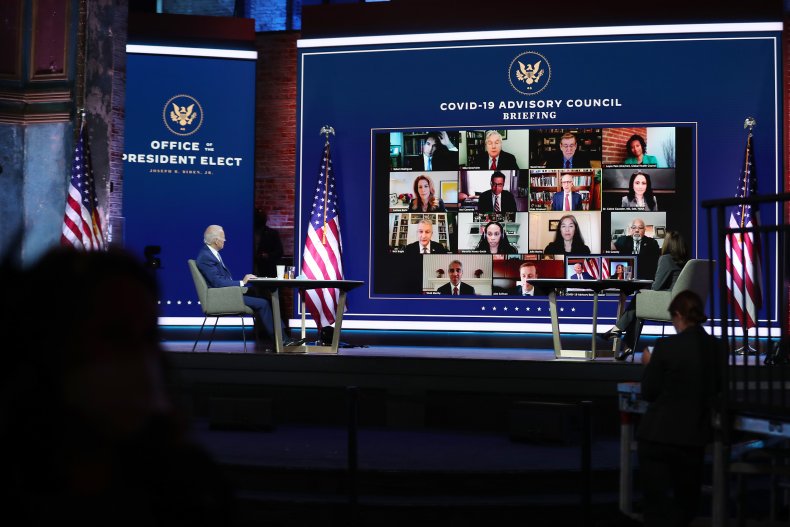 Murthy, who previously served as a U.S. Surgeon General, spoke to ABC's Good Morning America on Friday and made similar comments, saying, "We're not in a place where we're saying, shut the whole country down."
Murthy added, "The way we should be thinking about this is more like a series of restrictions that we dial up or down depending on how bad the spread is taking place in a specific region."
Osterholm's comments were also opposed by several prominent Republican lawmakers.
"Lockdowns. Mask police. Curfews. What about freedom?" Ohio Republican Rep. Jim Jordan wrote in a tweet, sharing an article about Osterholm's remarks.
South Dakota Governor Kristi Noem also expressed distaste, writing, "Just like we said, Biden's team wants lockdowns."
"We already know that lockdowns DON'T stop the spread of the virus. However, they destroy small businesses and jobs, and they make it difficult for families to put food on the table," Noem's tweet said.
During a press conference on Thursday, Mississippi Governor Tate Reeves said, "We are not going to participate in a nationwide lockdown," adding that shutting down the economy would be "totally and completely beyond reasonableness."
In an email sent to Newsweek, a spokesperson for Biden's transition team said that, "The president-elect is focused on shutting down the virus, not the economy, or the country, and we will do this through mask wearing and ensuring everyone has access to testing."