Biden Team Tells Supporters to 'Campaign Like We're Trailing' as Harris Will Visit Florida Monday
Democratic presidential nominee Joe Biden's team warned its supporters to "campaign like we're trailing" in polls the same day that his running mate, Senator Kamala Harris, announced she would visit Florida on Monday.
Harris, a Democrat from California, is set to visit Orlando and Jacksonville to celebrate the first day of early in-person voting, The Hill reported. The events mark her first public appearances since the campaign announced Thursday that multiple staffers tested positive for COVID-19.
Harris's return to the campaign trail is a sure sign that the Biden team is not slowing down, even as nationwide polling continues to place the Democratic candidate ahead of President Donald Trump.
According to website FiveThirtyEight, Biden leads Trump 52.4 to 41.8 percent in popularity as of October 17—just over two weeks until the November 3 election.
But in a memo slated to be sent to supporters on Saturday, Biden campaign manager Jennifer O'Malley Dillon cautioned that polls can be faulty or imprecise, The New York Times reported. And while national polling averages do show Biden with a strong lead, some individual states are proving more worrisome for the Democrat.
"While we see robust leads at the national level, in the states we're counting on to carry us to victory like Arizona and North Carolina we're only up by three points," she wrote in the memo obtained by the Times. "We also know that even the best polling can be wrong, and that variables like turnout mean that in a number of critical states we are functionally tied — and that we need to campaign like we're trailing."
Relying on the polls presented an issue in the 2016 election, when several battleground states showed Democratic candidate Hillary Clinton leading Trump.
While Clinton did ultimately win the popular vote, as national polls accurately predicted, she unexpectedly lost many of those key states, including Florida, North Carolina, Pennsylvania and Wisconsin—states that helped Trump secure the majority in the Electoral College.
"If we learned anything from 2016, it's that we cannot underestimate Donald Trump or his ability to claw his way back into contention in the final days of a campaign, through whatever smears or underhanded tactics he has at his disposal," Dillon added in the memo.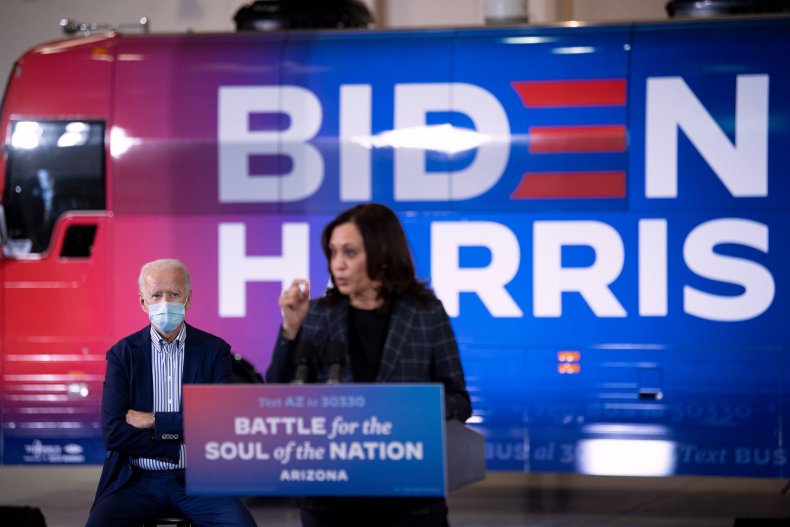 Perhaps the Biden team learned something from the Democratic Party's shortcomings in 2016. Harris's decision to campaign Monday on the ground in Florida speaks to the state's importance in the election, one which pundits have said will be essential to Trump in his quest for re-election.
While FiveThirtyEight's polling average currently places Biden ahead of Trump by four percentage points in the state, a Hill-HarrisX poll conducted this week had the candidates tied, both receiving 48 percent of likely voters' support.
Trump also has his sights set on the Sunshine State. He made a two-day stop on Thursday and Friday to court voters in several cities.
The president spoke with Floridians Thursday night during a town hall style event in Miami, which was held in lieu of the second presidential debate. And on Friday, Trump made two visits—one in Fort Myers to speak with senior citizens at a private event, and one at a rally in Ocala.