Biden Tells Iowa Man to Vote for Someone Else, Accuses Him of Supporting Sanders—Man Says He's Actually Voting for Steyer
While meeting with voters during an Iowa campaign stop Tuesday afternoon, Joe Biden experienced a verbal disagreement with former Iowa state representative Ed Fallon over Biden's climate change platform. When he accused Fallon of being a supporter of Sen. Bernie Sanders, Fallon declared he was going to vote for Tom Steyer in the primary.
Fallon, while participating in the photo opportunity, at first tells Biden he's going to support him "if he wins the nomination."
"But what are we going to do about climate change?" Fallon asks. Pointing out that Biden has said he's "against pipelines," he also points out that Biden's declared he wanted to replace "these gas lines."
"That's not going to work," Fallon says. "We've got to stop building and replacing these pipelines."
Biden turns toward Fallon and places his hand upon his chest. "Go vote for somebody else," he says, as aides are heard thanking the man.
"But you're not going to vote for me in the primary?" Biden asks.
Fallon then says he would vote for Biden "in the general" if "you treat me right," while laughing. "Can I have a pic?"
"You're asking a picture of me, coming in to tell me you don't support me, my plan," Biden says.
"No, no," Fallon says.
"Yeah, you did," Biden says.
"I said I would support you in the general," Fallon says.
"In the general. I'm running for a primary, a caucus, that's what I'm running for, okay?" says Biden. He then reaches over tugs on Fallon's jacket. "Now, you believe that Bernie can do something and by 2030?"
"I'm actually supporting Tom Steyer," says Fallon.
"Tom Steyer? Well, that's good, he's the guy that..." what Biden then says is partially inaudible due to aides loudly urging Fallon to move the line along, but Biden seems to be making reference to Tom Steyer's alleged investment in coal mining, which Biden has mentioned before on Twitter. While Steyer did not personally own coal mines, he managed the Farallon Capital Management hedge fund, which invested in coal. "So you're supporting the right guy," he concludes. The video then cuts off.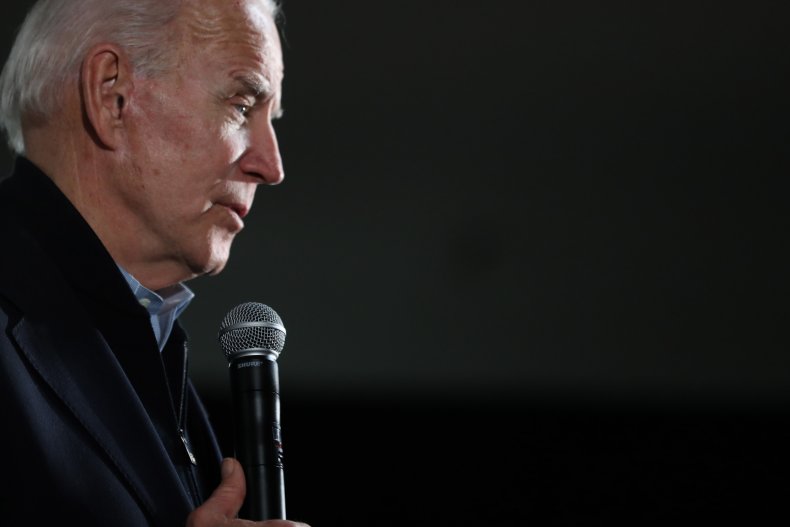 Speaking about the incident in a post on Bold Iowa, Fallon said it was, in his opinion, "disturbing on a number of levels."
"Biden doesn't even attempt to address my concern. All he says is that serious climate action by 2030 isn't realistic.
"And despite his repeated calls for unity, Biden rejects my offer to support him in the general election. That really shocked me. What was even more shocking was how Biden pushed and poked me, and then took hold of my jacket with both hands as he lectured me," he said.
Tom Steyer reacted to the video with a tweet, saying: "Hi @JoeBiden, This is no way to treat an Iowan. He said he'd vote for the Dem in the general b/c he knows how important it is to beat Trump. We need immediate action on climate. If you don't agree, happy to talk @ debate. But don't take it out on voters we need to win in Nov."
Activist and politician Fallon served in the Iowa General Assembly from 1993 to 2006. He ran for the Governor's office in 2006, where he placed third, behind then-Iowa Secretary of State Chet Culver and former state economic development director Mike Blouin.
Newsweek reached out to Joe Biden's spokesperson for comment but did not hear back at press time.