U.S. President Joe Biden told Israeli Prime Minister Naftali Bennett on Friday that he prefers diplomacy when it comes to preventing Iran from acquiring nuclear weapons, but he said if that fails, the U.S. will consider "other options" to ensure Iran "never" gets nuclear bombs.
The remarks came during Biden's first meeting with Israel's prime minister. The two men had a private, one-on-one meeting in the White House dining room for 50 minutes before they spoke to reporters in the Oval Office.
Biden and Bennett were originally scheduled to meet on Thursday, but their talk was rescheduled to Friday in light of the attack at Kabul's airport. When the leaders sat to speak in front of the press, Biden began by addressing the situation in Afghanistan.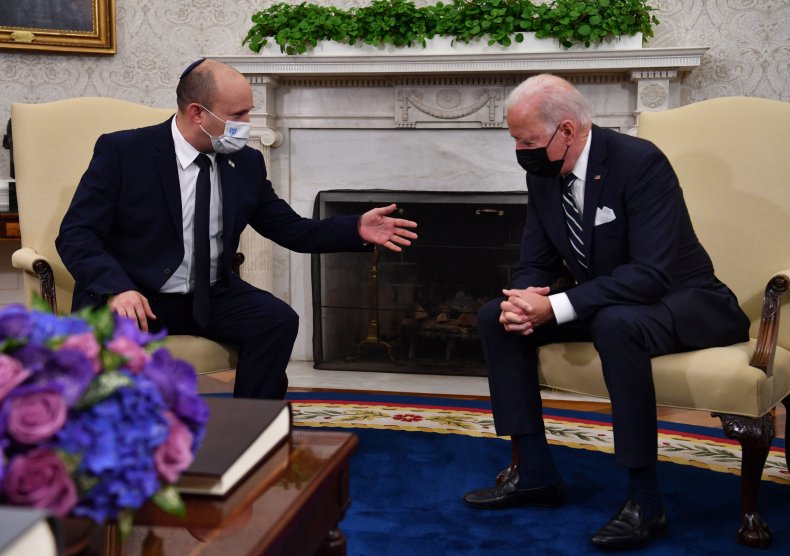 "Our hearts go out to all those we've lost," he said. "The mission...has come with a significant loss of American personnel."
But, he added, "We will complete the mission."
He then discussed his talk with the prime minister, claiming the two had "become close friends" after bonding over Amtrak trains.
Biden said the two covered a lot of ground during their discussion, including their respective responses to COVID-19 and their countries' vaccination programs. The president said he'd taken into consideration advice from Bennett regarding giving booster shots earlier.
Biden also stated an "unwavering commitment that we have in the United States to Israel's security," and that he "fully" supports "replenishing Israel's Iron Dome system."
Addressing Iran, Biden said, "We're also going to discuss the threat from Iran and our commitment to ensure Iran never develops a nuclear weapon. But we're putting diplomacy first, and we'll see where that takes us. But if diplomacy fails, we're ready to turn to other options."
In his remarks, Bennett said to Biden, "I was happy to hear your clear words that Iran will never be able to acquire a nuclear weapon and that you emphasized that you'll try the diplomatic route, but there's other options if that doesn't work out."
"Iran is the world's number one exporter of terror, instability and human rights violations," Bennett added.
The Israeli leader also offered his "condolences and deep sadness" on behalf of the Israeli people to the U.S. over Thursday's attack in Kabul and affirmed his country "always stands together with the United States of America unequivocally."
Bennett noted that Israel's continued support for the U.S. comes from their strong ties as allies.
"You've always stood up for us, especially in tough times," he said. "That's when friendship is really tested.