Biden Thanks Tlaib for Being a 'Fighter' After She Accuses Him of 'Taking Orders' from Netanyahu
Democratic President Joe Biden called Democratic Michigan Representative Rashida Tlaib a "fighter" a day after she accused him of "taking orders" from Israeli Prime Minister Benjamin Netanyahu amid the escalating Israeli-Palestinian conflict.
"I tell you what Rashida," Biden said, addressing her directly during their visit to a Ford auto plant in Dearborn, Michigan on Tuesday. "I want to say to you that I admire your intellect, I admire your passion and I admire your concern for so many other people."
"And it's from my heart, I pray that your grandmom and family are well. I promise you I'm going to do everything to see that they are, in the West Bank," Biden added, referencing the legislator's family members in Israel. "You're a fighter, and God, thank you for being a fighter."
Tlaib, who identifies as Palestinian-American, reportedly talked to Biden about the Israeli-Palestinian conflict at a Michigan airport on Tuesday after his arrival.
She told Biden that "Palestinian human rights are not a bargaining chip and must be protected, not negotiated. The U.S. cannot continue to give the right-wing Netanyahu government billions each year to commit crimes against Palestinians," according to ABC White House reporter Ben Siegel.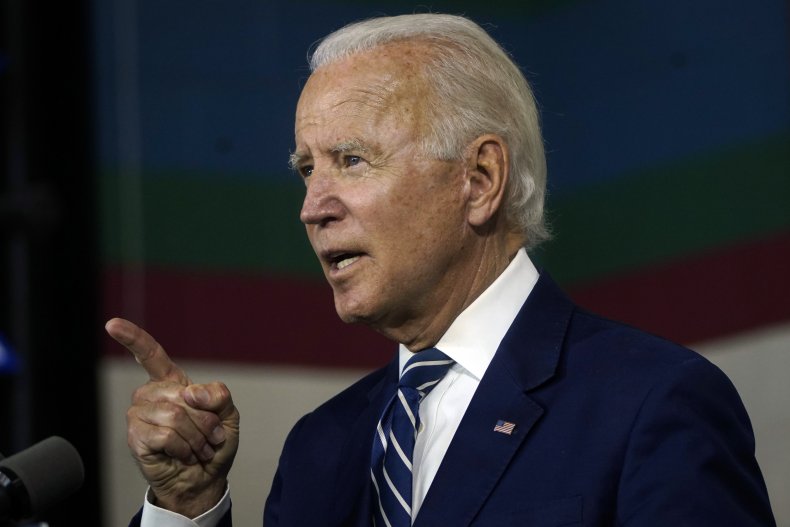 During a Monday evening interview on MSNBC's The Reid Out, Tlaib criticized Biden and his administration for not speaking out more forcefully against Netanyahu and his attacks against Palestinians.
"It's shocking. The hypocrisy of us saying that we need to be stewards of human rights, except for Palestinians," Tlaib said. "They're taking orders from Netanyahu, who is on corruption charges for stealing from his own people, the people he's supposed to be representing."
During the interview, Tlaib accused Biden of "enabling" Israel with "passive language" that won't hold Israel accountable for its actions. Later in the interview, she referred to Israel as "lawless" and "corrupted." She said its "racist" actions against Palestinians are "set in apartheid."
"Enough, President Biden," Tlaib said on Monday. "You will not do this on our watch. You have to speak out against this violence in a very aggressive way that holds Netanyahu and his leadership accountable."
Tlaib's comments echo statements she has delivered elsewhere in the media and during speeches on the House floor.
Last week, Tlaib signed a joint statement noting that the $3 billion in annual military aid given from the U.S. to Israel contains "no conditions or accountability for wanton human rights abuses and continuing illegal seizures of Palestinian land."
The statement's sentiments have been repeated by other progressive members of the Democratic party's left wing, including Independent Vermont Senator Bernie Sanders, Massachusetts Senator Elizabeth Warren and Minnesota Representative Ilhan Omar. The lawmakers want Biden and his administration to publicly support Palestinian human rights.
Tlaib has also said that her congressional colleagues feel frightened about publicly expressing support for the Palestinian people because of "bullying" and "intimidation" from those seeking to maintain the status quo in Israel.
Newsweek contacted Tlaib's office for comment.