Biden Threatens Russia With 'Full Force' of NATO if Putin Moves West
President Joe Biden maintained he won't send American troops to Ukraine, but if Russian President Vladimir Putin expands his military aggression to a NATO ally, the American military may be forced to respond.
Biden announced in December that he wasn't planning on sending troops to Ukraine, focusing his attention on sanctions aimed at crippling Russia's economy. However, many believe Putin's ambitions go far beyond Ukraine in an effort to restore the Soviet Union, a goal that could pull the rest of the world into the conflict.
During the State of the Union on Tuesday, Biden reaffirmed his commitment to Ukraine, chastising Putin for underestimating the world's resolve to defend Ukraine. While he vowed to hold Putin accountable, he said support for Ukraine will not mean sending in American troops as reinforcements.
"Our forces are not going to Europe to fight in Ukraine, but to defend our NATO Allies—in the event that Putin decides to keep moving west," Biden said. "As I have made crystal clear the United States and our Allies will defend every inch of territory of NATO countries with the full force of our collective power."
Biden's remarks are reminiscent of comments he's made since the conflict with Ukraine and Russia began. In December, Biden said sending troops to Ukraine was "not on the table" and last week, he asserted our forces will "not be engaged in a conflict with Russia in Ukraine."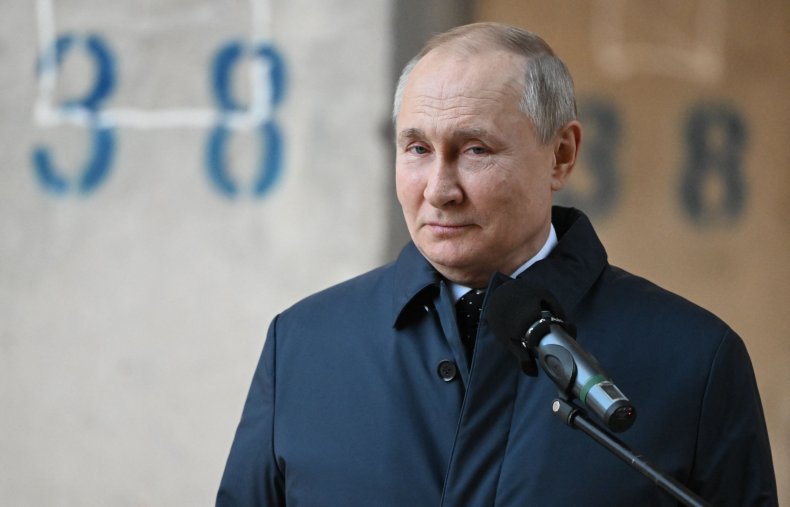 Putin's speech ahead of the invasion implied that he intends to seek to reunify previous Soviet Union territories. While Ukraine may be the first of those territories that Putin seeks to claim, he would be launching an assault on a NATO ally if Russian forces move into Estonia, Latvia or Lithuania. Some have also speculated that Putin may have his eyes on Poland, a NATO ally with American troops currently on the ground.
White House officials have criticized Putin's ambition to rewrite the borders. On Tuesday, Biden said American military members were being sent to NATO countries including Poland, Romania, Latvia, Lithuania and Estonia to "protect NATO countries."
Biden applauded the Ukrainian people for "fighting back with pure courage" and acknowledged that the country's future wouldn't be easy. Despite concerns sanctions weren't enough to deter Putin, Biden doubled down on Tuesday saying he is taking "robust action to make sure the pain of our sanctions" is felt in Russia.
"Putin has unleashed violence and chaos. But while he may make gains on the battlefield—he will pay a continuing high price over the long run," Biden said. "When the history of this era is written, Putin's war on Ukraine will have left Russia weaker and the rest of the world stronger."
Some Republicans encouraged Biden not to send any troops to fight in Ukraine, arguing that he should protect American interests over defending Ukraine. Polls indicate that Biden has a fine line to walk in responding to Putin's aggression, as people aren't confident in his strategy but also don't think the U.S. should be a major player in the conflict with Ukraine.