Biden Ties COVID Relief for Georgia on Ossoff, Warnock Winning Senate in New Ad
With little over two weeks until the Georgia runoff elections, President-elect Joe Biden is urging voters to cast their ballots for the Democratic candidates on the ticket because COVID-19 relief is on the line.
Runoff elections rarely gather the amount of attention the Georgia runoff has, but since it will determine control of the Senate, both parties have a vested interest in the outcome. Democrats having control of both chambers of Congress is beneficial for Biden's agenda, including signing a significant COVID relief package on the first day he takes office.
"I need Raphael Warnock and Jon Ossoff in the United States Senate to get this done," Biden said in an ad released on Thursday. "There are folks in Congress threatening to do everything in their power to block our efforts."
If Ossoff and Warnock are able to unseat Republican Senators David Perdue and Kelly Loeffler, it'll create a 50–50 split in the Senate. That effectively gives Democrats control because, in the case of a tie, Vice President-elect Kamala Harris will cast the deciding vote.
At a rally in Georgia on Tuesday, Biden told attendees that they need to vote like their lives depended on it "because it does." He criticized Congress for failing to pass additional relief, saying it should have happened "months ago," and said Ossoff and Warnock would support a package that supports first responders, vaccinations and direct payments.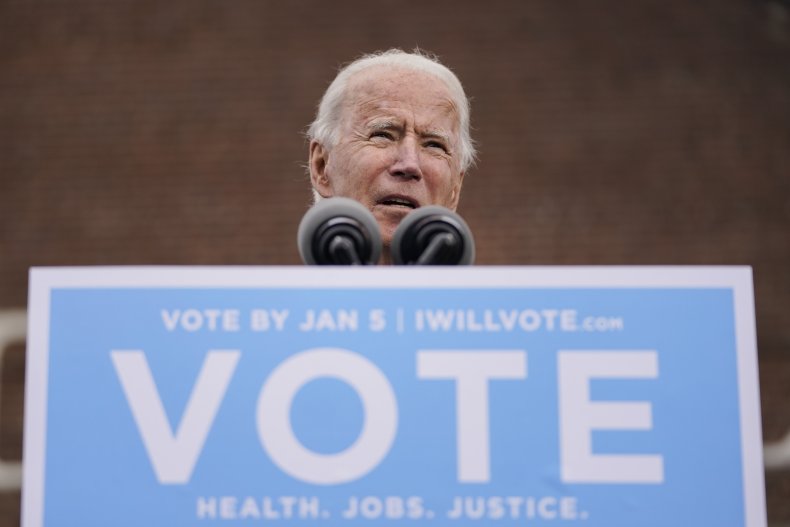 In March, legislators were able to put partisan politics aside to pass the Coronavirus Aid Relief and Economic Security (CARES) Act, but that unity has largely been absent from Capitol Hill in the months since. However, legislators have committed to not leaving Washington, D.C., for the Christmas holiday until they pass more relief and it's possible a bipartisan, bicameral package could start making its way through Congress this week.
Final details of the plan have yet to be released but it's likely to include funding for expanded unemployment, aid to schools and health care and vaccine development and distribution, as well as testing and contact tracing. It's also possible the package could include another round of stimulus checks.
At about $900 billion, it's significantly less than the $2.2 trillion CARES Act, but it's not intended to solve every problem. Instead the package is meant to provide "emergency" relief, according to Senator Joe Manchin, and additional relief may be needed down the line.
Biden said in the ad that he's prepared on "day one" to sign another package that "fully funds" the necessary response to the pandemic. That response includes free testing and vaccination for Americans and small business assistance.
"Georgia, I know things are tough right now, but I want you to know help is on the way," Biden said in the ad. "My administration is preparing to beat COVID-19 and get economic relief to the American people."