Biden Faces Tough Path to Building A Better Belt and Road than China
President Joe Biden has set out on an ambitious mission to rebuild the United States both in image and infrastructure, a goal he's pegged not only to the country's own needs but one tied to a fierce race with China for 21st-century global leadership.
At home, this already means devoting trillions of dollars to domestic work. But abroad, the task is even more gargantuan, as Washington attempts to align allies in a concerted yet costly effort to take on Beijing's intercontinental Belt and Road Initiative as it expands across the globe.
The message Biden brought with him to the G7 summit in the United Kingdom earlier this month was a direct extension of his "Build Back Better" campaign slogan, now marketed as "Build Back Better World" for international audiences.
But the endeavor has been met with a degree of skepticism and wariness from both experts and officials who worry that the elite, wealthy Group of Seven (Canada, France, Germany, Italy, Japan, the United Kingdom and the U.S.) may lack the unity and commitment to seriously compete with one of China's most successful and influential economic projects.
"I view the Build Back Better World Initiative as a really good first step, and something that's good in principle," David Sacks, research fellow at the Council on Foreign Relations, told Newsweek. "But I think that there are a lot of questions about our ability to implement it and to put our money where our mouth is."
Sacks co-authored CFR's comprehensive report on how the U.S. could best respond to the Belt and Road Initiative. The document details the far reach of the network that Chinese President Xi Jinping first established in 2013, which has since stretched across more than 70% of the world's nations through various deals, arrangements and memorandi of understanding.
Sacks explains that the Belt and Road Initiative can best be viewed as an umbrella for an array of projects that includes badly needed physical infrastructure, a "digital Silk Road" bringing 5G and other advanced technologies and, most recently, COVID-19 vaccine distribution channels. It even wraps in past arrangements that predate the initiative itself.
Sacks calls it "a very successful marketing experience for China." To compete, he said G7 nations "need a brand of their own."
He expressed doubts as to whether the U.S.-centric "Build Back Better World" met this criteria.
"Frankly, I do think that it's not really a natural fit to take the Build Back Better domestic agenda and try to internationalize it into a G7 communiqué," Sacks said. "I think it would have been better to leave that in the domestic setting, and come up with a new brand."
"On the one hand it's good that we do have a brand of our own," he said, "but the bad thing is that it's a terrible brand."

The Belt and Road Initiative, sprawling as it may be, is not without its own serious obstacles. Sacks identified areas where the G7 might be able to capitalize on China's vulnerabilities, with an emphasis on "transparency sustainability, good governance, high standards."
He sees these areas as key to mounting a sustainable alternative to the Belt and Road Initiative. As the political landscape in the U.S. has proven, there's a bipartisan consensus on taking on China. But with no congressional mandate, or funding, to bring this project to the furthest reaches of the globe, where an estimated $18 trillion infrastructure gap is most pronounced, the path forward for the U.S. plan is unclear.
There's also an urgency to the task, especially to those in most desperate need of international partnership. Africa, a particular focus of China's efforts, requires $130–170 billion a year, with a financing gap in the range $68–$108 billion, according to the African Development Bank.
Recognizing the enormity of the undertaking, Jacqueline Musiitwa, compliance cluster leader of Oxford University's China Law and Development Project and member of the Black China Caucus expert group, welcomed the G7's initial announcement.
"When the G7 decided to provide an alternative source of infrastructure investment to
developing countries, it is great, even if the motivation was to counter China," Musiitwa told Newsweek. "Despite Africa finding itself caught between superpowers' interests, it is an opportunity for African leaders to use the opportunity to improve infrastructure, increase access to jobs and opportunities and decrease poverty and inequality for their citizens."
"That being said," she added, "instead of focusing on what China is doing, the G7 should focus on the needs of African governments and their citizens."
Just how much the G7 was fixated on countering China versus its sincere commitment to partnering with African countries and their peoples remained an area of concern. When it comes to China's role on the continent, she said not enough attention was being paid to the nuances of Beijing's engagement with African nations, all but seven of which have signed on to the Belt and Road Initiative.
"The G7 should definitely get to understand what has worked and not worked with respect to the BRI in Africa and elsewhere," Musiitwa said. "It must be noted that the BRI has brought some much needed infrastructure in places that needed it. The problem with the discourse about China is that it is often generalized and fails to take into account the historical relationships between China and various countries, the current geopolitical and diplomatic engagement and the nuances of various jurisdictions."
These ties bring burgeoning challenges, such as a number of high-profile incidents involving alleged Chinese mistreatment of locals and reprisal attacks against Chinese citizens. There's also criticism, especially from the West, accusing China of leveraging "debt-trap diplomacy" through which Beijing has allegedly used its financial hold to coerce political decisions.
Musiitwa, who also serves as a member of the United Nations Committee for Development Policy, said the G7 could avoid this by emphasizing the sort of transparent ideals also referenced by Sacks. But she also noted the need for Western powers to overcome their own difficult history in Africa, one of hundreds of years of colonial oppression that has left African countries still struggling to achieve political and economic independence.
Now Musittwa argues the G7 may end up needing Africa as much as Africa needs the G7.
"Increased Chinese investment in Africa has prompted a shift in how the West and other
international investors consider Africa not only as an investment destination, but also as a geopolitical ally," she said. "The G7's initiative needs to demonstrate it is serious about improving infrastructure in order to improve development metrics around the world."
Such resolve would also have to be demonstrated in China's own neighborhood of Asia, to which the global economic balance of power is rapidly shifting. Here, the competition with China was as much economic as it was strategic, with what the U.S and partnered nations call the "Indo-Pacific" region quickly becoming the focus of their power projection ambitions.
China also sees the necessity to shore up its offshore presence in the near region, not just in the Pacific, but through a maritime Belt and Road Initiative corridor referred to as the "String of Pearls" running through the Indian Ocean. At the heart of this endeavor is Sri Lanka, which has readily accepted Chinese funding for key infrastructure projects.
Maya Majueran and Yasiru Ranaraja, directors of the Belt and Road Initiative Sri Lanka group, are supportive of this relationship, and skeptical that the G7 could launch a viable alternative.
"The G7 nations have abundant supplies of infrastructure technologies and applications which are mainly owned, operated and controlled by the private sector, and they are the market leaders when it comes to world-class research and development and innovation in this field," the pair told Newsweek. "However, unlike China, the G7 governments will have to face challenges when acquiring these technologies into government-backed projects, since most of those patents are held under private enterprises."
This calls into question an intrinsic hurdle the G7 faces in competing with China and the state-owned enterprises that serve as vanguards for the Belt and Road Initiative.
On the multilateral level, Majueran and Ranaraja identify "ideological divisions that prevent the display of a united front" by G7 nations, some of whom, like Italy, have themselves signed onto the Belt and Road Initiative. Within these respective countries, there are complex bargaining processes between public and private sectors that simply don't exist for China.
"BRI is a way for win-win cooperation that promotes common development and prosperity and a road toward peace and friendship by enhancing mutual understanding and trust and strengthening all-around exchanges," they said. "But B3W is more like a commercial initiative, as those investments and projects will be mostly managed by private sectors."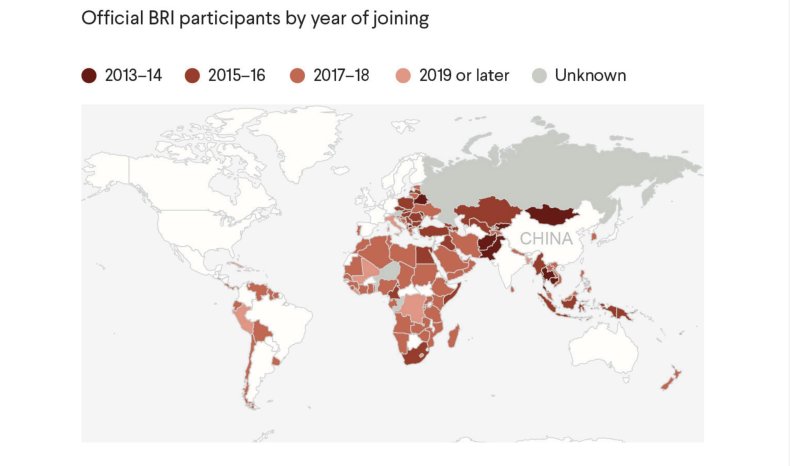 This characterization of the Belt and Road Initiative mirrored that presented by China in its global outreach efforts.
Liu Pengyu, spokesperson for the Chinese embassy in Washington, described the Belt and Road Initiative as "one for economic cooperation, which follows the principle of extensive consultation, joint contribution and shared benefits, and upholds the spirit of openness, inclusiveness and transparency."
"The BRI has brought tangible benefits to the people along the routes," Liu told Newsweek.
Liu said that since Xi first announced the Belt and Road Initiative eight years ago, China has signed more than 200 cooperation documents with 140 nations and 31 international organizations. Such arrangements, he said, "have enhanced trade and investment flows and connectivity, offered thousands of jobs, and made significant contributions to local economic development and improvement of livelihood."
And he was quick to dismiss the argument that China, for its part, had expanding its influence in mind when pursuing such projects.
"In promoting the BRI, China has no geopolitical calculations and seeks no exclusionary blocs," Liu said. "The BRI is not exclusive or targeted at any country, nor is it intended for 'competition' with any country. We hope that other countries, including the G7 countries, will take concrete actions to help developing countries, not to draw ideological lines or disrupt normal development cooperation. This is what the international community and regional countries hope to see."
But as the West scrambles to compete in a world where capital is rapidly flowing East, China's Belt and Road Initiative is very much seen as a power play on the part of the People's Republic.
This view is shared by Alexandre Krauss, a senior political adviser in the European Parliament, who has argued that China's rise in this regard was incompatible with Western interests.
"China is patiently investing in global infrastructure," Krauss told Newsweek. "While the People's Republic is clearly committed to fulfilling its role in support of the United Nations climate ambitions, it lacks the integrity of a nation committed to human rights, while simultaneously seeking to leverage power through substantial bilateral infrastructure deals."
He took note of the challenge of facing China's state-owned enterprise system in Africa, Asia and elsewhere, arguing that "the European Union, for example, is often the preferred partner of emerging African economies, but China is faster to provide cash, and less bureaucratic, resulting in deeper Chinese roots on the African continent."
"As a sovereign nation, China is within its rights to plan and invest in this strategic way," he argued, "but without respect for human rights values at the heart of its strategic investment, China is creating a wall of opposition to the Western way of life."
His solution was to answer in kind.
"The time for Western hesitation is over," Krauss said. "It's time to build a wall."
To do so, however, he said the Build Back Better World parties would have to calibrate their approach to one that could counter China not only economically, but ideologically as well.
"Countering China's rapid advance as a global power requires B3W investment to be swift, while directed at sustainable and human-centric projects," Krauss said. "Financing for infrastructure should be aligned with long-term Western values, ensuring that democracy, the rule of law and economic prosperity are manifest in all strands of government and corporate life in Low-and-Middle Income countries."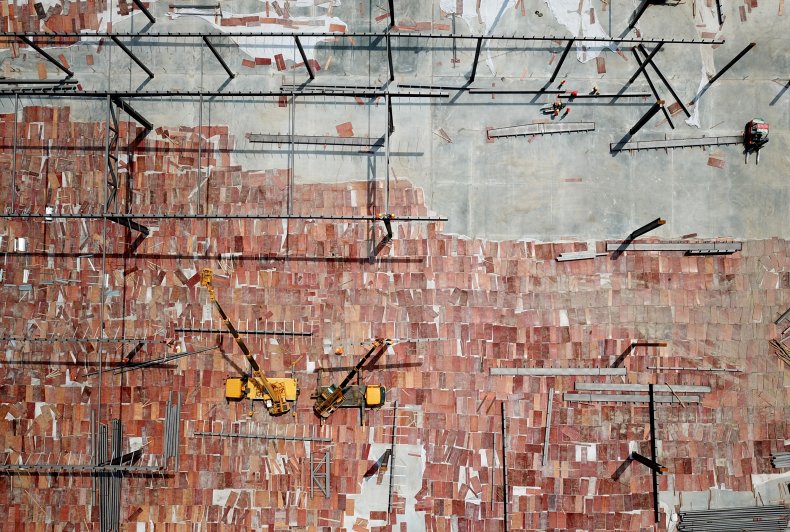 Not all G7 members shared such an appetite for taking on China directly, however, and not all G7 members were Western.
Japan, a U.S. ally whose top trade partner is China, has sought to carefully balance its position on the intensifying rivalry between Washington and Beijing. It has not sat idle, however. Japan calls out what it sees as Chinese aggression on the disputed Pinnacle Islands claimed by both nations and has joined Australia, India and the U.S. to form the Quadrilateral Security Dialogue enforcing a "free and open Indo-Pacific," a term coined by former Japanese Prime Minister Abe Shinzo and now in regular use in the lexicon of the U.S. and partners.
"Build Back Better" is also a term seemingly borrowed from Abe, who first used it to describe planned disaster risk reduction measures ultimately enshrined in the United Nations' 2015 Sendai Framework.
Japanese Deputy Consul General in New York Kenju Murakami told Newsweek it was uncertain "to what extent President Biden has this framework in mind when he talks about post-pandemic resiliency," though he saw an application for such principles in helping the world recover from COVID-19.
He did not, however, take it as a challenge to China.
"Japan does not take the outcome of the G7 summit as an effort to rival the Belt and Road," Murakami said. "The G7 leaders agreed to strengthen partnership with developing countries in Cornwall. This partnership is wide ranging from climate change, trade rules to global health and is not limited to infrastructure."
He said that, even prior to the Build Back Better World announcement, "Japan has long advocated for the promotion of high-quality infrastructure in developing countries and has worked toward developing an international standard for high-quality infrastructure, just as it did in the G20 Summit in Osaka, 2019."
Sacks, also in New York, the financial capital of a country seeking to outpace top competitor Beijing's infrastructure-building empire, is still awaiting the next steps of Build Back Better World as he continues to map out the Belt and Road Initiative at the Council on Foreign Relations.
He notes that the contest between the campaigns should not be viewed as a zero-sum game, and that their rivalry may actually play out for the global good.
"Some have argued that this could create a kind of race to the top, which would be great," Sacks said. "This pushes China to raise its standards with Belt and Road, and competition with Chinese offerings and BRI countries also pushes us to find creative ways to offer cheaper financing or to de-risk certain investments that the private sector won't undertake on its own, and things like that, so I think it could create those useful dynamics."
Given the sheer size of the world's infrastructure needs, he said both the U.S. and China need to realize they can't provide the answers in isolation. He added that if the White House wants to get started, it would have to think bigger than "Build Back Better" and ensure all partners, as well as lawmakers at home, were fully on board with the plan.
While the Biden administration may see B3W as the first step in confronting one of the greatest challenges facing the U.S, Sacks, at least for now, sees it as "a lost opportunity."