Biden, Touring Bridge Collapse, Says 'Mind-Boggling' U.S. Is So Behind on Infrastructure
President Joe Biden, on the road to tout his new $1 trillion infrastructure law, took time to survey the damage of a bridge collapse in Pittsburgh on Friday.
Before his scheduled remarks at Carnegie Mellon University, Biden visited the scene where the structure fell just hours before his arrival in Pittsburgh. He commended first responders, placing his hand on the shoulder of a police officer and saying "these guys deserve an incredible amount of credit."
Biden noted that the city has more bridges than any other in the world. "And we're going to fix them all," he said.
Pittsburgh Public Safety said the collapse occurred around 6:40 a.m. at the Forbes Avenue Bridge in Frick Park. Five vehicles and one Port Authority bus were on the bridge at the time of the incident, authorities said.
Ten people were evaluated and treated for minor injuries. According to Pittsburgh Public Safety, three people were transported to area hospitals with non-life-threatening injuries.
The cause of the collapse is under investigation, chief of the Pittsburgh Bureau of Fire Darryl Jones told reporters at a news conference. Mayor Ed Gainey told reporters that the 1970s bridge was last inspected in September 2021.
Biden traveled to the Steel City on Friday to tout the bipartisan infrastructure law passed in November. He'll also discuss the chain supply and manufacturing, according to the White House.
"The idea that we have been so far behind on infrastructure, for so many years—it's just mind boggling," the president said at the Forbes Avenue Bridge site.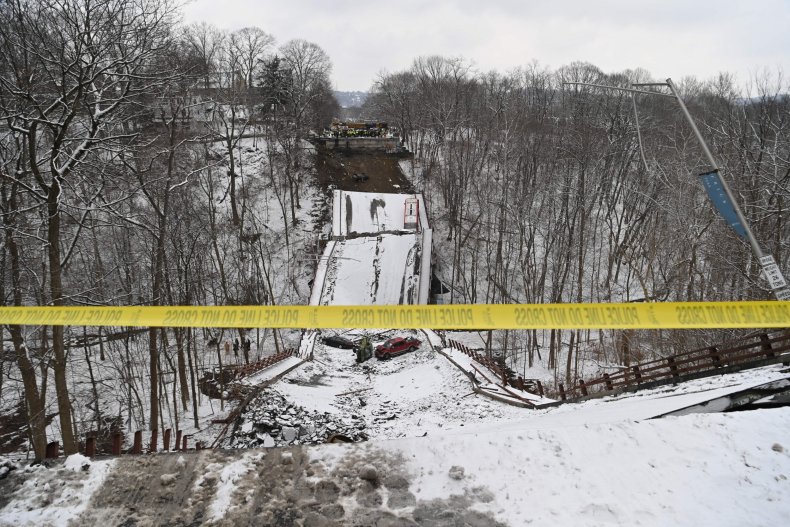 The bipartisan infrastructure bill, one of Biden's biggest successes during his first year in office, includes $550 billion for new investments in roads, bridges, mass transportation, airports, trains and more over the next five years.
It also includes money to expand broadband internet access and access to clean drinking water.
The White House announced earlier this month that Biden would be on the road more to talk about the law and what projects will be happening as a result.
"We're about to make a record investment in rebuilding America to take us to be the number-one best infrastructure in the world," Biden said during a press conference last week. "Well, now we're way below that.
We'll be creating better jobs for millions of people modernizing our roads, our bridges, our highways, our ports, our airports—everything from making clean water; lead—removing lead pipes that every American can turn on—every American can turn on a faucet and drink clean water—urban and rural and suburban communities."