Biden Touts Jobs Report, Says 4.5 Million Americans Left Job to Find a Better One
During his remarks today regarding the Department of Labor's December jobs report, President Joe Biden addressed the wave of resignations that has seen 4.5 million Americans quit their jobs.
Though the report that came out on Friday focused on the 199,000 jobs added and the 3.9 percent unemployment rate, which Biden said represented "the sharpest one-year unemployment drop in United States history," the president took a moment to address the resignations that took place in November that were announced in a Tuesday report.
"There's been a lot of press coverage about people quitting their jobs," Biden said. "Today's report tells you why: Americans are moving up to better jobs with better pay with better benefits. That's why they're quitting their jobs."
According to the report, wages jumped by 0.6 percent over the last month and saw a 4.7 percent increase year over year from 2020. In the leisure, hospitality, and restaurant industries, wages climbed by 14.1 percent for the year.
Matthew Bidwell, a professor at the Wharton School of the University of Pennsylvania, affirmed Biden's assessment to Newsweek, saying that the trend serves as part of a post-COVID reshuffle that has allowed workers to take better jobs as vacancies opened amid a mass wave of retirements brought on by the pandemic.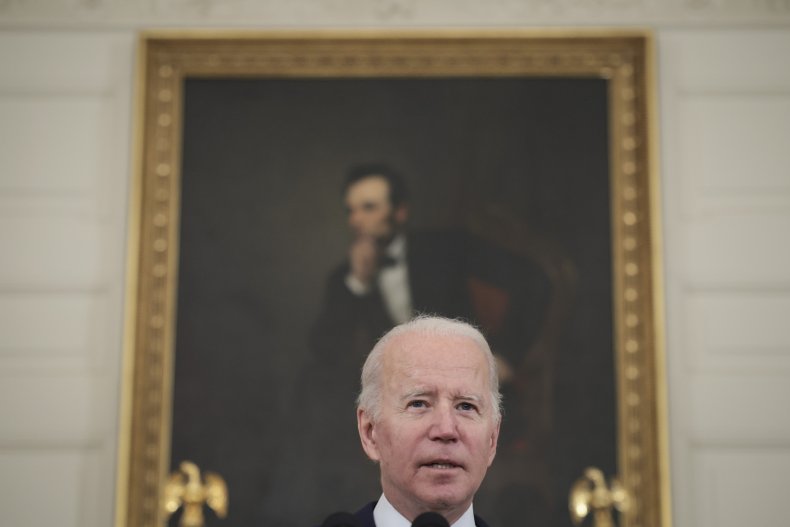 "(People) are not going to accept crappy work if there's better work available," Bidwell said. "Employers that kind of had this cost minimization idea, 'what's the cheapest we can get people for to fill our jobs,' [benefitted because] it was hard enough to find jobs, so they could find people. But as the labor market has become tighter, that's no longer really working."
The United States Census Bureau said members of the baby boomer generation are largely aging out of the workforce, which resulted in a steady reduction in the labor force participation rate even prior to the pandemic.
Over the last 40 years, Bidwell said the nation had been in a state of perpetual declining employee power. He said that the state of affairs currently seen in America's labor force represents a shift back in this power balance.
A recent CNBC/Change Research poll found 60 percent of Americans disapprove of Biden's handing of the economy, a steady increase in wages offers the potential to shift those perceptions down the line. Republicans complained early on that Biden's pandemic unemployment benefits had led to a "worker shortage," but as the Labor Department's report indicates a separate phenomenon, the president finds himself with new evidence to potentially repackage his decisions as ultimatly successful.
"This isn't about workers walking away and refusing to work. It's about workers (being) able to take a step up to provide for themselves and their families," Biden said.
Update 1/10/22 11:55 AM ET- This story has been updated with additional information.