Biden Transition Adviser Says It Is Not 'Mission Critical' for President-Elect, Trump to Speak During Process
Kate Bedingfield, President-elect Joe Biden's transition adviser, said it's not critical for him to speak with President Donald Trump during the transition process on Wednesday.
"We do not feel that it is necessary for a President-elect like Biden to speak with President Trump in order to get that information," said Bedingfield, referring to details on issues such as national security, foreign policy and COVID-19 planning, among other things. "We believe that we've been getting the information that our teams need."
She continued: "You know certainly should President Trump want to speak with President-elect Biden, that's something we would work out in the future. But, in terms of whether it is mission critical to be able to move the transition forward efficiently? No."
In a November 24 interview with NBC News, Biden said he hasn't spoken directly with Trump since the race was called earlier this month. However, Biden expressed that he would "of course" meet with the president "if he asked."
Bedingfield and Jen Psaki, another transition adviser on Biden's team, said that they have made contact with over 50 agencies and commissions, including each of the major offices within the executive office of the president as of Tuesday evening. This included initial contacts with national security and foreign policy officials as well.
Biden and Vice President-elect Kamala Harris are also scheduled to receiving daily presidential briefings beginning November 30.
"Despite a nearly three-week delay in being able to make contact with these agencies, the reception from career civil servants has been professional and welcoming," said Bedingfield. "Many have been preparing for this moment for several months, and their work is greatly appreciated as we begin making up for lost time."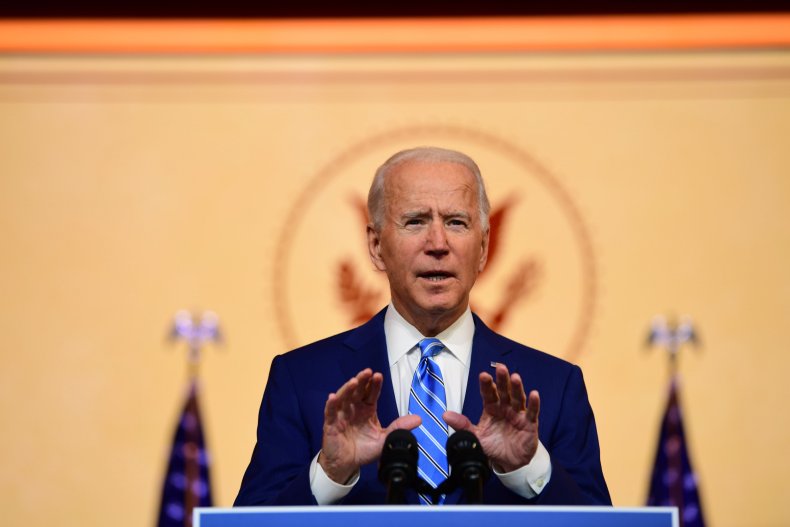 The General Services Administration (GSA) on Monday ascertained Biden's victory and authorized the start of the presidential transition.
In her note to the Biden team, GSA Administrator Emily Murphy wrote: "As the Administrator of the U.S. General Services Administration, I have the ability under the Presidential Transition Act of 1963, as amended, to make certain post-election resources and services available to assist in the event of a presidential transition."
"I take this role seriously and, because of recent developments involving legal challenges and certifications of election results, am transmitting this letter today to make those resources and services available to you," Murphy continued.
With the ascertainment, Biden's team now has access to over $6 million in federal funds for transition efforts, along with $1 million for orientation sessions.
Trump didn't respond to Newsweek's request for comment in time for publication.