Biden Treasury Pick Janet Yellen's Past Warnings About Debt Trigger Alarm Among Left-Wing Democrats
Janet Yellen, President-elect Joe Biden's expected pick for Treasury secretary, could prove divisive in Washington and in some factions of the Democratic party.
According to several media reports, Biden will select Yellen as his nominee for the Treasury Department, a move that would make her the country's first female Treasury secretary.
If the former Federal Reserve boss is confirmed by the Senate, she will be charged with steering the U.S. economy back on track and curbing the increase in unemployment triggered by the coronavirus outbreak.
Yellen has a mixed record when it comes to fiscal policy. Although she has repeatedly called for measures to reduce debt, she also recently touted the need for "extraordinary fiscal support" in the pandemic.
Her reported nomination is being hailed on Wall Street and in Washington as generally positive, but she will face a key test in her Senate confirmation hearings as decisions on fiscal spending have become increasingly partisan.
Yellen is on the board for the Committee for a Responsible Federal Budget (CRFB), an organization that has taken some heat from the left wing of the Democratic Party because of its stance on austerity.
Progressive activist and Bernie Sanders 2016 staffer Melissa Byrne tweeted: "It's critical that Yellen ceases to interact with anyone from @BudgetHawks [CRFB's Twitter account] as she embarks on being Treasury Secretary. Building Back Better requires that folks who put the wealthy above the people take a seat and change careers."
Sam Bell, a Democratic state senator in Rhode Island, described the selection on Twitter as a "terrible call by Joe Biden."
Bell added: "All sorts of progressive insider types have a Yellen blind spot, and it's obvious why: she has strong personal relationships with so many high-ranking lefty DC policy people and politicians, and the word spreads. But on actual policy, she is the worst."
Rohan Grey, an assistant professor at Willamette University College of Law and advocate of progressive economic policy, tweeted: "It would be (is) a huge mistake for the Left to give the impression to the Biden administration that it would be happy with Yellen. She's a deficit fearmonger that presided over premature rate increases based on a mistaken view of how low unemployment could go. Bad bad bad.
"Some people are going to dismiss this as lefty puritanism. But we need massive levels of public investment going forward, and Yellen's track record will be relentlessly used against her & the Biden administration as the Republicans pivot back to deficit/debt fearmongering."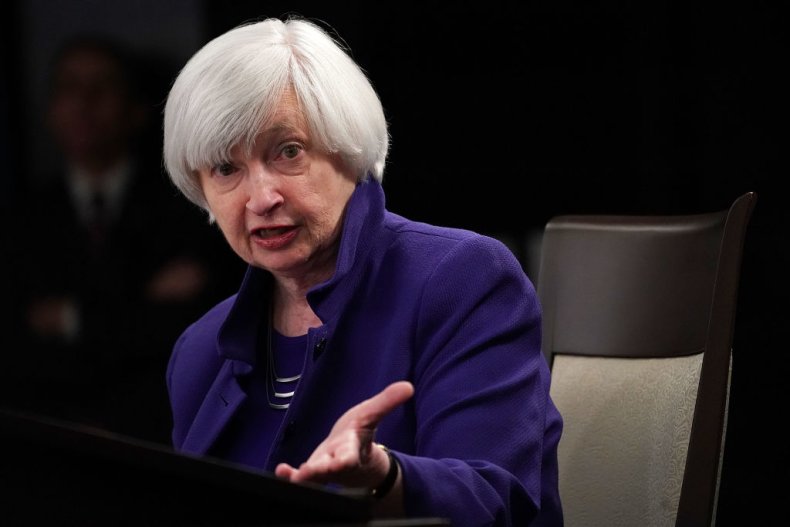 Yellen is set to be nominated as U.S. government debt for 2020 totals about $27 trillion, with a $3.13 trillion budget deficit.
The deficit is more than triple last year's $985 billion shortfall. That is only expected to increase as the nation grapples with a second wave of COVID-19 infections.
The Fed veteran has raised concerns about debt repeatedly in the past 10 years. Following the global financial crisis she spoke of "unsustainable" rising national debt in 2010.
She said: "A high and rising level of government debt relative to national income is likely to eventually put upward pressure on interest rates, thereby restraining capital formation, productivity and economic growth."
In 2015, as Fed chair, she spoke of the adverse affects of overusing fiscal policy.
She said: "It was used in the early years after the financial crisis—we ran large deficits—but in the course of doing that, the debt-to-GDP ratio rose." Financial institutions would not have many further tools in their arsenal should a further shock come along, she added.
In February this year, she told a panel discussion sponsored by the Bipartisan Policy Center: "The U.S. debt path is completely unsustainable under current tax and spending plans."
It is "something that most people don't understand and I see very little evidence of concern about it in recent years," she added.
For any policy maker, the issue of debt reduction versus the desperate need for stimulus checks for normal Americans is tricky.
It is now eight months since the $2 trillion CARES Act passed the Senate.
While there has been support on both sides of the aisle for another relief package, disagreements on the specifics have led to a prolonged stalemate.
On that issue, Yellen made comments last month that would be welcomed by left-leaning Democrats. She told Bloomberg Television: "While the pandemic is still seriously affecting the economy we need to continue extraordinary fiscal support, but even beyond that I think it will be necessary.
"We can afford to have more debt," she added, noting that interest rates would probably be low "for many years to come."