Biden Tries to Sell Americans on Economic Plan, Ignores Jan. 6 Capitol Riot
President Joe Biden sought to inspire confidence in the future of the country by focusing his State of the Union address heavily on plans to turn the economy around, ignoring the January 6 Capitol riot.
Biden's Tuesday speech before Congress comes amid a tumultuous time for the U.S. At home, Americans have begun losing faith in Biden's ability to lead as the price of gas and consumer goods soar. Facing low approval numbers, Biden used his address to paint a picture of a brighter future and shied away from two major priorities of the Democratic Party—passing voting rights legislation and the Capitol riot inquiry.
Ahead of the midterms, Democrats focused much of their attention on the Capitol riot, lambasting Republicans for not cooperating with the investigation. On numerous occasions, legislators have referenced the Capitol riot when advocating for voting rights measures, tying it into efforts to subvert democracy.
The first Capitol riot trial is set to begin tomorrow, however Biden didn't make a single mention of the violent attack in his State of the Union, indicating that the party may not see it as a winning issue with voters. Biden also only briefly mentioned the John Lewis Voting Rights Act, which failed to advance through Congress.
Instead, Biden used a large portion of his speech to focus on the economy. His first year in office has been marked by rising prices across consumer sectors. Significantly more people consider themselves worse off than they were before he took office, according to polls, and the sanctions against Russia could only make gas more expensive than it already is.
The economy is always one of the greatest motivating factors for voters and even Democrats aren't overly confident in Biden's ability to improve the state of the country, despite attempts to sell citizens on the belief that his strategy is working. The White House has touted the increase in manufacturing jobs over the past year and Biden's climate change plan would also create "good paying" jobs, according to the Biden administration.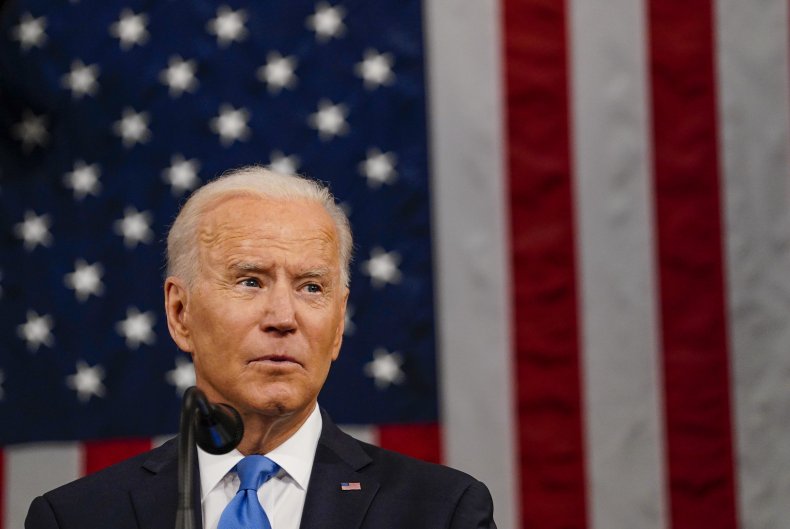 Inflation plaguing the country in an election year is never a good sign for the party in power and is helping to drag down Biden's overall approval rating. During Tuesday's address, Biden pushed for more goods to be made in America and for products to move "faster and cheaper" throughout the country.
"Economists call it 'increasing the productive capacity of our economy.' I call it building a better America," Biden said. "My plan to fight inflation will lower your costs and lower the deficit."
Russia's invasion of Ukraine presents another economic headache for Biden. The president warned Russian President Vladimir Putin that he would face significant repercussions if he launched an assault. The U.S., in conjunction with other nations, issued a series of sanctions against Russia in the hopes of crippling the country economically. So far, it hasn't seemed to deter Putin, who's military might continue to inflict damage on Ukraine.
The sanctions also are likely to inflict harm on the U.S. Biden acknowledged Americans were likely to see rising gas prices, but characterized it as one of the costs of freedom.
"To all Americans, I will be honest with you, as I've always promised. A Russian dictator, invading a foreign country, has costs around the world," Biden said. "And I'm taking robust action to make sure the pain of our sanctions is targeted at Russia's economy. And I will use every tool at our disposal to protect American businesses and consumers."
The president acknowledged that many Americans are living paycheck to paycheck and struggle to keep up with the rising cost of goods. Biden announced that the U.S. and 30 other countries released 60 million barrels of oil from reserves worldwide in an effort to "blunt" rising gas prices.
He also championed the passage of the American Rescue Plan for providing relief to Americans in the form of direct payments.
Biden was able to rally Democrats around his plan for the next two years during his State of the Union, often receiving standing ovations for his messages. However, Democrats will need to deliver on key campaign issues and improve the economy or they'll face a tough midterm cycle and risk losing control of Congress.