Biden and Trump Are Neck and Neck in Florida, New Poll Shows
Democratic presidential candidate Joe Biden and President Donald Trump are currently neck and neck in Florida, according to a new poll.
According to the poll, among all registered voters, Trump holds a one-point lead, as 48 percent said they'd vote for him, compared to 47 percent that sided with the former vice president.
The poll, which was conducted by Marist College/NBC News, found both candidates receiving 48 percent of support from likely voters across Florida.
The poll surveyed 766 likely voters from August 31 to September 6 and has a margin of error of plus or minus 4.5 percentage points. The poll also surveyed 1,047 registered voters and has a margin of error of plus or minus 3.9 percentage points.
While speaking to NBC News, Lee Miringoff, the director of the Marist College Institute for Public Opinion, said that "It's not unusual for Florida to be this close."
Across different demographics, the poll found Biden holding a large advantage over Trump among Black voters, as he received 83 percent of votes, compared to 11 percent that sided with Trump. On the other hand, Trump leads the former vice president among white voters, 56 percent to 41 percent, respectively.
The poll found similar results when looking at voter preference among genders across Florida. According to the poll, 57 percent of females in Florida said they'd vote for Biden, while 40 percent said Trump.
In comparison, 58 percent of males sided with Trump for the November election, while 38 percent chose Biden.
When looking at different issues, the poll found Florida voters saying Trump would better handle the economy (53 to 40 percent) and crime (48 to 45 percent). Comparatively, more Florida voters think Biden would be the better candidate to handle the novel coronavirus pandemic (49 to 40 percent) and race issues (51 to 37 percent).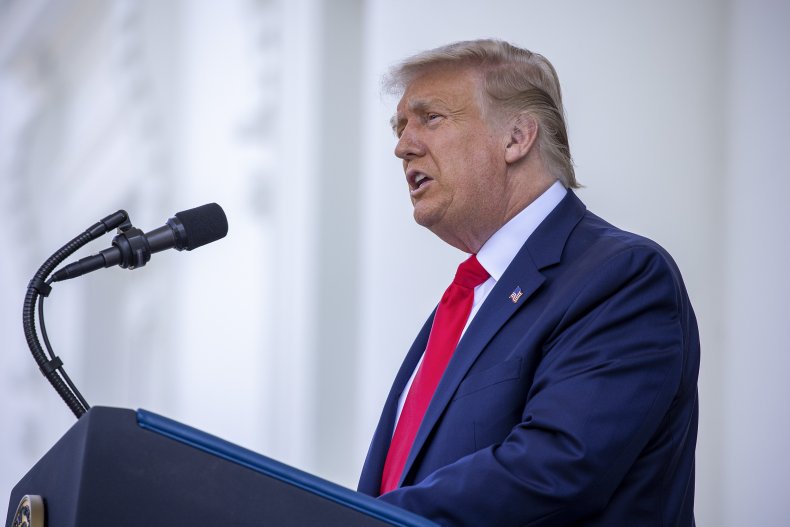 While the Marist/NBC News poll shows the two candidates' in a close race in Florida, a previous poll conducted by Quinnipiac University, found Biden leading by three-points, 48 to 45 percent. The Quinnipiac poll surveyed 1,235 self-identified likely voters in Florida from August 28 to September 1 and has a margin of error of plus or minus 2.8 percentage points.
Several nationally conducted polls show Biden leading Trump, with eight weeks to go until election day.
A poll conducted by The Economist/YouGov, found 51 percent of U.S. adults saying they'd vote for Biden, while 40 percent chose Trump. This poll surveyed 1,500 U.S. adults from August 30 to September 1 and has a margin of error of plus or minus 3.5 percentage points.
Real Clear Politics Average of nationally conducted polls shows the former vice president leading by 7.1 points.