Biden: Trump Downplaying Covid Was a 'Life and Death Betrayal of the American People'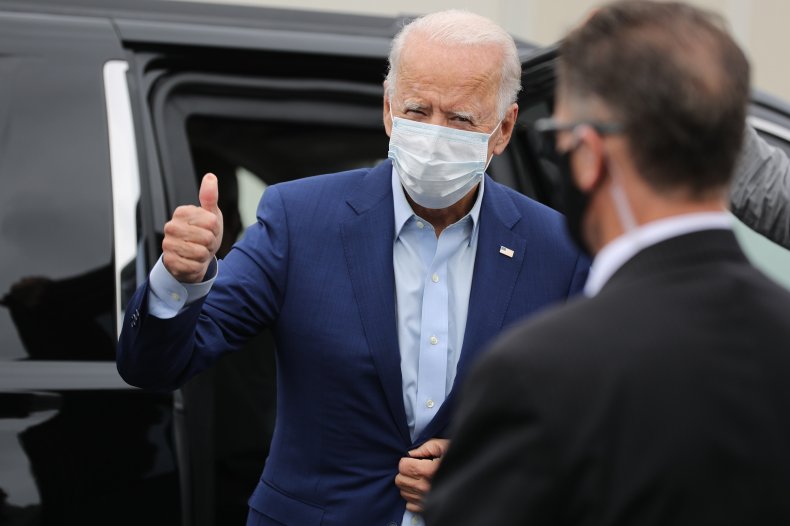 Joe Biden blasted President Donald Trump during a speech in Michigan on Wednesday, just hours after it was revealed that Trump admitted he initially tried to downplay the threat of the coronavirus that has now killed 190,000 Americans.
"While this deadly disease ripped through our nation, he failed to do his job on purpose," Biden told a small, socially-distanced group at an autoworkers union hall in Warren, Michigan. "It's a life and death betrayal of the American people."
White House Press Secretary Kayleigh McEnany told reporters Wednesday that Trump "never downplayed the virus," but taped recordings released earlier in the day feature Trump admitting that he did.
"I wanted to always play it down. I still like playing it down, because I don't want to create a panic," Trump told journalist Bob Woodward during a March 19 interview—one of 18 that he granted to Woodward for his forthcoming book, Rage, that will be released later this month.
Woodward writes in his book that Trump knew that the virus spread through the air and that it was deadlier than the seasonal flu, though that wasn't made public at the time.
"He knowingly and willingly lied about the threat it posed to our country. For months," Biden said.
CNN and Washington Post both published excerpts from the book, as well as Woodward's recordings of his interviews with the president.
Biden was already scheduled to address the auto industry and lost jobs in the Michigan speech before the news broke. He took the stage and quickly brought up the issue.
"He knew how deadly it was. he knew and purposefully played it down," Biden said. "His failure hasn't only cost lives, it sent our economy into a tailspin that cost millions more Americans their livelihoods."
Coming less than two months before the election, the Covid response revelation could ultimately shift some voters.
"He is unfit for this job," Biden argued.
A few hours after the release of Woodward's detailed information, Trump had not turned to Twitter, his preferred mode of direct communication, with a response.
But last month, he lashed out at Woodward and others who have penned books about him, claiming on Twitter that their books contain "lies" and "as much 'bad stuff' as possible."
According to the published excerpts from Woodward's book, his final interview with Trump was in July.
"The virus has nothing to do with me," he told him. "It's not my fault. It's—China let the damn virus out."