Biden Facebook Likes Growing Five Times Faster Than Trump, but Still 27 Million Behind
'Likes' on Joe Biden's Facebook page are growing five times faster than on Donald Trump's, but the former vice president's page is lagging in terms of overall size, data shows.
Between October 3 and November 3, the Democratic presidential candidate's page grew by 709,199 likes, up by 25.28 percent. In comparison, Trump's account on the social network had a like growth of 1.3 million, equivalent to a 4.44 percent rise. That amounts to Biden's likes growing five times faster than Trump's.
Data from Facebook-owned analytics tool CrowdTangle shows 3.51 million users currently like Biden's official page, but that's dwarfed by the 30.73 million page likes on Trump's account, giving the president a commanding lead of over 27 million.
The difference between subscribers is approximately the same, with roughly 3.9 million people following Biden compared to the 32.7 million following Trump.
Trump's lead also extends to the total amount of user interactions, which include reactions, comments and shares. Between October 3 and November 3, the president's page logged a huge 19 million comments, compared to 3.49 million on Biden's page. Trump's status updates were shared over 12 million times, while Biden's posts were shared 2 million times.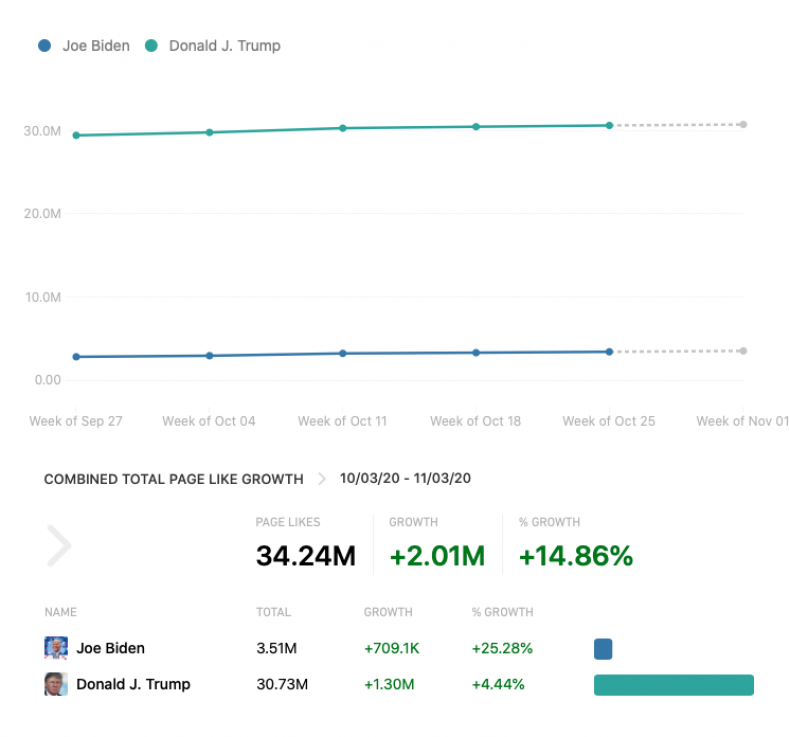 Trump and Biden have heavily targeted social media ahead of the 2020 election today, both in a personal capacity and campaign advertising.
The growth of Biden's account comes after his team poured more money into Facebook ads than the president. Between 26 October and 1 November, Biden's campaign spent more than $8.88 million on Facebook marketing, compared to team Trump's $4.90 million.
Trump's use of social media remains dominated by Twitter, where he has amassed a following of more than 87 million users. Newsweek previously reported how Trump's Twitter use from 28 September to October 11 surged by over 100 percent when compared to the frequency of posts during the same two-week period leading into the 2016 election fought against Hillary Clinton.
Experts previously told Newsweek that Trump doesn't often use Facebook personally, but still enjoys the reach it provides.
Angelo Carusone, CEO of the non-profit watchdog Media Matters for America, said: "He likes that his account performs well on there, but Facebook is not really a part of his personal media diet so analyzing it will only really give insight into how the campaign is leveraging the platform."