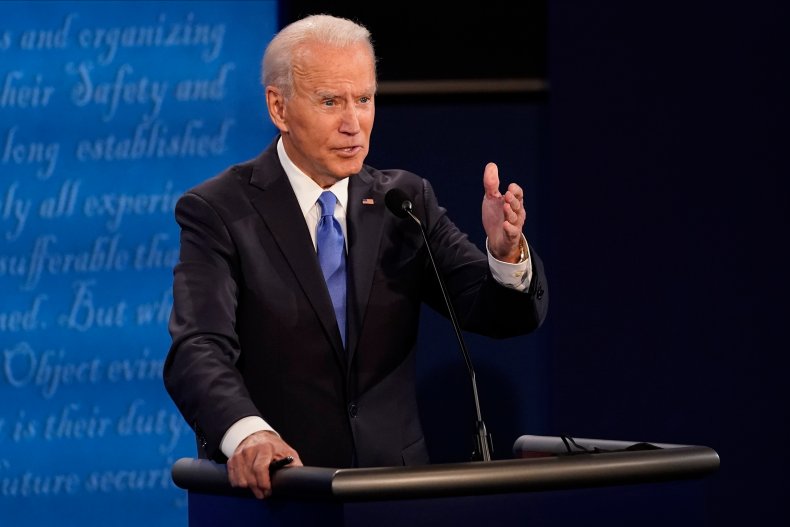 Former Vice President Joe Biden accused rival President Donald Trump of having "given up" on fighting the coronavirus pandemic as Biden outlined his own plan if he wins the November 3 election.
"We're more than eight months into this crisis and the president still doesn't have a plan," Biden said during a speech in Delaware on Friday. "He's given up. He's quit on you. He's quit on your family. He's quit on America."
"He just wants us to grow numb and resigned to the horrors of this death toll and the pain it's causing so many Americans," Biden added.
Nearly 220,000 people in the United States have died of COVID-19, according to tracking by Johns Hopkins University.
The Institute for Health Metrics and Evaluation predicts that figure could rise to more than a half million by the end of February, if more forceful action, such as a mask mandate, isn't taken.
"If this is a success, what does a failure look like?" Biden said during his speech.
The White House referred Newsweek to Trump's campaign for comment. The campaign didn't immediately respond to Newsweek's request. The president is scheduled to hold a rally in Florida today.
Biden and Trump clashed in their final presidential debate on Thursday night over the Trump administration's response to COVID-19.
"We're rounding the corner—it's going away," Trump said during the debate, adding that people were "learning to live" with the virus.
Biden shot back that people are "learning to die" with the virus.
Trump has repeatedly pointed to his decision to shut down most travel from China to try to limit the coronavirus' spread early in the pandemic as proof of his effectiveness in battling it. But his critics have argued that he was critically late with his response, which lacked forcefulness, has given mixed messages about wearing masks, holds mass rallies without following social distancing guidelines, and encourages the reopening of businesses in places that have been deemed hotspots because of a high number of deaths.
Trump tested positive for COVID-19 following the first presidential debate in Ohio last month. He was briefly hospitalized, but was treated with an experimental drug and returned to the White House and the campaign trail just days later.
Biden has eschewed large in-person events, instead holding virtual events, drive-in rallies and small, socially-distanced appearances because of the threat of COVID-19.
The plan Biden outlined on Friday includes increased testing capacity, using the Defense Production Act to increase production of personal protective equipment, developing a clear path to reopening schools and businesses, and establishing a system for distributing vaccines for free when one is created.
He said his goal, if elected, would be to "finally get ahead of this virus and get back our lives."
Trump has said a vaccine is imminent and will be distributed through the U.S. military.
"It's going to be announced within weeks, and it's going to be delivered," he said during Thursday's debate.