President Joe Biden's approval rating is identical to his predecessor Donald Trump's at the same point in his presidency, according to a new poll.
The poll, conducted by Monmouth University, found 39 percent of U.S. adults approve of Biden's performance as commander-in-chief while 54 percent disapprove—the exact same rating Trump had in March 2018. Biden's job approval rating has not changed since January, while Trump's March 2018 reading was down 3 percentage points from January 2018.
Biden entered office with a higher approval rating than Trump ever achieved during his presidency, but the Democrat's poll numbers have steadily declined over the course of his first year amid a series of crises: the chaotical military withdrawal from Afghanistan, the Delta and Omicron COVID-19 surges and the failure to pass his signature Build Back Better bill.
"Arguably, Biden has scored more legislative successes than Trump did a year into his presidency, but he has also suffered high-profile defeats," Patrick Murray, director of the independent Monmouth University Polling Institute, said in a statement. "In the end, there was relatively more optimism about Biden than Trump and thus greater expectations about what he could accomplish."
Now, Biden is also dealing with the Russian invasion of Ukraine as well as high gas prices and inflation. The president's job approval on those two issues is underwater.
Less than half of Americans (46 percent) approve of Biden's handling of the Russia-Ukraine conflict. The president has slapped several sanctions on Russia's financial institutions, oligarchs and Vladimir Putin himself. Yesterday, he also announced $800 million more in military aid to Ukraine to fight off Moscow's forces.
A separate poll from ABC News/Ipsos found 70 percent of Americans disapprove of Biden's handling of gas prices, which recently soared to record highs.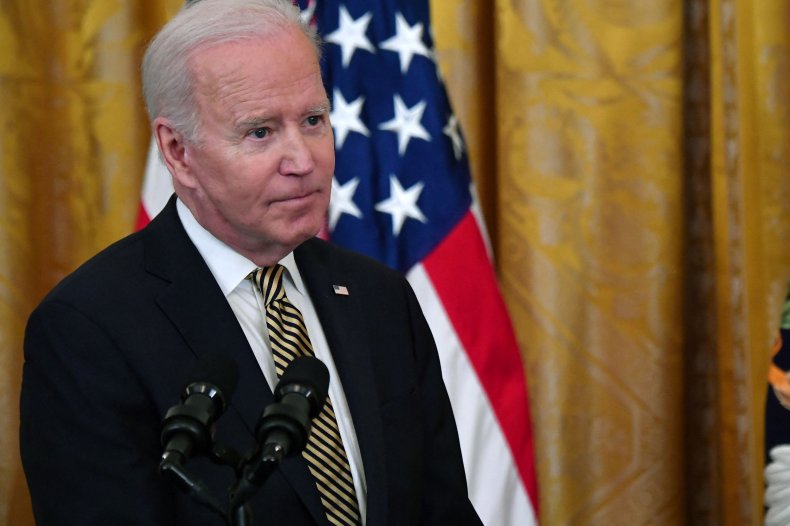 The White House brushed off Biden's low approval numbers in February.
"Leaders lead during crises," press secretary Jen Psaki told ABC. "That's exactly what President Biden is doing. He'll speak to that, but he's also going to speak about his optimism about what's ahead and what we all have to look forward to."
Despite Biden's low approval rating, the Monmouth University poll had some good news for Democrats. The survey found the party gaining ground on Republicans ahead of the 2022 midterm elections, which will determine which party has majority control of Congress.
The public is now evenly split between preferring to have Republicans or Democrats in control of Congress, with each party garnering 33 percent support. Republicans had a slight advantage when Monmouth conducted a similar poll in January.
Monmouth University polled 809 adults in the United States from March 10 to March 14, 2022. The survey has a margin of error of plus or minus 3.5 percentage points.