Biden Leads Trump in Pennsylvania Polls, As Democrats Fail to Force Green Candidate Off Ballot
Democratic presidential candidate Joe Biden leads President Donald Trump in polling for Pennsylvania, a state where the Republican secured a slim upset victory in 2016.
Last time out, Trump won by just more than 44,000 votes, with less than one percent of the state's vote separating him and Hillary Clinton.
Given this, third party candidates could tilt the outcome should it be so close again.
And a Democrat-led push to get the Green Party candidate off the ballot recently failed, the Associated Press reported, after contentions they had not properly submitted candidate affidavits in August were rejected. Howie Hawkins will still be able to contest in the state, with any votes to him absorbing ballots which might otherwise go to Biden or Trump.
Polling at present is indicating a win for Biden—with an average lead of 5.1 points, according to FiveThirtyEight's poll tracker.
Geoffrey Skelley, elections analyst at FiveThirtyEight, told Newsweek that despite this, the state could still be in play come November.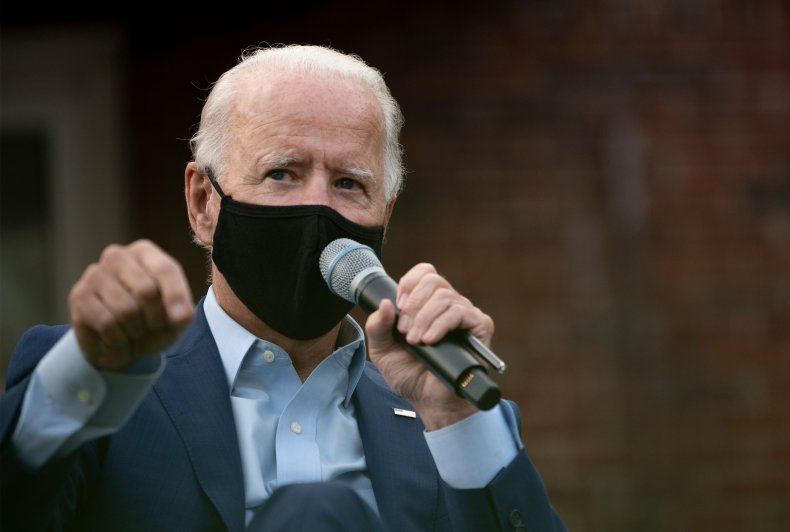 "I think Pennsylvania is still in play," he said. "With Biden up about 5 points there if things tighten a little bit more all it would take is maybe a little polling error for things to be off there."
He said undecided voters which Trump might hope to persuade there are low in number while Skelley said polling also indicates they disapprove of the incumbent.
These points give Biden "an edge" in the state, he said.
FiveThirtyEight's average lead for Biden is somewhat down from a peak of around 8 points in Pennsylvania in July.
Real Clear Politics' tracker puts Biden slightly lower than FiveThirtyEight's average in Pennsylvania, giving him a 4.3 percent lead there.
This is lower than Clinton was at at a comparable point in 2016, at which time she had around a 6 point lead on average according to Real Clear Politics.
An NBC News/Marist College poll gave Biden a higher advantage of 9 points recently among likely voters, with 771 asked August 31 to September 7.
But in contrast Rasmussen polling put Trump and Biden tied on 46 percent each, among 1,000 likely voters asked August 25 to 27.
Both Biden and Trump are due to visit Pennsylvania on September 11, to visit the Flight 93 National Memorial in Shanksville.
Newsweek has contacted the Biden and Trump campaigns, the Democratic Party and the Green Party for comment.
Biden's lead in national polling continues, with FiveThirtyEight putting him 7.6 points ahead.
While in most battlegrounds he also maintains leads, according to recent polling.