Who's Town Hall Had Better Ratings? Early Data Shows Biden Had Bigger Audience Than Trump
Instead of a debate, President Donald Trump and former Vice President Joe Biden participated in dueling town halls on Thursday night and early ratings indicate the former vice president had a larger audience.
The two presidential candidates were originally scheduled to have their second debate, but concerns about a new coronavirus moved the event to a virtual format. After Trump refused to participate if it wasn't in person, Biden opted for a town hall moderated by ABC's George Stephanopoulos. On Wednesday, NBC announced Savannah Guthrie would moderate a town hall with Trump.
Having separate town halls taking place at the same time came under fire as critics said voters were forced to choose which one to watch in real time. With up to 95 percent of people already decided on who they're voting for, the majority of viewers watching likely picked the candidate they support—although former Today co-host Katie Couric speculated that some might tune into Trump's town hall given his unpredictability.
Nielsen ratings confirmed what people watching YouTube viewership counts already knew: more people tuned in to see what Biden had to say than Trump. ABC News' YouTube stream of Biden's town hall had a million more viewers than NBC News' live stream of Trump's.
In a head-to-head matchup between NBC and ABC, Biden had nearly four million more viewers, according to Nielsen. Although Trump took the lead in YouTube views when factoring in the CNBC live stream, MSNBC and CNBC television viewers weren't enough to edge Biden out of the top spot, according to preliminary data.
Adding the 671,000 CNBC and 1,740,000 MSNBC viewers to the 10,655,000 people that watched on NBC, a total of about 13.07 million people watched Trump's town hall, according to Nielsen Fast Nationals. Biden had 13.9 million viewers on ABC alone, Nielsen's early data showed.
"Nielsen has a long history of accurately measuring program audiences. To that end, we think it's important for people to understand what exactly we measure," the company said in a statement. "Nielsen measures all programs—delivered streaming or otherwise—that carry a linear ad load. We even measure streaming viewing on mobile devices and computers, which can be as much as 11% of the total audience of political-related events."
This is just preliminary data and doesn't account for time zone difference or out-of-home viewing, so it's possible this could change. Those numbers are expected to be released later today.
Biden's appeal with younger voters was apparent in the ratings. When it comes to the 18- to 49-year-old demographic, the former vice president had a 3.0 rating compared to Trump's 2.1 rating. Each point accounts for 1.28 million people, meaning about 1,152,000 more people in that age range watched Biden than Trump.
"Ratings are often telling indicators of public interest, either politically or in terms of entertainment value. This close to the election, people are looking for illumination or reinforcement," Robert Schmuhl, author of Statecraft and Stagecraft: American Political Life in the Age of Personality and The Glory and the Burden: The American Presidency from FDR to Trump, told Newsweek. "On Thursday night, it was a chance to see the two major-party candidates outside the debate arena in a venue that allowed an airing of their views."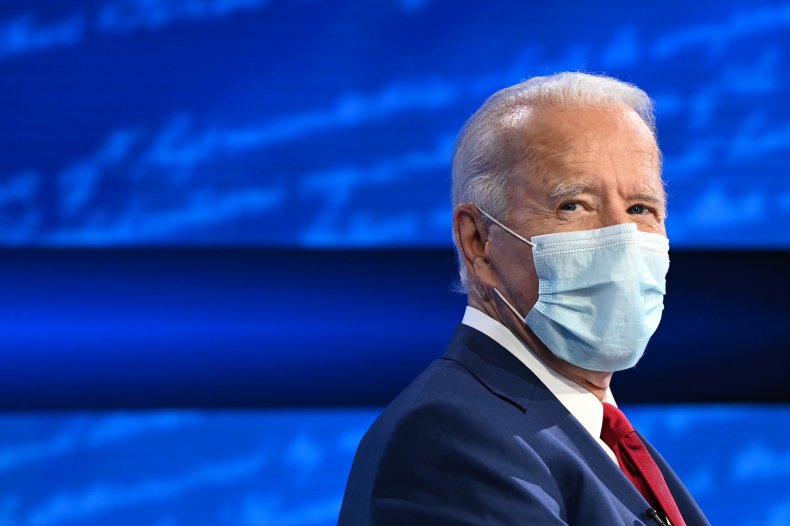 Going into Thursday's town halls, Biden had an average lead over Trump of nine percentage points. Trump regularly dismisses polls and uses the attendance of his rallies as proof of the excitement of his base. When the Democratic National Convention topped the Republican National Convention in ratings, Trump blamed the media for not correctly reporting the numbers and claimed that he doesn't "care about that."
"I care about going around the Fake News to the PEOPLE!" Trump tweeted in August.
The town halls gave voters a choice between two starkly different candidates. Biden presented himself as the traditional politician, while Trump leaned fully into the unpolished, in-your-face character that drew people to him in 2016.
Trump sparred with Guthrie over a number of issues, including her request that he publicly denounce various groups, such as white supremacists and QAnon. While Trump was ready to unequivocally condemn white supremacists, he said he didn't know enough about QAnon, a conspiracy theorist group that believes the president will take down a Satanic group run by high-profile Democrats, to issue a judgment and praised them for being against pedophilia.
The two also argued over Trump retweeting a post claiming that Biden and former President Barack Obama were behind a cover-up that faked the death of Osama bin Laden. Trump defended reposting it on the basis that it was the opinion of someone else, not a tweet he penned, and that "people can decide for themselves."
"You're the president," Guthrie retorted. "You're not someone's crazy uncle."
Over on ABC, Biden once again faced questions on the issue of court-packing as moderator Stephanopoulos pushed him to "level" with voters. The Democratic nominee said he wasn't a "fan" of court-packing and acknowledged that voters have a right to know where he stands before they vote.
How the Senate handles Supreme Court nominee Judge Amy Coney Barrett will form Biden's position and he said he'll come out with a "clear answer" before Election Day. However, it'll be too late for millions of Americans to change their mind, as more than 21 million people have already cast ballots, according to the U.S. Elections Project.
Biden also was reminded of an interview he did with Charlamagne Tha God when he said "you ain't Black" if you're debating on whether to vote for him or Trump. He's since apologized for the comment, but evaded addressing it directly when asked on Thursday what other reasons young, Black voters have to cast their ballot for him. Instead, the candidate stressed their ability to determine the outcome of the election and highlighted his plans for education, first-time homebuyers, and government-backed loans for entrepreneurs.
The former vice president also acknowledged that his support of controversial crime bills was a mistake. However, he put most of the blame on actions states took. Stef Feldman, a Biden staffer later clarified that they were talking about a 1986 bill that included mandatory minimum sentences for drug offenses, not the 1994 bill, as was stated in the voter's question.
Separate town halls gave voters a chance to see Biden in a "longer-form and less-interrupted environment" from the first debate, Schmuhl said. The interest in watching his town hall was to see how he fielded questions and delivered answers.
"Let's face it: President Trump has become unavoidable over the past four years," Schmuhl said. "In most cases, we can predict how he'll respond in terms of both substance and style. A central question of this election is whether the public has tired of the so-called 'Trump Show' with a new program on an almost daily basis. Has viewer fatigue turned into voter exhaustion? We'll find out in a couple of weeks."
While the dueling town halls may have been criticized for not giving voters a chance to compare both candidates at one time, the stances and demeanors of both candidates were largely in line with what voters saw during the first debate. Trump championed his record and offered vague plans for the future—while Biden criticized the president's response to the pandemic and contrasted his vision with that of the current administration's.
As far as the race is concerned, Biden appears to be running away with it, both in polls and ratings.