Biden Tweets Less but Gains More Followers Than Trump in First 100 Days
President Joe Biden has taken a more reserved approach to communicating with Americans than his predecessor did, including hitting the "send tweet" button about 25 percent less.
Former President Donald Trump embraced his title as the "Tweeter in Chief" and relied on the social media platform as a means of connecting with voters as he railed against media companies for being biased against him. Biden also uses the social media platform to further his agenda, but 100 days into his presidency, his tweeting has taken a more traditional tone and isn't at the same level as Trump's.
Trump tweeted about 1,000 times in his first 100 days in office, according to the Wayback Machine, and as of Wednesday evening, Biden had sent about 770. Whereas Trump heavily relied on his personal account, Biden's opted to send the bulk of his tweets from the official account reserved for the president.
As of Wednesday, Biden has sent only about 180 tweets from his personal account and about 600 tweets from the Twitter handle assigned to POTUS.
While Biden's Twitter restraint was a welcome change for some after four years of Trump's frenzied tweeting, others, such as GOP Senator John Cornyn, have taken issue with his media strategy. Unlike Trump, who regularly appeared on television, gave frequent comments to the press and opined on social media, Biden rarely hosts press briefings, and when he does, he takes few questions.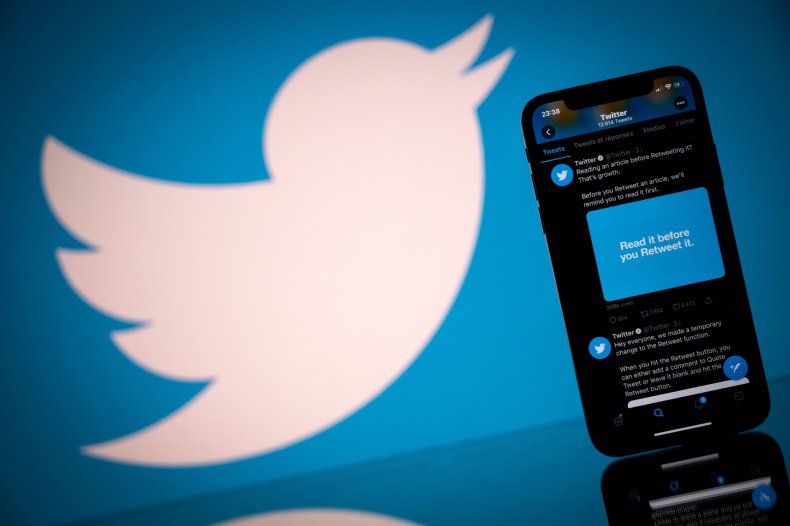 He's so far relied on his Cabinet and White House officials to convey messages about his administration's goals and policies, and his tweets often read as if prepared by a media team. It's a stark contrast with Trump's streams of consciousness, but the White House never considered following his predecessor's example in any way.
"We're not interested in making everyone crazy on Twitter," deputy communications director Kate Berner told Politico. "We're interested in driving the message that Americans around the country know what their government is doing for them and how their taxpayer dollars are being used and feel confident in the administration."
Mary Kate Cary, a senior fellow at the University of Virginia's Miller Center and a former speechwriter for former President George H.W. Bush, told Newsweek she understands why Biden may think voters want a president who doesn't make news for what he's tweeting. But putting out safe tweets that are unlikely to cause controversy also takes away the opportunity to showcase his "personality and humor," Cary said, and with limited press conferences Biden could "fill the gap" with Twitter.
While in office, Trump often made headlines for what he tweeted. Cary said she regularly thought he used the social media platform to set the news agenda by tweeting a "shiny object" for morning shows to latch on to.
"No wonder people felt inundated by his tweets—they often got wall-to-wall coverage," Cary said. "For years—well before the White House—Trump very effectively used Twitter to go around the press and directly communicate with the public, but, unfortunately, often in ways that were divisive and ugly."
Although Biden's pulled back on the tweeting, he has seen a greater increase in his Twitter following than Trump did. Since becoming president, Biden has gained about 5.7 million followers on his personal account and 10.4 million on the POTUS account, for a total gain of about 16 million followers.
Trump gained about 3.2 million on the POTUS account in his first 100 days and about 8.2 million on his personal account, for a total of 11.4 million followers. However, in terms of raw numbers, Trump had more followers at the end of his 100 days, in part because he started out with more.
After taking office, Trump inherited the 13 million followers that President Barack Obama gained when using the POTUS account. Under new rules, when Biden took office he started with zero followers, because presidential accounts from the Trump era were archived.
Social media's role in society seems to keep growing, and Cary said she thinks presidents will continue to use Twitter as a communication tool. It gives them a means of reaching a worldwide audience without the filters of the press or pundits, and "when done right, a view into the soul."
However, it comes with its own set of limitations, and people may write off tweets as irrelevant if they come off as being written by staff and not the president. There's also the opportunity for blunders and factually inaccurate tweets damaging public trust.
"Our communications strategy is based on innovation in the digital space, flooding the zone in regional and coalitions press, and effectively using traditional national media," Berner told Politico. "We have people fanning out every single day across different media to amplify his message."