President Joe Biden said Tuesday that Russia's recent actions against Ukraine mark the "beginning of an invasion."
It's the first time Biden has used the term invasion to describe Putin's decision to recognize the independence of the so-called Donetsk and Luhansk People's Republics—two Russia-backed separatist regions of eastern Ukraine—and send troops to the area.
The president faced criticism from lawmakers on both sides of the aisle for failing to deem the move an "invasion" even as tanks were seen rolling into Donetsk on Monday night. The White House's principal deputy national security adviser Jonathan Finer also beat Biden to the punch, stating Moscow's aggression was in fact an invasion when pressed by CNN on Tuesday morning.
"If you know the history of aggressive dictators, you know it's critical not to lose clarity. Putin is invading Ukraine. Full stop," Democratic Congressman Jim Himes wrote on Twitter Monday. "He's done it before, and he will do it again if he we don't impose full sanctions. He's desperate that we have a confused debate about this today."
Biden also faced calls Monday by Democrats and Republicans to immediately deliver more punishing sanctions. He did sign an executive order prohibiting investment and trade by Americans to, from or in the breakaway regions, but Republican Representative Jim Banks told NBC News the order was "lukewarm" and missed the mark.
The administration went further Tuesday, announcing new sanctions on Russia's VEB bank and its military bank, as well as on the nation's sovereign debt.
"That means we've cut off Russia's government from Western financing," Biden explained. "It can no longer raise money from the West and cannot trade in its new debt on our markets or European markets either."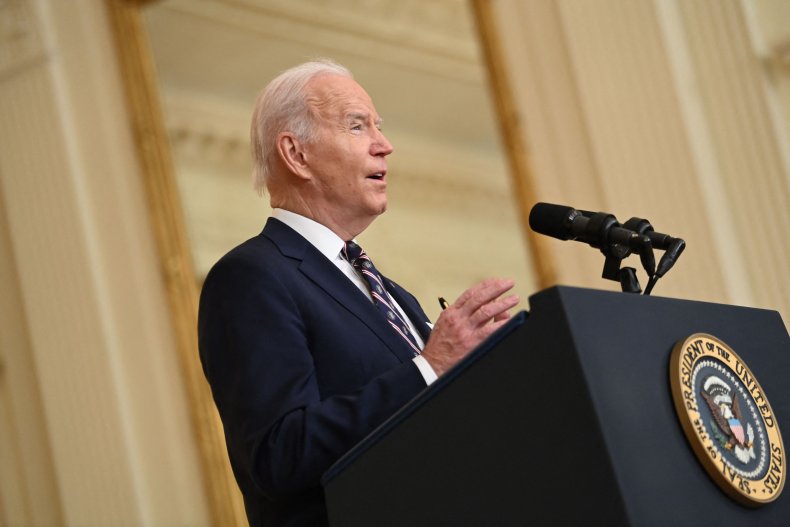 Starting tomorrow, sanctions will also be imposed on Russian elites and their family members.
John Bolton, a former ambassador to the United Nations and the national security advisor under Donald Trump, criticized Biden's handling of Russia and the gradual escalation of sanctions as a "disastrous failure of policy."
The president has long pledged more severe sanctions against Russia than those the U.S. government imposed in 2014, when Moscow annexed Crimea. Biden said Tuesday that if Putin goes further, the U.S. and its European allies will go further with sanctions.
"None of us should be fooled," Biden said. "None of us will be fooled. There is no justification."
Ukraine's Volodymyr Zelenskyy responded to Putin's ordering of troops into eastern Ukraine with a televised statement that the nation will not concede anything.
"We are not afraid of anyone or anything," Zelenskyy said. "We don't owe anyone anything. And we won't give anything to anyone."