President Joe Biden is expected to outline six steps that will range from increased vaccination measures to new guidance for schools reopening for fall classes when he again makes a public address Thursday on efforts to curb the raging coronavirus pandemic—specifically the surge in cases driven by the hyper-contagious Delta variant.
"We want to be specific about what we're trying to accomplish in this moment and what these six steps will do," White House press secretary Jen Psaki told reporters Wednesday in a brief preview of Biden's remarks. "We know that increasing vaccinations will stop the spread of the pandemic [and] we'll get the pandemic under control, we'll return people to normal life. That's what our objective is."
Biden consulted with his top COVID-19 advisers at the White House Wednesday afternoon in preparation for Thursday's remarks, which are scheduled for 5 p.m. Eastern. Psaki was light on details but said the latest steps will build on efforts Biden has already laid out since taking office in January and will include some new initiatives that could affect the unvaccinated.
"There will be new components that will of course impact people across the country, but we're also all working together to get the virus under control, to return to our normal lives," Psaki said. "Some of that will be related to access to testing, some will be related to mandates, some will be related to how we ensure kids are protected in schools."
Biden has given several public addresses on the pandemic over the past eight months—most recently during three separate speeches dedicated to the topic at the White House last month.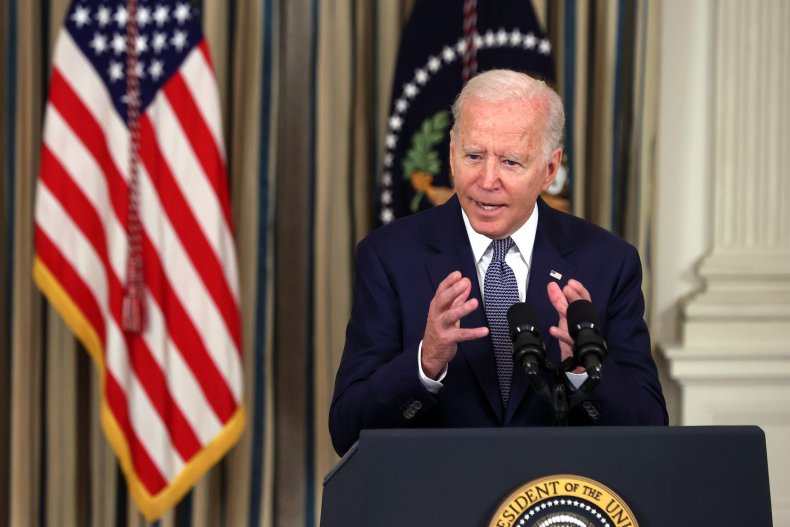 "I want to be crystal clear about what's happening in the country today: We have a pandemic of the unvaccinated," he told reporters on August 3. "The data shows that virtually all the cases, hospitalizations and deaths due to COVID-19 are from the unvaccinated population."
He's taken several steps toward requiring some federal employees and members of the military to receive COVID-19 vaccine shots and has praised and incentivized private companies that similarly are requiring employee vaccinations. Biden also has been an advocate of requiring frequent testing and mask-wearing as mitigation.
"We have more work to do, and we are still at war with the virus," Psaki said, noting that the president's latest update comes as kids return to schools and families return to post-Labor Day routines. "This issue is on top of mind for Americans across the country."
At the height of the vaccination push in the spring, upwards of three million vaccine doses were being administered per day in the U.S. That figure now averages under a million daily shots.
According to the Centers for Disease Control and Prevention (CDC), more than 177 million people across the country have been fully vaccinated and at least 75 percent of the adult American population has at least one shot.
COVID-19 has killed about 650,000 people in the United States to date, the CDC reports. This month the seven-day average number of deaths reached its highest level since March, with about 1,000 people dying of the disease each day.
The number of cases has also been on the rise again, with hospitals in key hotspots reporting that they've reached capacity levels in intensive care units.
On the campaign trail last fall, Biden vowed to tackle the virus and laid out a five-point plan focused on aggressive testing and tracing, increased protective equipment, vaccine campaigns, guidelines for reopening safely and a focus on those most at risk of severe complications.
But during his first week in office, Biden acknowledged that it would not happen immediately.
"It's going to take time," he told reporters on January 25. "It's going to take a heck of a lot of time."
Biden's address, scheduled for 5 p.m. ET, will be streamed live on the White House website.