Biden Urges Migrants to Stay Away From Border Amid Surge: 'Don't Leave Your Town'
President Joe Biden has urged would-be migrants to stay home amid the influx of activity along the Southern border that has prompted mounting criticism of his immigration policies.
There has been a significant increase in the number of migrants attempting to cross the border since Biden took office on January 20, with Republicans blaming the president for rolling back the hardline immigration policies of former President Donald Trump. The surge has included a large number of unaccompanied minors, which has also prompted criticism from Democrats due to the temporary detainment of the children.
During an interview with ABC News' George Stephanopoulos that aired Tuesday night, Biden said that the government was "sending back" many of the adults that are now attempting the border crossing. He also encouraged any others who may be considering making the journey to refrain from doing so, while promising that those seeking asylum in the U.S. would soon be able to apply before making their way to the border.
"I can say quite clearly: Don't come over," Biden said. "What we're in the process of getting set up, and it's not going to take a whole long time, is to be able to apply for asylum in place. So, don't leave your town or city or community. We're going to make sure we have facilities in those cities and towns... to say you can apply for asylum from where you are right now."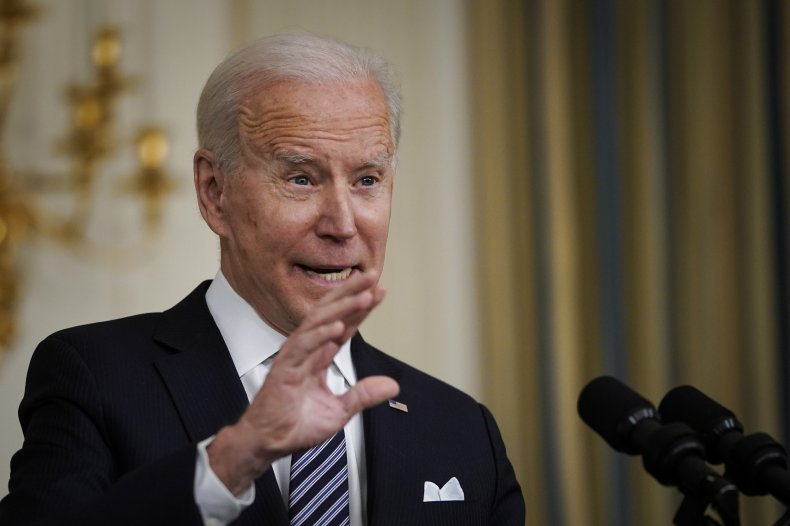 One of the Trump policies that Biden rescinded upon taking office was the "Remain in Mexico" program, which required asylum applicants to stay in Mexico prior to attending their court hearings. Other executive orders from Biden included those geared towards halting construction on the border wall and ending Trump's so-called "Muslim ban."
Biden pushed back on the notion that migrants are heading to the border due to his new policies, saying he does not believe they are coming "because they know I'm a nice guy." The president also dismissed the idea that the surge of would-be immigrants is unique, pointing out that other surges occurred during Trump's presidency in 2019 and 2020, while conceding that the 2021 surge "could be" worse.
Homeland Security Secretary Alejandro Mayorkas said in a statement on Tuesday that the U.S. is "on pace to encounter more individuals on the southwest border than we have in the last 20 years." Mayorkas blamed the situation in part on the Trump administration, which he said had "completely dismantled the asylum system."
Although the Biden administration has repeatedly warned migrants against making the journey, the message does not seem to be getting through. Rep. Henry Cuellar (D-Texas) told Newsweek on Tuesday that none of the 20 teen migrants he encountered during a recent tour of a detention facility had heard of the administration's pleas to stay home, while all but one had been encouraged to make the crossing by family or friends who believed the journey was safe under Biden.
Newsweek reached out to the White House for comment.