As Biden Urges Unity, Newsmax Host Calls Inauguration Speech 'Very Dark' and 'Divisive'
Newsmax, the right-leaning political network which repeatedly pushed former President Donald Trump's unfounded claims of election fraud, has called President Joe Biden's inauguration speech about uniting the American people both "dark" and "divisive."
"It was very dark," Newsmax anchor Tom Basile said Wednesday. "It was actually, you know, not unifying. It was actually quite divisive. It's very difficult to drive a unifying message when you're going to simultaneously talk about an overblown sense of white supremacy and systemic racism. And you lead a party that is driving cancel culture in America."
"Oftentimes when he was talking about unity, I kept on thinking to myself, 'So does this apply to conservatives as well? Does this apply to pro-life people? Does this apply to people who've been canceled at their jobs, at their universities, in the media, in their own lives because they believe in traditional American values, in more conservative values?'"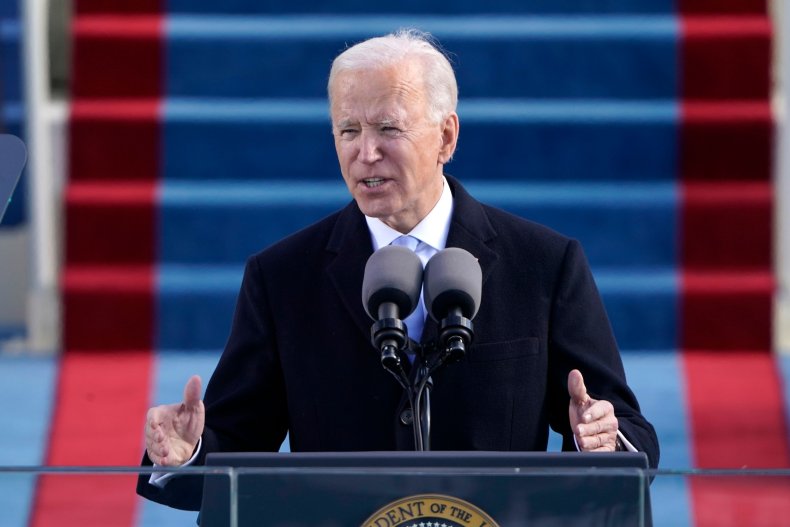 In Biden's speech, he spoke of "a rise of political extremism, white supremacy, domestic terrorism that we must confront, and we will defeat." He also referenced civil rights leader Dr. Martin Luther King Jr., and former President Abraham Lincoln's 1863 signing of the Emancipation Proclamation, the post-Civil War document that ostensibly abolished slavery.
"My whole soul is in this: bringing America together, uniting our people, uniting our nation," Biden said in his speech. "Uniting to fight the foes we face: anger, resentment and hatred, extremism, lawlessness, violence, disease, joblessness and hopelessness. With unity, we can do great things, important things."
"Our history has been a constant struggle between the American ideal that we're all are created equal, and the harsh, ugly reality is racism, nativism, fear, demonization has long torn us apart," Biden continued. "For without unity, there is no peace, only bitterness and fury. No progress, only exhausting outrage. No nation, only a state of chaos."
"We must end this uncivil war that pits red against blue, rural versus urban, conservative versus liberal," Biden said. "We can do this if we open our souls instead of hardening our hearts. And if we are this way, our country will be stronger, more prosperous, more ready for the future."
In comparison, Trump's 2017 inauguration speech spoke of giving control of the government back to the people. He also spoke of "American carnage" illustrated by impoverished inner cities, deserted factories, exported jobs, an ineffective education system, crumbling infrastructure, a ripped-off middle-class, a depleted military, Islamic terrorists and drug-dealing criminal gangs.
"The Bible tells us how good and pleasant it is when God's people live together in unity.... When America is united, America is totally unstoppable," Trump said.
"Whether we are black or brown or white, we all bleed the same red blood of patriots," Trump continued. "We all enjoy the same glorious freedoms, and we all salute the same great American flag."
Trump's speech, concluded, "Together, we will make America strong again. We will make America wealthy again. We will make America proud again. We will make America safe again. And yes, together, we will make America great again."
Newsweek contacted the White House for comment.