Biden Virtual Campaign Fundraiser Featuring Obama Brings in $7.6 Million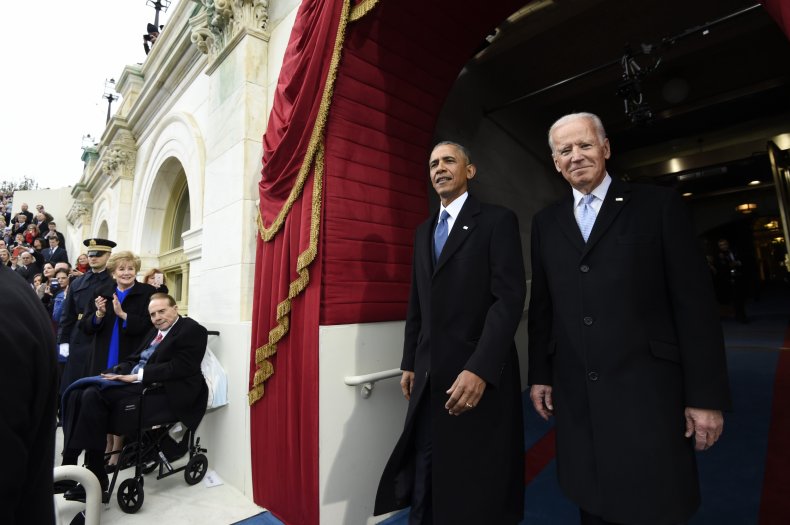 Former Vice President Joe Biden's presidential campaign got a $7.6 million boost on Tuesday after former President Barack Obama joined him for a virtual fundraising event.
The event was the first Biden fundraiser to feature Obama, who had formally endorsed his former running mate in April. The campaign said 120,000 people had logged on for the fundraiser, which was viewable after donors contributed any amount.
"There are over 175,000 grassroots supporters that have contributed to tonight's event, which makes it the largest fundraiser certainly we have had on the campaign and really highlights the power of the grassroots movement behind VP Biden to take on Donald Trump," Jen O'Malley Dillon, Biden's campaign manager, said in a statement.
The event featured a video stream of Biden and Obama speaking and taking questions for over an hour. Obama told the audience that defeating President Donald Trump is "serious business," saying that whatever they had done so far was "not enough," while praising the former vice president as a "dear friend."
"I am here to say the help is on the way if we do the work because there's nobody I trust more to be able to heal this country and get back on track than my dear friend Joe Biden," Obama said, according to a transcript of his remarks.
The former president also criticized the Trump administration for promoting the notion "that a deadly disease is fake news" and viewing "the Justice Department as simply an extension and arm of the personal concerns of the president." He said he was "optimistic" that a "great awakening" was taking place to counter the administration's "mean spirited approach to governance."
The $7.6 million raised Tuesday was the campaign's largest single-event haul so far, Dillon said, and an amount Biden described Tuesday as "remarkable." Biden outraised the Trump for the first time in May, taking in $80.8 million compared to the president's $74 million, records showed.
However, the Trump campaign still had an overall advantage in cash on hand, with campaign filings showing the president with $108.1 million on hand compared to Biden's $82.4 million at the end of May, according to Reuters.
Biden appears to be closing the money gap while opinion polls have shown him with a steady and increasing lead over Trump both nationally and in several battleground states, as the president's approval ratings have plummeted in recent weeks.
"Donald Trump is the best poster child for Democratic fund-raising in the history of Democratic politics," Chris Korge, national finance chairman of the Democratic National Convention, told The New York Times.
Newsweek reached out to the Biden campaign for comment, but representatives had not responded by publication.