President Joe Biden has vowed that the $1,400 stimulus checks in his $1.9 trillion coronavirus economic relief bill will be sent out to Americans this month, but House progressives could still withhold their votes to force Democrats to move on the $15 minimum wage measure.
The Senate passed the American Rescue Plan on Saturday after Democrats in the chamber agreed to drop the $15 minimum wage hike, lower the income threshold for the direct payments and reduce weekly unemployment benefits from $400 to $300. Now the legislation will be sent back to the House for approval, before it can be signed into law by Biden.
House progressives previously indicated that they may reject the sprawling bill to leverage the party into fighting harder for the $15 minimum wage if Democrats decided to give up on the measure. On Friday, members of the left wing of the party condemned the removal of the wage hike, with some suggesting that they might not support the package.
"This trend is outrageous: Eliminating $15/hr. Reducing thresholds for payments (cutting off ~400k New Jerseyans). Cuts to weekly payments. What are we doing here? I'm frankly disgusted with some of my colleagues and question whether I can support this bill," tweeted Rep. Bonnie Coleman of New Jersey.
Rep. Pramila Jayapal of Washington, chair of the Congressional Progressive Caucus, said, "Two-thirds of Americans want a $15 minimum wage: Democrats, Independents, and even Republicans. We must listen to them and deliver 32 million workers the long overdue raise they deserve."
Some House progressives believe this moment is their best chance to push through the wage hike. If they decide to take the drastic step, they will have enough votes to fight for the measure. Democrats have a slim majority in the House and can only lose three members.
Last week, Jayapal said, "I don't think we can go back to voters and say, 'Look, I know Republicans, Democrats, independents support this; we promised it, but because of an unelected parliamentarian who gave us a ruling, we couldn't do it.'"
The wage hike, included in the initial House-passed version of the bill, first hit a roadblock last month, when Senate Parliamentarian Elizabeth MacDonough ruled it to be out of the scope of the budget process called reconciliation, which requires only a simple majority.
Senator Bernie Sanders then introduced a $15 minimum wage amendment to the COVID relief package but—while it passed in the House—it failed to receive the 60 votes needed to pass in the upper chamber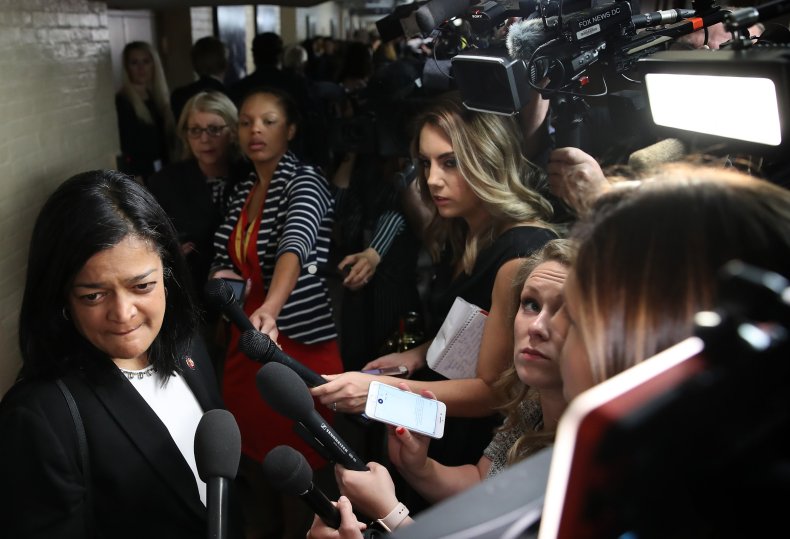 In a recent letter to the Biden administration, Rep. Ro Khanna of California and 22 progressives lawmakers urged Vice President Kamala Harris to overrule the parliamentarian.
They argued that the "outdated Senate rules and an unelected parliamentarian should not get to decide whether the American people get a $15 minimum wage." Some have accused Democratic leaders of blaming inconsequential procedural rules for their inability to deliver on their progressive agenda.
"This ruling is a bridge too far. We've been asked, politely but firmly, to compromise on nearly all of our principles & goals. Not this time," said Khanna. "If we don't overrule the Senate parliamentarian, we are condoning poverty wages for millions of Americans. That's why I'm leading my colleagues in urging the Biden Administration to lean on the clear precedent and overrule this misguided decision. Give America a raise."
Rep. Mark Pocan of Wisconsin added: "We promised the American people a raise and they deserve to see us do everything in our power to make that a reality."
It is currently unclear how progressives intend to proceed. The Congressional Progressive Caucus is comprised of roughly 93 members of the House and one senator. If enough oppose, Democrats would need to revise the package to gain enough support for the amendments to pass.
House Majority Leader Steny Hoyer said the House will vote on the Senate-amended stimulus bill on Tuesday.
Newsweek reached out to Pramila Jayapal's office for comment.