Biden Vows to Bring Home All Americans Who Want to Leave Afghanistan
President Joe Biden has promised to bring home any American who wants to leave Afghanistan following the Taliban takeover—even if that means keeping U.S. military forces in the country beyond the end of the month to manage evacuations.
"Any American who wants to come home, we will get you home," Biden told reporters Friday in his second public address since Kabul fell to insurgents over the weekend.
Biden's vow comes even as he and other U.S. officials have acknowledged that they don't know how many American citizens remain in Afghanistan, as there is no mandatory federal registry and some are presumed to have fled through private channels instead of by military airlift.
The effort to draw U.S. military forces from Afghanistan spurred chaos for many who remain there after the Taliban quickly toppled their government over the weekend, forcing an abrupt evacuation of the U.S. Embassy in Kabul. Military leaders have said they didn't expect the Taliban to take over so quickly.
"Let's assume the Afghan national force had continued to fight, and they were surrounding Kabul—very different story," Biden said. "The overwhelming consensus was that they were not going to collapse, the Afghan forces were not going to leave, they were not going to just put down their arms and take off. That's what's happened."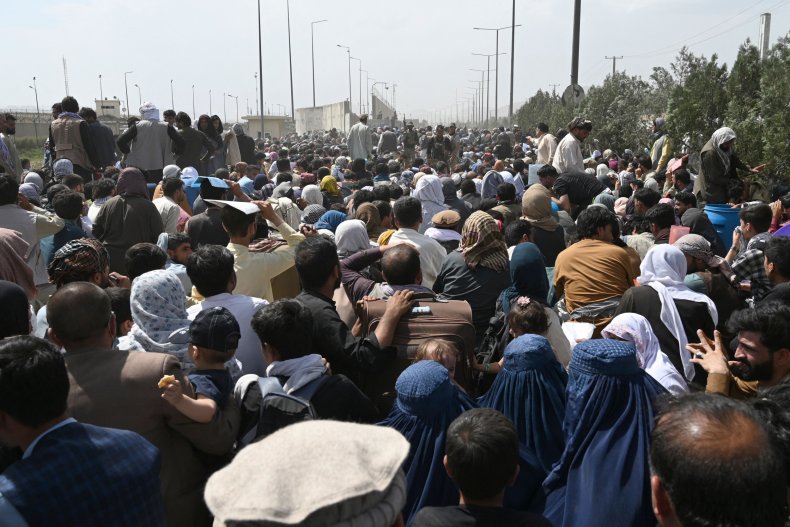 A White House official told reporters that the U.S. evacuated about 3,000 people from Hamid Karzai International Airport on 16 military flights Thursday, including an estimated 350 U.S. citizens and their families. Others on those flights included Afghans who had been employed by the U.S. government during the war and their families.
U.S. forces have evacuated at least 13,000 people since Saturday, Biden said. Another 5,000 people were evacuated the prior two weeks.
The White House official said the military also facilitated the departure of 11 charter flights on Thursday, and those passengers are not included in the reported tallies.
The military had to briefly pause evacuations early Thursday because of a backlog in processing evacuees as they arrived at third-party countries, Biden acknowledged.
"This is one of the largest, most difficult airlifts in history," Biden said, flanked by Vice President Kamala Harris and Secretary of State Antony Blinken. "We made clear to the Taliban that any attack on our forces or disruption of our operations at the airport will be met with a swift and forceful response."
Biden announced in April that troops would be out of Afghanistan by the 20th anniversary of the September 11 attacks. That goal was later moved up to August 31.
"You've known my position for a long, long time: it's time to end this war," Biden said.
The Biden administration has defended its decision to hold to an agreement that former President Donald Trump made with the Taliban to withdraw troops from the country this year, noting that American troops trained the Afghan military force and the United States spent billions on weapons and other equipment.
But Biden has faced a backlash over the growing terror on the ground. The president was initially scheduled to depart the White House this afternoon and spend the weekend at his family home in Wilmington, Delaware, but a White House official informed reporters Friday afternoon that Biden would remain in Washington, D.C., that evening.