Biden Vows to Establish White House National Commission On Policing If Elected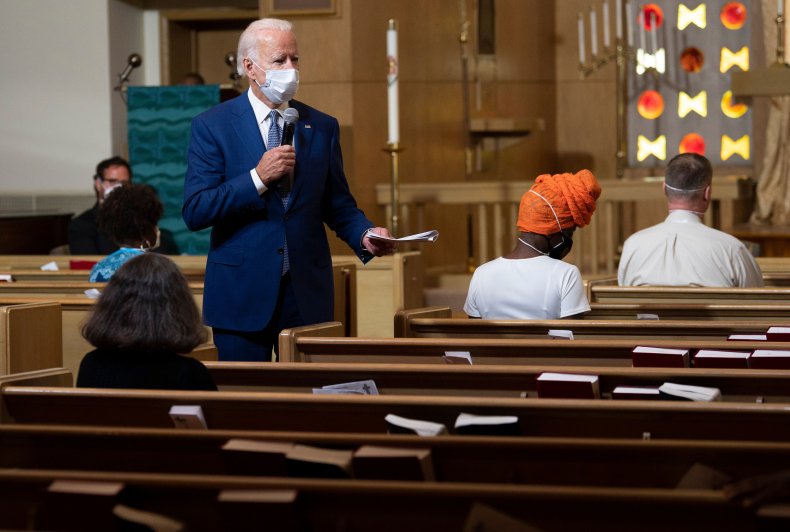 Speaking in Kenosha, Wisconsin, Democratic presidential nominee Joe Biden has pledged to create a national commission on policing based in the White House if he wins the election.
"I'll bring everyone to the table, including police chiefs, including civil rights activists, including NAACP, including the Latino community," Biden told a crowd of 20 community members gathered at the Grace Lutheran Church in Kenosha. "We're going to sit down there, and we're going to work it out because a significant portion of the police are decent people, but there are a lot of bad folks in every organization."
Biden said his trip, which came just two days after President Donald Trump's own appearance in the city, was meant to "bring people together" and "ease racial tensions." The participants in his community meeting included faith leaders, current and former law enforcement officials, business owners and other residents.
The Wisconsin town has been the epicenter of the national debate on police brutality and racial injustice following the shooting of Jacob Blake, a 29-year-old Black father, on August 23. Two people protesting against the shooting of Blake were killed in Kenosha as demonstrations turned violent with looting and vandalism.
"'Protesting is protesting,' my buddy John Lewis used to say," Biden told the crowd. "But none of it justifies looting, burning or anything else. So regardless of how angry you are, if you loot or you burn, you should be held as accountable as someone who does anything else. Period."
Many leaders have called the visits of the two candidates for president ill-timed. Mayor John Antaramian told CNN earlier this week that it was too soon for Trump or Biden to come to Kenosha. The president of the city's chapter of the NAACP, Anthony Davis, also advised against both candidates coming to the city. Davis told MSNBC that residents didn't want to be "used as a tool in the election process."
Governor Tony Evers, a Democrat, said on Thursday that he "would prefer that no one be here whether that's candidate Trump or candidate Biden."
Trump largely used the occasion of his visit to Kenosha to press his "law and order" message. He toured damaged buildings and hosted a roundtable with local law enforcement officials to discuss community safety. The president called the violence "domestic terrorism," as he announced he would be giving $1 million to Kenosha police, $4 million to Kenosha to rebuild, and another $42 million for statewide public safety.
The president made almost no mention of Blake during his visit, and did not meet with his family. In a stark contrast, Biden and his wife, Jill, met with several members of the family in a 90-minute private meeting at the Milwaukee Mitchell International Airport on Thursday.
Benjamin Crump, the civil rights attorney representing the Blake family, said in a statement that the Bidens and the Blakes had a "very engaging 90-minute in-person meeting" and it was "very obvious that Vice President Biden cared."