Biden Vows to 'Rally the World' Against Russia if Ukraine Is Invaded
President Joe Biden vowed to "rally the world" against Russia if Vladimir Putin decides to invade Ukraine.
Biden, addressing the nation from the East Room of the White House on Tuesday afternoon, said the U.S. is prepared for all options as Russian forces remain in a threatening position.
"If Russia attacks Ukraine, it'd be met with overwhelming international condemnation," Biden warned. "The world will not forget that Russia chose needless death and destruction. Invading Ukraine will prove to be a self-inflicted wound."
Biden spoke to Putin from Camp David on February 12 for one hour, according to the White House. During the call, Biden reiterated that the U.S. and its NATO allies are united in slapping Russia with severe sanctions if an attack takes place.
Fears of war have been growing for months as Moscow built up its military presence around the Ukrainian border. Putin has also accused the U.S. of ignoring Russia's security concerns and their demands that Ukraine never be allowed to join the NATO alliance amid diplomatic talks.
The U.S. announced Monday it's closing its embassy in Kyiv and relocating all remaining staff members to Lviv, a western Ukrainian city near the Polish border.
"I have ordered these measures for one reason—the safety of our staff—and we strongly urge any remaining US citizens in Ukraine to leave the country immediately," Secretary of State Antony Blinken said in a statement.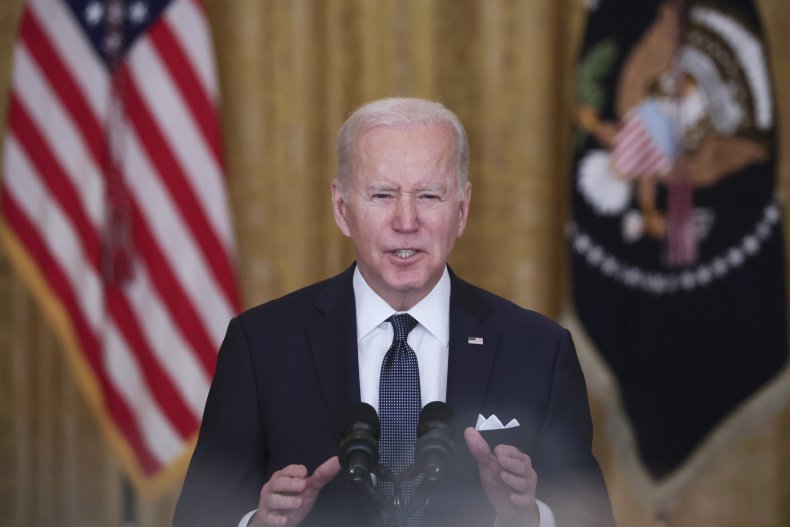 Putin on Tuesday reportedly expressed interest in continuing talks with the West about Russia's security concerns. The Russian government also said Tuesday that it was beginning to return some troops stationed at the Ukrainian border back to their bases.
But Biden said the U.S. has not been able to confirm that troops are actually being pulled back.
"That would be good, but we have not yet verified that," the president said, adding, "The fact remains right now Russia has more than 150,000 troops circling Ukraine and Belarus and along Ukraine's border."
"An invasion remains distinctly possible," Biden said. "That's why I've asked several times that all Americans in Ukraine leave now before it's too late to leave safely."
Biden said he believes there are ways to address security concerns, stating the U.S. is proposing new arms control and transparency measures, but that "we will not sacrifice basic principles" such as sovereignty and territorial integrity.
"If we do not stand for freedom where it is at risk today, we'll surely pay a steeper price tomorrow," Biden said.